A leading Brazilian presidential candidate who was wounded in a stabbing will be in hospital for at least a week, doctors said, as allies suggested the attack would make him stronger ahead of next month's election.
A knife-wielding man stabbed far-right congressman Jair Bolsonaro at a campaign rally on Thursday as he was being carried on the shoulders of a supporter.
He suffered serious internal bleeding, according to surgeon Luiz Henrique Borsato, and underwent surgery in Juiz de Fora, the small city where the attack happened.
It is unclear how long Mr Bolsonaro will be unable to campaign, but his vice presidential running mate, retired general Hamilton Mourao, told reporters he will "come out of this process stronger than he went in".
The candidate's son echoed that belief in a tweet, saying his father was "stronger than ever".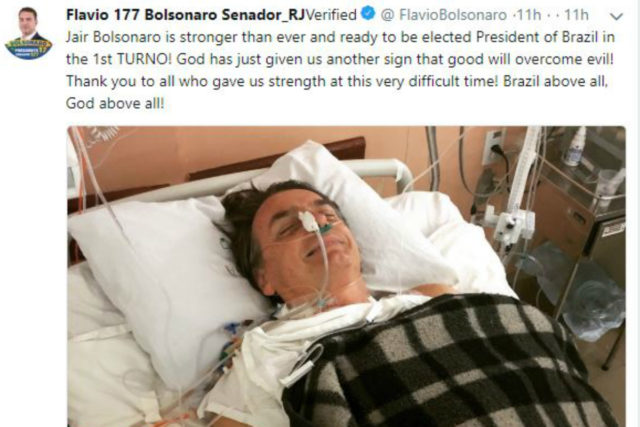 That message has resonated with many Brazilians, putting him in second place in polling, but his often derogatory comments about women, blacks and gays have repulsed many.
In a video shot by a senator who visited him in hospital, Mr Bolsonaro thanked his medical team in a weak and scratchy voice and said: "I never did harm to anyone."
The motive for the attack remains unclear.
Federal police said another suspect was detained in connection with the attack and questioned. That suspect was released overnight but remains under investigation.
Videos posted of the attack posted on social media show Mr Bolsonaro on the shoulders of a supporter, looking out at the crowd and giving a thumbs-up with his left hand. He suddenly flinches and then goes out of view.
Other videos show supporters carrying him to a car and hitting a man who was apparently the attacker.
The attack shakes up what was already an unpredictable and contentious campaign. The man leading polls, former president Luiz Inacio Lula da Silva, has been barred from running by electoral authorities because he was convicted of corruption and is in jail.
Despite uncertainly over the motive, Brazilians surged on to social media to argue over whether the attack supports Mr Bolsonaro's assertions that the country is off the rails or whether his heated rhetoric contributed the attack.