The stabbing of a leading Brazilian presidential candidate has the potential to reshape the election contest after dramatically exposing the deep polarisation in Latin America's largest nation.
Far-right Social Liberal Party congressman Jair Bolsonaro was seriously injured after a man stabbed him in the abdomen during a campaign event in Juiz de Fora.
After the attack, Brazilians surged on to social media to argue over whether the incident supports Mr Bolsonaro's assertions that the country is off the rails, or whether his heated rhetoric contributed to inciting the attack.
He said the candidate would remain in hospital for at least a week after a two-hour operation to stop serious internal bleeding.
In videos of the moment of the attack posted on social media, Mr Bolsonaro could be seen on the shoulders of a supporter, looking out at the crowd and giving a thumbs-up sign with his left hand.
A suspect, identified by authorities as 40-year-old Adelio Bispo de Oliveira, was arrested within seconds.
Police did not identify a motive, but one official said the man appeared to be mentally unstable.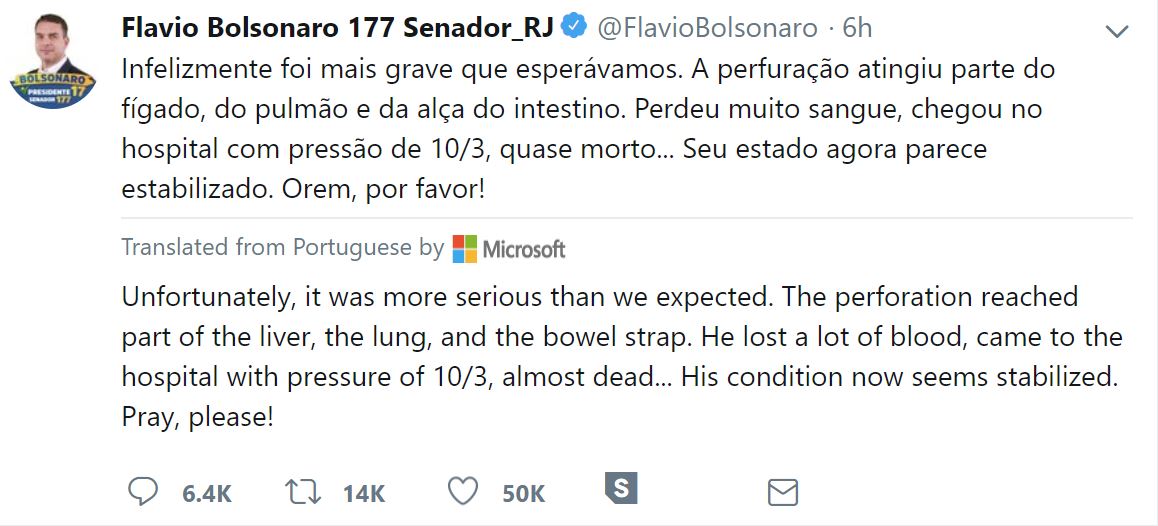 Instead, Mr Bolsonaro, despite being a congressman since 1991, has harnessed much of the anger and presented himself as a maverick who will clean up a corrupt system.
He also promises to confront a surge in crime, in part by giving police a freer hand to shoot to kill while on duty.
The public's anger is partially responsible for making this year's campaign the most unpredictable in years for Brazil, and the attack could lead to another seismic shift.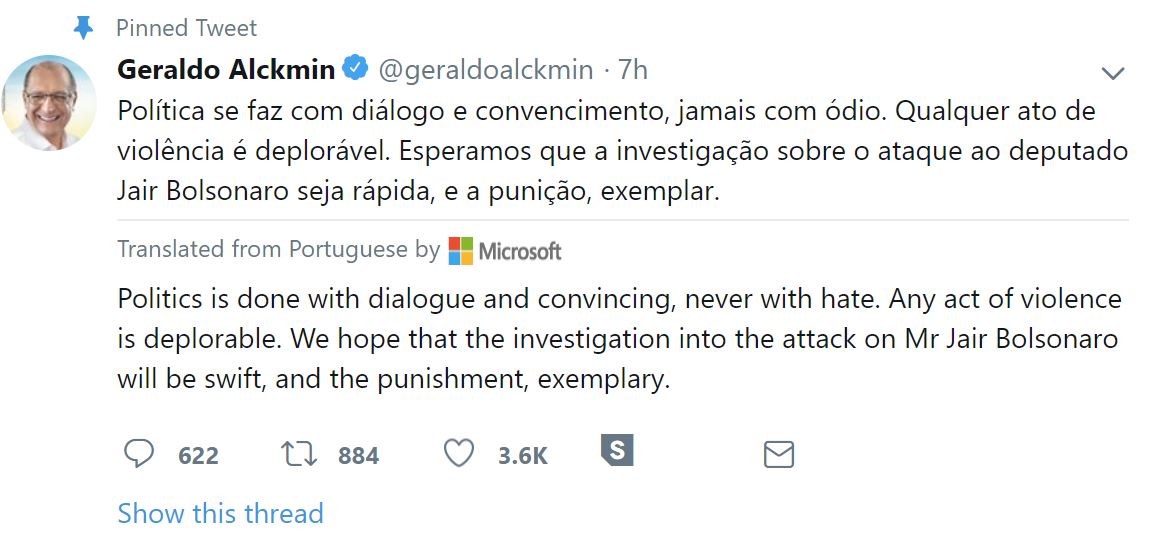 In the hours following the attack in Juiz de Fora, about 125 miles north of Rio de Janeiro, Mr Bolsonaro's supporters predicted it would carry him to the presidency.
"They made Bolsonaro a martyr," said Jonatan Valente, a student who joined a small vigil for Mr Bolsonaro in Sao Paulo.
"I think the left shot itself in the foot because with this attack they will end up electing Bolsonaro."
However, it is unknown when the candidate can get out again on the campaign trail or if his injuries will impede his ability to campaign.