Typhoon Mangkhut has lashed the northern Philippines with destructive winds and heavy rain that set off landslides and destroyed homes on Saturday, leaving at least 12 people dead.
China and the Philippines agreed to postpone a visit by Chinese Foreign Minister Wang Yi that was to start on Sunday due to the onslaught, which caused nearly 150 flights – a third of them international – to be cancelled and halted sea travel.
Presidential adviser Francis Tolentino said the 12 died mostly in landslides and houses that got pummelled by the storm's fierce winds and rain.
Among the dead were an infant and a two-year-old child who died with their parents after the couple refused to immediately evacuate from their high-risk community in a mountain town in Nueva Vizcaya province, Mr Tolentino said.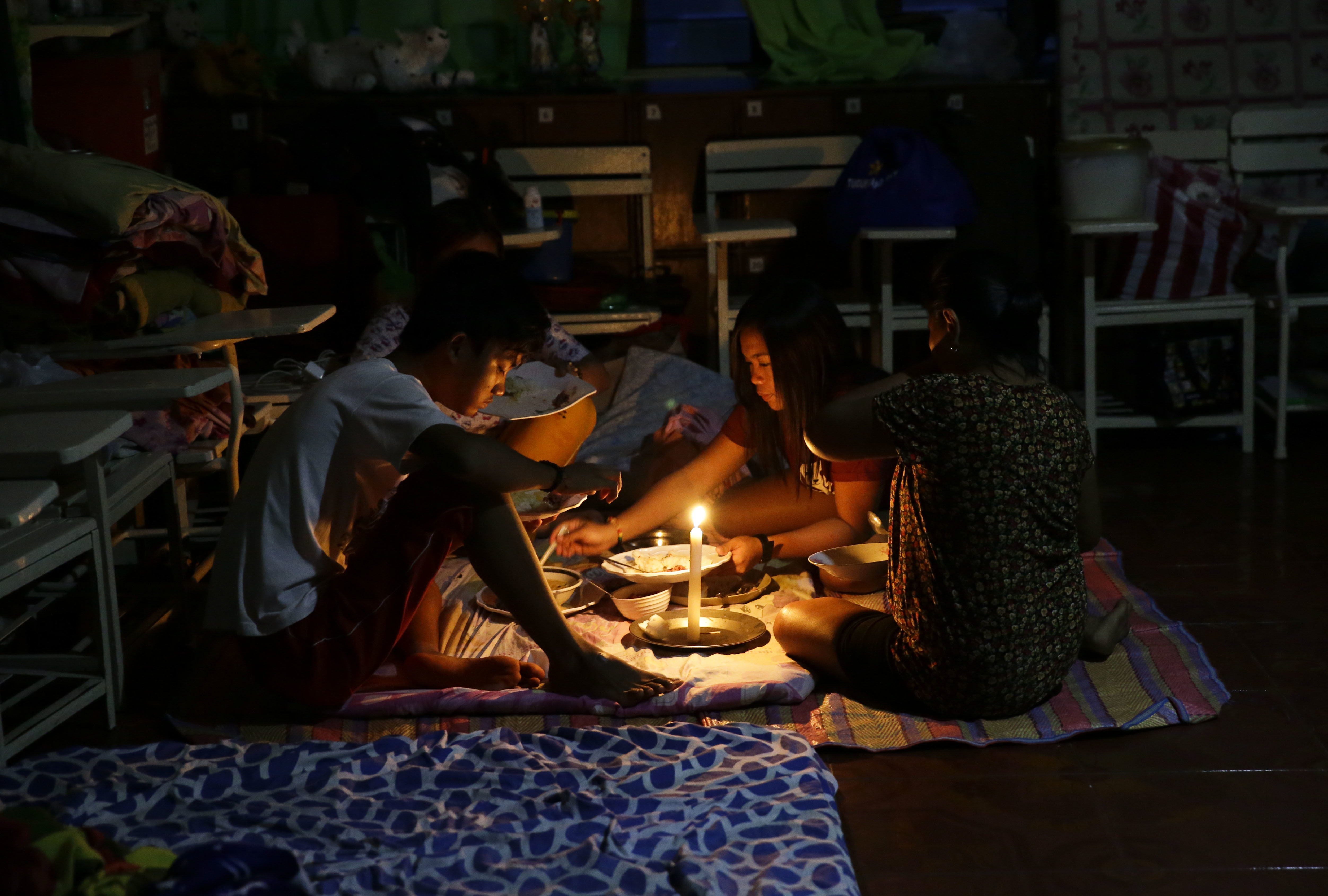 Mayor Mauricio Domogan said at least three people died and six others were missing in the mountain city of Baguio after strong winds and rain destroyed several houses and set off landslides, which also blocked roads to the popular vacation destination.
Authorities were verifying the drownings of three people, including two children who reportedly died as the typhoon approached.
About 70 men reportedly returned to their coastal village in Cagayan to check on their homes as the typhoon drew closer Friday, but Mr Tolentino said he had received no report of the men figuring in an accident.
Mangkhut's sustained winds weakened to 105mph, with gusts of up to 160mph, after it sliced north-west across Luzon before blowing out to the South China Sea, aiming at Hong Kong and elsewhere in southern China.
About 87,000 people evacuated from high-risk areas of the Philippines. Mr Tolentino and other officials advised them not to return home until the danger had passed.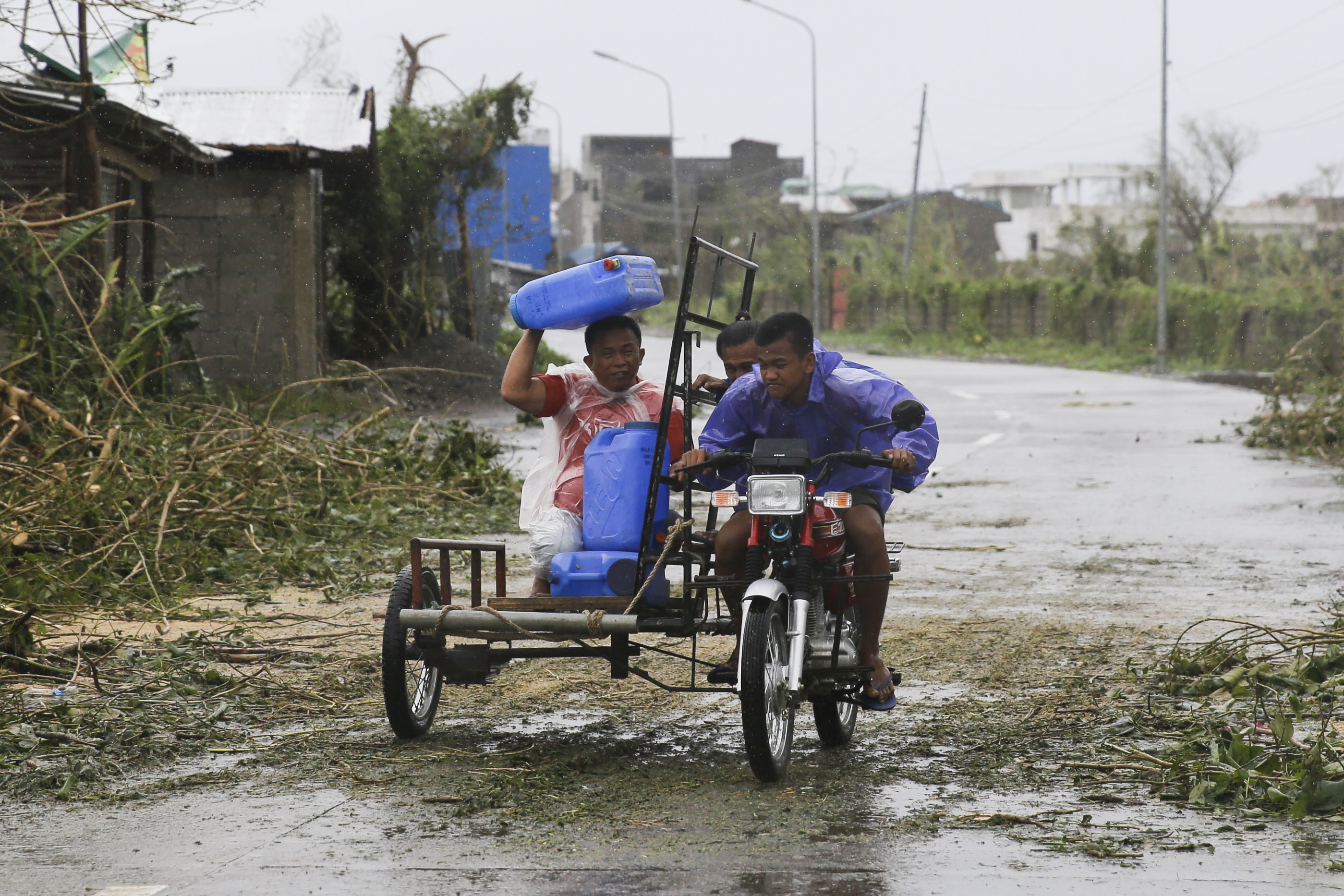 Storm warnings remained in effect in 10 northern provinces, including Cagayan, which could still be lashed by devastating winds, forecasters said. Thousands of people in the typhoon's path had been evacuated.
At daybreak in Cagayan's capital, Tuguegarao, Associated Press journalists saw a severely damaged public market, its roof ripped apart and wooden stalls and tarpaulin canopies in disarray. Outside a popular shopping centre, debris was scattered everywhere and government workers cleared roads of fallen trees.
Many stores and houses were damaged but most residents remained indoors as occasional gusts sent small pieces of tin sheets and other debris flying dangerously.
The Tuguegarao airport terminal was badly damaged, its roof and glass windows shattered by strong winds that also sent chairs, tables and papers flipping about inside, Mr Lorenzana said.
A government damage assessment was under way except in areas still being battered by winds and rain. Two air force C-130 cargo planes and 10 helicopters were on standby in the capital Manila to help transport rescuers and aid supplies.
More than five million people were at risk from the storm, which the Hawaii-based Joint Typhoon Warning Centre downgraded from a super typhoon. Mangkhut, however, was still punching powerful winds and gusts equivalent to a Category 4 Atlantic hurricane.