Judge Brett Kavanaugh has said he will "not be intimidated into withdrawing" his nomination for the US Supreme Court after allegations of sexual misconduct.
Mr Kavanaugh, nominated by President Donald Trump, and his first accuser, Christine Blasey Ford, will give evidence to the Senate Judiciary Committee on Thursday.
A second woman, Deborah Ramirez, has told The New Yorker that Mr Kavanaugh exposed himself to her in college.
Mr Kavanaugh denies both allegations which have surfaced since he was nominated for the body that has the ultimate say on issues such as abortion and same-sex marriage.
He called the allegations "grotesque and obvious character assassination" and says they could dissuade others from entering public service.
Mr Kavanaugh says threats of violence against his family and "the coordinated effort to destroy my good name" will not drive him out.
Earlier, Mr Trump has staunchly defended his embattled Supreme Court nominee against a new allegation of sexual misconduct.
Mr Trump, at the United Nations for his second General Assembly meeting, called the allegations unfair and unsubstantiated, made by accusers who come "out of the woodwork".
He also questioned the political motivations of the lawyers representing the women, saying "you should look into the lawyers doing the representation".
On Mr Kavanaugh, Mr Trump stressed: "I am with him all the way."
The new accusation in a report from The New Yorker came just a few hours after negotiators had reached an agreement to hold an extraordinary public hearing on Thursday for Mr Kavanaugh and Ms Blasey Ford.
Ms Ford accuses Mr Kavanaugh of sexually assaulting her at a party when they were teenagers.
He denies the accusation.
Presidential adviser Kellyanne Conway told CBS that the accusations against Mr Kavanaugh sound like "a vast left-wing conspiracy", using rhetoric that echoed Hillary Clinton's 1998 description of allegations that her husband, President Bill Clinton, had had affairs.
Mr Trump is suggesting the timing of the New Yorker article is further evidence of what he has been saying privately for days: that the Democrats and media are conspiring to undermine his pick.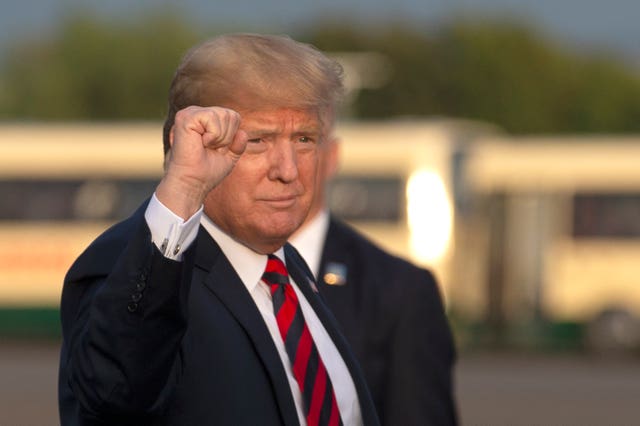 Ms Ramirez described the alleged incident after being contacted by The New Yorker magazine.
She alleged that Mr Kavanaugh exposed himself at a drunken dormitory party.
In a statement provided by the White House, Mr Kavanaugh said the event "did not happen" and that the allegation was "a smear, plain and simple".
Mr Trump has a second opportunity to shape the Supreme Court with his nomination of Mr Kavanaugh to replace the departing Anthony Kennedy.
He has already successfully installed Neil Gorsuch on the bench to replace the late Antonin Scalia.