A seven-year-old American boy who has drawn millions of views reviewing toys on YouTube has become a toy himself.
Walmart is selling action figures in Ryan's likeness, putty with his face on the packaging and other toys under the Ryan's World brand.
The youngster, who has been making YouTube videos for three years, has become a major influencer in the toy industry.
The clips typically show him unboxing a toy, playing with it and then waving goodbye to viewers.
His most watched video, in which Ryan hunts for large plastic eggs, has more than 1.5 billion views.
Toys featured in the videos can see a spike in sales, said Jim Silver, editor of toy review site TTPM.com.
"Ryan is a celebrity," he says. "Kids watch his videos. He's entertaining."
So much so that toy makers have paid Ryan and his parents to feature their products.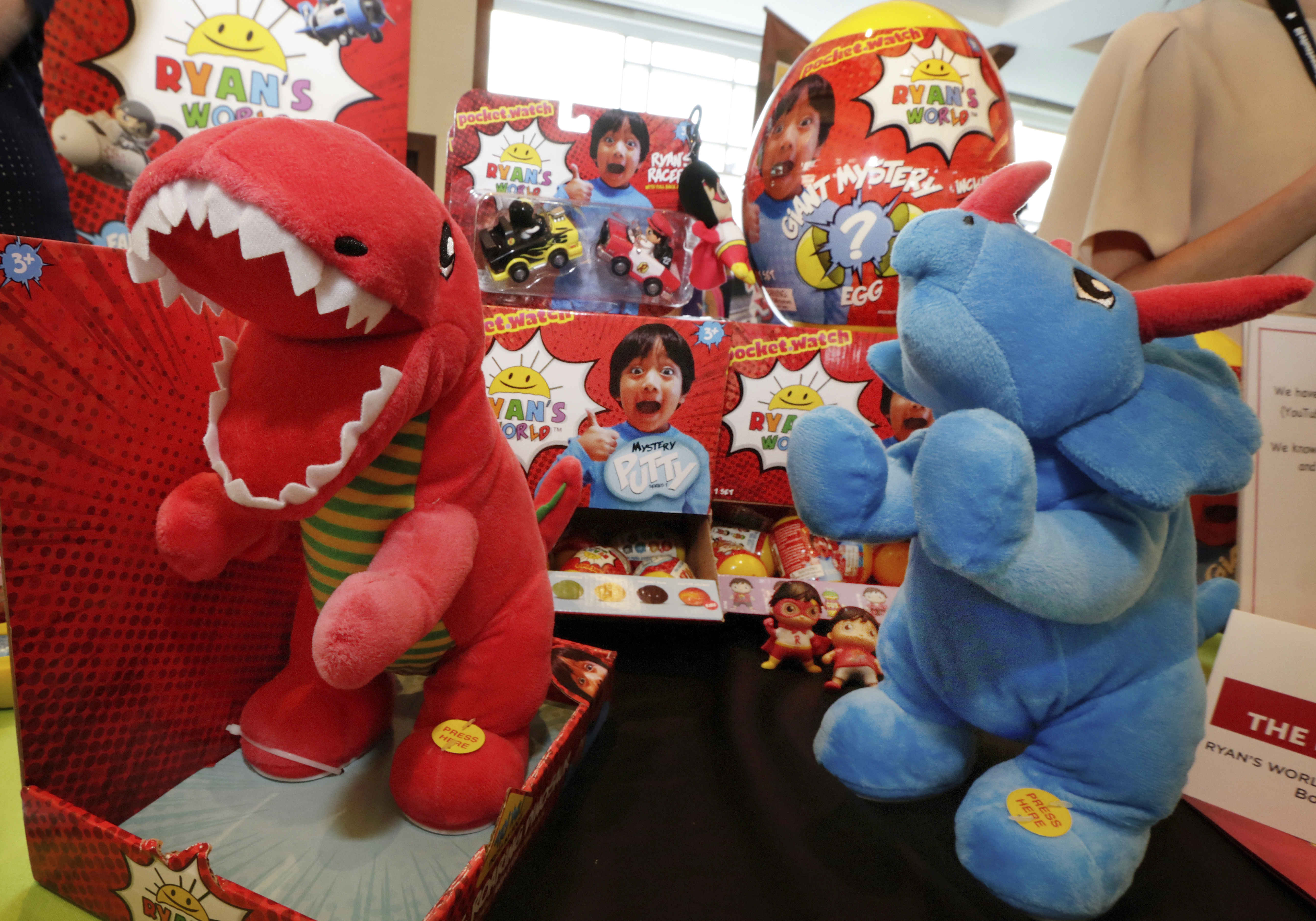 They also do not give their last name or say where they live for privacy and safety reasons.
Ryan's path from reviewer to tiny toy mogul started last year when his parents signed with Pocket.watch, a two-year-old company that works with several YouTube personalities to get their names on clothing, books and other products.
Ryan is the first with a product line because of his large audience, Pocket.watch said.
Last month, Walmart started selling Ryan's World bright-coloured slime for four dollars, 5in Ryan action figures for nine dollars and French fry-shaped squishy toys for 18 dollars.
The retailer is the exclusive seller of some of the line, including T-shirts and stuffed animals.
Whether children will want them "all comes down to the toy", said Mr Silver, adding that hits are made in the playground, where youngsters show off their toys and tell others about them.
What Ryan does have is a built-in audience.
A video of him searching the aisles of Walmart for Ryan's World toys has nearly 10 million views in a month, and his YouTube page has more than 16 million subscribers.
Anne Marie Kehoe, who oversees Walmart's toy department, said a few thousand people showed up for Ryan's appearance at a shop in Arkansas.
"And he's just a seven-year-old, jumping around and acting crazy," she said.
Ryan's parents said he spends about 90 minutes a week recording YouTube videos.
They said he helped with the creation of some of the toys, like when he asked for an evil twin version of himself for a figurine.
"I'm always amazed at the point of view Ryan has," his father Shion said.
Chris Williams, Pocket.watch's founder and chief executive, sees Ryan as a franchise, like how "Nickelodeon looks at SpongeBob".
But unlike a cartoon sponge, Ryan will grow up.
Mr Williams said he expects the products to evolve with Ryan's taste.
And Ryan's parents agree, saying they are prepared to follow his interests as he gets older, for example to video games.
"We can change," Shion said.