A Congolese doctor who treats rape victims and an Iraqi woman who speaks out for those – like herself – who were raped and tortured by Islamic State have won the Nobel Peace Prize for their work to end the use of sexual violence as a weapon of war.
Dr Denis Mukwege and Nadia Murad "have made a crucial contribution to focusing attention on, and combating, such war crimes", the Norwegian Nobel Committee said.
"Denis Mukwege is the helper who has devoted his life to defending these victims. Nadia Murad is the witness who tells of the abuses perpetrated against herself and others."
Dr Mukwege, 63, founded a hospital in the Democratic Republic of Congo's eastern Bukavu region and has treated thousands of women, many of whom were victims of gang rape in the central African nation that has been wracked by conflict for decades.
Armed men tried to kill him in 2012, forcing him to temporarily leave the country.
At 19, Ms Murad was one of an estimated 3,000 Yazidi girls and women kidnapped in 2014 by IS militants in Iraq and sold into sex slavery.
She was raped, beaten and tortured before managing to escape after three months.
After getting treatment in Germany, she then spoke to the world about the horrors still being faced by her religious minority.
At 23, she was named the UN's first goodwill ambassador for the dignity of survivors of human trafficking.
Both honorees are the first from their countries – Democratic Republic of Congo and Iraq – to receive a Nobel Prize and will split the award, which is worth nine million Swedish kronor (£760,000).
The Nobel Peace award comes amid a heightened attention to the sexual abuse of women – in war, in the workplace and in society – that has been highlighted by the MeToo movement.
"We want to send a message that women who constitute half the population in those communities actually are used as weapons and that they need protection, and that the perpetrators have to be prosecuted and held responsible," said Berit Reiss-Andersen, chairwoman of the Norwegian committee.
"MeToo and war crimes is not quite the same thing but they do however have in common that it is important to see the suffering of women," said Ms Reiss-Andersen.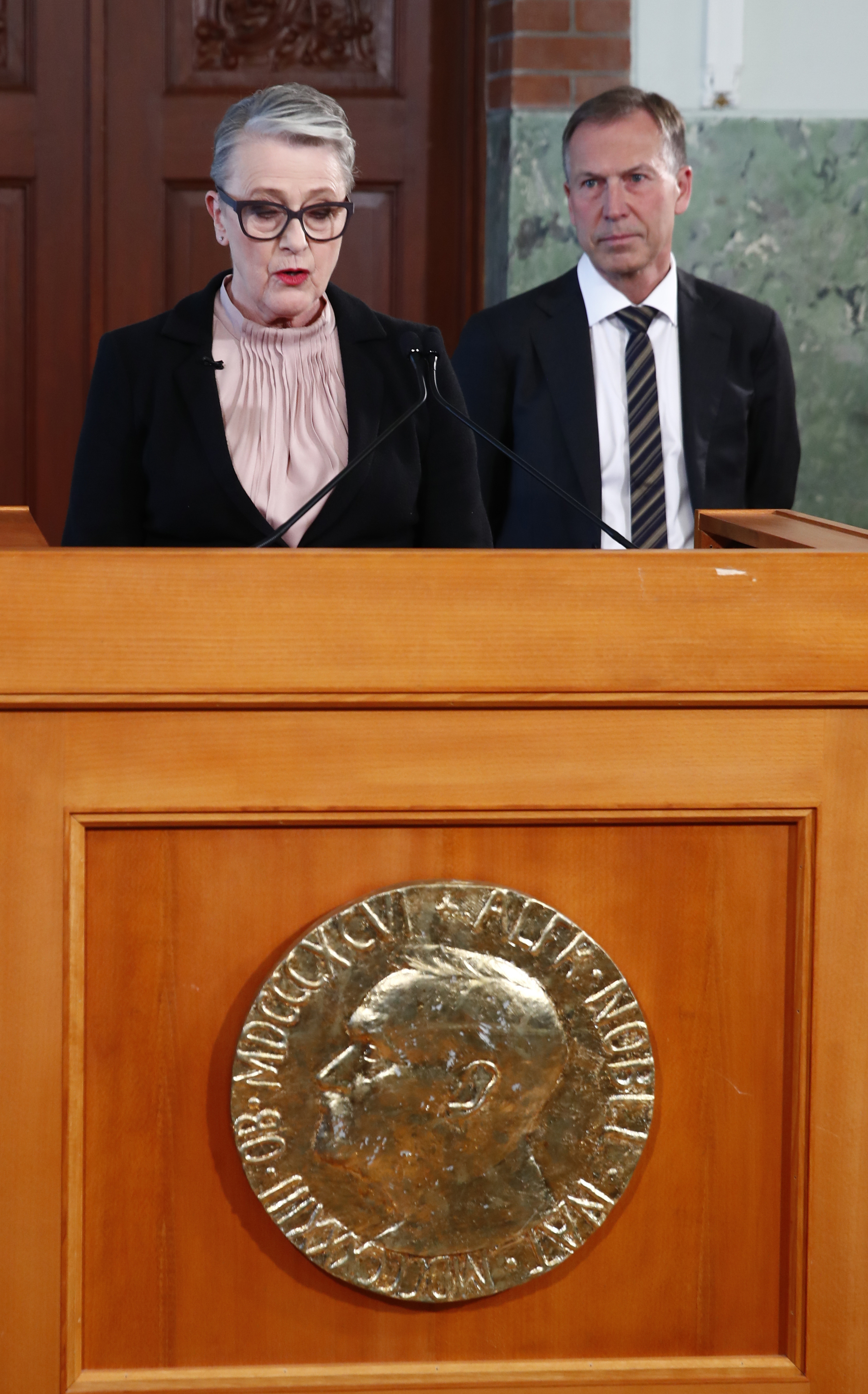 They had heard about him winning the peace prize.
"I can see in the faces of many women how they are happy to be recognised. This is really so touching," he said in a brief telephone interview with the Nobel Prize organisation.
Mobile phone footage of the scene in DRC showed a smiling Dr Mukwege jostled by dancing, ululating medical colleagues in scrubs.
"Hallelujah!" one man cried as women wiped their eyes.
Dr Mukwege tried to address the crowd in the hospital's courtyard but was drowned out by cheering and song.
Eastern DRC has seen more than two decades of conflict among armed groups that either sought to unseat presidents or simply grab control of a piece of the country's vast mineral wealth.
"The importance of Dr Mukwege's enduring, dedicated and selfless efforts in this field cannot be overstated. He has repeatedly condemned impunity for mass rape and criticised the Congolese government and other countries for not doing enough to stop the use of sexual violence against women as a strategy and weapon of war," the Nobel committee said.
Ms Murad's book, The Last Girl, tells of her captivity, the loss of her family and her eventual escape.
The Yazidis are an ancient religious minority, falsely branded as devil-worshippers by Sunni Muslim extremists.
IS, adopting a radical interpretation of ancient Islamic texts, declared that Yazidi women and even young girls could be taken as sex slaves.
Iraqi President Bahram Saleh praised the award for Ms Murad, saying on Twitter that it was an "honour for all Iraqis who fought terrorism and bigotry".
DRC's government congratulated Dr Mukwege while acknowledging that their relations with him have been strained.
Government spokesman Lambert Mende said Dr Mukwege did "remarkable" work, though he claimed the laureate tended to politicise it.
"(Still) we salute that a colleague is recognised," he said.
"I am proud to be Congolese," said the country's top opposition leader, Felix Tshisekedi, in a Twitter post.
"Good done for others always ends up being rewarded."
Last year's Peace Prize winner was the International Campaign to Abolish Nuclear Weapons.