A fast and furious Hurricane Michael sped towards Florida on Tuesday night with 120mph winds and a potential storm surge of 13 feet, giving tens of thousands of people little time to get out or board up.
Drawing energy from the warm waters of the Gulf of Mexico, the storm strengthened rapidly into a potentially devastating Category 3.
Forecasters said it could be nearing a dangerous Category 4 by landfall, with further strengthening expected overnight.
While Florence took five days between the time it turned into a hurricane and the moment it rolled into the Carolinas, Michael gave Florida what amounted to two days' notice.
It developed into a hurricane on Monday, and by Tuesday, more than 180,000 people were under mandatory evacuation orders.
Coastal residents rushed to board up their homes and stock up on bottled water and other supplies.
Florida Governor Rick Scott warned it was a "monstrous hurricane", and his Democratic opponent for the Senate, Bill Nelson, said a "wall of water" could cause destruction along the Florida Panhandle, the north-western part of the state.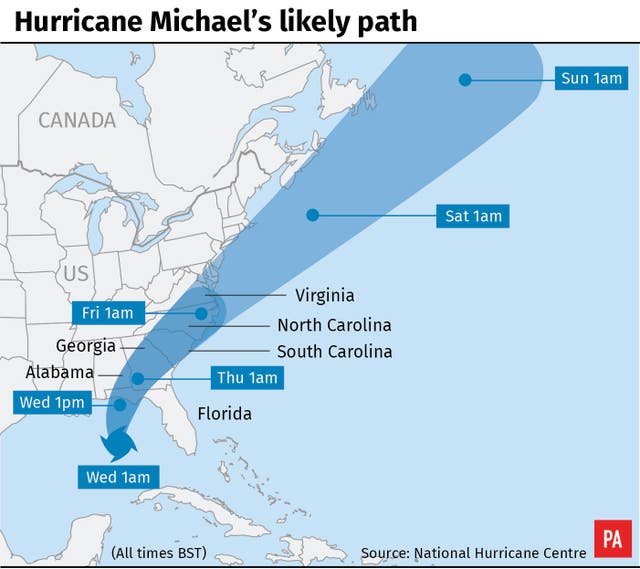 Concerns have been raised over an apparent lack of urgency among some residents to evacuate.
Bay County Sheriff Tommy Ford said: "I am not seeing the level of traffic on the roadways that I would expect when we've called for the evacuation of 75% of this county."
Mandatory evacuation orders went into effect in Panama City Beach and other low-lying areas in the storm's path. That included Pensacola Beach but not in Pensacola itself, a city of about 54,000.
Forecasters said parts of the Panhandle and Florida's marshy, lightly populated Big Bend area — the crook of Florida's elbow — could see nine to 13 feet of storm surge.
About 20 miles in from the coast, in Tallahassee, the state capital, people rushed to fill their petrol tanks and grab supplies. Many petrol stations in Tallahassee had run out of fuel.
Tallahassee Mayor Andrew Gillum, Florida's Democratic nominee for governor, helped people fill sandbags.
Several people were taken by van from coastal Wakulla County to Tallahassee's Leon County to the north. Wakulla County's shelters are not considered reliable against storms stronger than a Category 2.
Michael could dump up to a foot of rain over some Panhandle communities before its remnants go back out to sea by way of the mid-Atlantic states over the next few days.
Forecasters said it could bring three to six inches of rain to Georgia, the Carolinas and Virginia, triggering flash flooding in a corner of the country still recovering from Florence.
As the storm closed in on the US, it caused havoc in the Caribbean.
In Cuba, it dropped more than 10 inches of rain in places, flooding fields, damaging roads, knocking out power and destroying some homes in the western province of Pinar del Rio. Cuban authorities said they evacuated about 400 people from low-lying areas.
Disaster agencies in El Salvador, Honduras and Nicaragua reported 13 deaths as roofs collapsed and residents were carried away by swollen rivers.