The Kremlin has said it is concerned about US president Donald Trump's decision to withdraw from a landmark nuclear weapons treaty.
Mr Trump announced on Saturday that America would walk away from the Intermediate-Range Nuclear Forces Treaty, which was signed by the US and the then-Soviet Union in 1987 in a major step towards easing Cold War tensions.
Dmitry Peskov, a spokesman for Russian president Vladimir Putin, said Mr Putin denies Mr Trump's allegations that Russia has violated the terms of the treaty.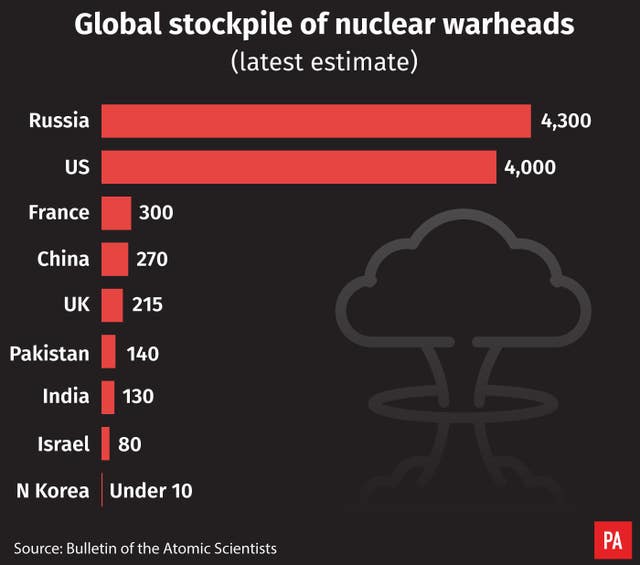 The Kremlin's comments came as US National Security Adviser John Bolton begins his visit to Russia.
Mr Peskov said Russian officials are anxious to hear Mr Bolton's explanations over Mr Trump's decision.
The European Union has called on the US and Russia to stick to the treaty and make sure it is "fully and verifiably implemented".
EU spokeswoman Maja Kocijancic said Washington and Moscow "need to remain in a constructive dialogue to preserve this treaty".
Mr Trump's also brought sharp criticism from former Soviet president Mikhail Gorbachev, who signed the pact with his US counterpart Ronald Reagan.
A spokesman for Nato said the 29 allies believe Russia is violating the landmark treaty and have tried repeatedly to obtain information about its new missile system.
Nato has expressed concern since last year about Russia's nuclear-capable 9M729 system violating the 1987 accord.
Oana Lungescu said that "in the absence of any credible answer from Russia on this new missile, allies believe that the most plausible assessment would be that Russia is in violation of the INF Treaty".
The spokesman would not comment on US president Donald Trump's threat to withdraw from the treaty, saying only that the "allies continue consultations".