Indonesian rescue officials have said they are not expecting any survivors from the Lion Air plane that crashed into the sea off Jakarta with 189 people on board.
The search and rescue agency's operations director, Bambang Suryo Aji, said the search is focusing on finding bodies.
Mr Aji said the location of the plane hull has not been identified yet.
The waters where the jet went down are up to 100ft deep.
The search is currently planned to last seven days and could be extended.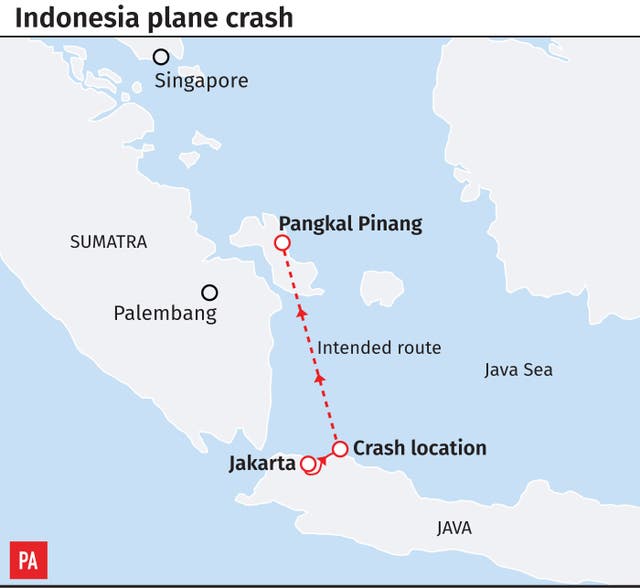 More than 300 people including soldiers, police and local fishermen were involved in the search that has also recovered ID cards, personal belongings and aircraft debris. At least a dozen ambulances were parked at a nearby beach.
Indonesia's disaster agency posted photos online of a crushed smartphone, books, bags and parts of the aircraft fuselage that had been collected by search and rescue vessels.
An air transport official, Novie Riyanto, said the flight was cleared to return to Jakarta after the pilot made a "return to base" request two to three minutes after taking off.
It plunged into the sea about 10 minutes later. Weather conditions were normal, but the brand new aircraft had experienced a technical issue on its previous flight.
Lion Air said the jet, which was making a 70-minute flight to Pangkal Pinang on an island chain off Sumatra, was carrying 181 passengers, including one child and two babies, and eight crew members.
Distraught friends and relatives prayed and hugged each other as they waited at Pangkal Pinang's airport and at a crisis centre set up at Jakarta's airport. Indonesian TV broadcast pictures of a fuel slick and debris field in the ocean.
Indonesian finance minister Sri Mulyani also arrived at the agency and met with its chief, seeking information about 20 ministry staff who were on the flight after attending an event in Jakarta. Photos circulating online showed the distraught minister trying to comfort stunned colleagues.
Weather conditions for the flight were safe, according to the Indonesian meteorology agency. It said the type of clouds associated with turbulence was not present and winds were weak.
Malindo Air, a Malaysian subsidiary of Jakarta-based Lion Air, was the first airline to being using the 737 Max 8 last year. The Max 8 replaced the similar 800 in the Chicago-based plane maker's product line.
Lion Air president-director Edward Sirait said the plane had a "technical problem" on its previous flight from Bali to Jakarta but it had been fully remedied.
The pilot of Flight 610 had more than 6,000 flying hours while the co-pilot had more than 5,000 hours, according to the airline.
Boeing said it is "deeply saddened" by the crash and was prepared to provide technical assistance to Indonesia's probe.
Lion Air, a discount carrier, is one of Indonesia's youngest and biggest airlines, flying to dozens of domestic and international destinations.
In 2013, one of its Boeing 737-800 jets missed the runway while landing on Bali, crashing into the sea without causing any fatalities among the 108 people on board.