The Democratic Party has claimed one of its biggest scalps of the US midterm elections by taking a Senate seat in a previously Republican stronghold.
Kyrsten Sinema won the Arizona Senate seat vacated by Republican Jeff Flake.
The race against Republican Martha McSally was so tight that a winner was not decided until Monday, after a slow count of postal ballots gave her an insurmountable lead.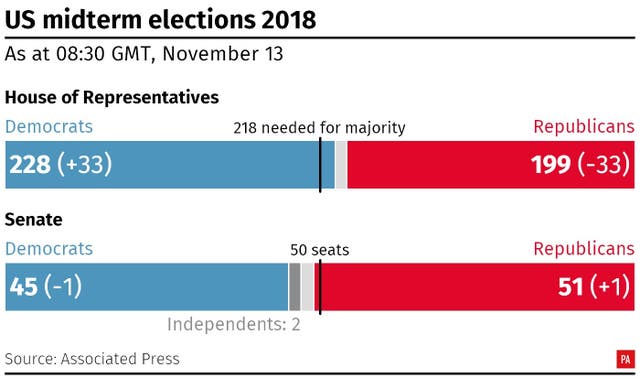 And she did it by pointedly not running against President Donald Trump, or even criticising his hardline immigration stance.
Ms Sinema targeted moderate Republican and independent women by painting herself as a non-partisan problem solver who voted to support Mr Trump's agenda 60% of the time.
Her nearly single-issue campaign talked about the importance of healthcare and protections for people with pre-existing conditions.
Ms Sinema tailored her campaign for conservative-leaning Arizona rather than the national environment, but it may be a guide for Democrats who hope to expand the electoral map in 2020.
While some liberals won important races in California, Colorado and Kansas, the left's highest-profile champions disappointed on election day.
Beto O'Rourke fell short in his challenge to Ted Cruz in Texas, Stacey Abrams trails her Republican opponent in the still undecided bitter race to be governor of Georgia, and Tallahassee mayor Andrew Gillum, who once led in the polls in the race for Florida governor, is now awaiting the results of a recount.
Ms Sinema first came to prominence as an openly bisexual Green Party activist in Phoenix, and Ms McSally criticised the Democrat over her protests against the Iraq and Afghanistan wars.
She was elected as a Democrat to the state legislature in 2004 and carved out a reputation as a liberal who could work with her conservative colleagues.
She was elected to Congress representing a suburban Phoenix district in 2012.
She voted against Nancy Pelosi as the Democratic leader, supported relaxed regulations on banks and a law to increase penalties on people illegally re-entering the country.
She supported a bill making it easier to deport immigrants identified by police as gang members.