California authorities have set up a rapid DNA-analysis system and brought in cadaver dogs, mobile mortuaries and extra search teams in a bid to find and identify victims of the deadliest single wildfire in the US state's history.
Five days after flames all but obliterated the Northern California town of Paradise, population 27,000, officials are unsure of the exact number of missing – but the death toll is almost certain to rise.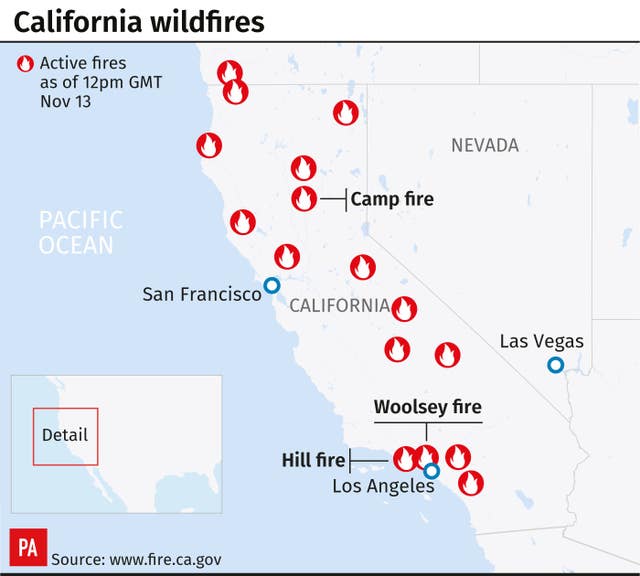 More than a dozen coroner search-and-recovery teams looked for bodies across the apocalyptic landscape that was once Paradise, while anxious relatives visited shelters and called police and hospitals in the hope of finding loved ones.
Authorities are bringing in two mobile morgue units from the military, requesting an additional 150 search-and-rescue personnel, and seeking the set-up of a rapid DNA system to speed up the analysis of remains.
No cars in the driveway was a considered a good sign, one car was more ominous, while multiple burned-out vehicles provided cause for concern.
State officials said the cause of the inferno is under investigation.
One landowner near where the blaze began, Betsy Ann Cowley, said Pacific Gas & Electric had notified her the day before the fire that crews needed to come onto her property because the utility's power lines were sparking.
More than 5,000 firefighters battling the blaze made gains overnight, slowing the flames' advance toward Oroville, a town of about 19,000 people.
The fire, which has charred 195 square miles and destroyed more than 6,400 homes since it started last Thursday, was reported to be 30% contained.
At the other end of the state, in Southern California, firefighters continued making progress against a blaze that killed two people in star-studded Malibu and destroyed more than 400 structures.
Crews lit backfires and extended containment lines overnight. They expect to have the more than 146-square-mile fire fully contained by Thursday.
The 42 dead in Northern California surpassed the deadliest single fire on record, a 1933 blaze in Griffith Park in Los Angeles. A series of wildfires in Northern California's wine country last autumn killed 44 people and destroyed more than 5,000 homes.