Indian authorities are struggling to figure out how to recover the body of an American killed last week after wading ashore on an isolated island cut off from the modern world.
Police say John Allen Chau was apparently shot with arrows by islanders who then buried his body on the beach.
But even officials rarely travel to North Sentinel Island, where the Sentinelese live as their ancestors did thousands of years ago, and outsiders are viewed with suspicion.
Visits are limited to very rare "gift-giving" trips, where small teams of officials and scientists leave gifts of coconuts and bananas.
Mr Chau, reported to be 26 and from Alabama, arrived in the region on October 16 and stayed in a hotel while he prepared to visit the prohibited island, police said.
He had earlier visited the Andaman and Nicobar Islands in 2015 and 2016. North Sentinel is in the Andaman Islands at the intersection of the Bay of Bengal and Andaman Sea.
Mr Chau organised his visit to the island through a friend who hired seven fishermen for 325 US dollars (£254) to take him there on a boat, which also towed his kayak.
He went ashore in the kayak on November 15 and sent the boat with the fishermen out to sea to avoid detection, police said.
He interacted with some of the tribespeople, giving them gifts such as a football and fish, but they became angry and shot an arrow at him which apparently hit a book he was carrying.
His kayak was damaged so he swam to the fishermen's boat, which was waiting at a prearranged location.
He spent the night there and wrote out his experiences on pages which he gave to the fishermen, police said, then set out again the following morning. Later that day, the fishermen saw from a distance his body being dragged by tribesmen.
They use spears and bows and arrows to hunt the animals that roam the small, heavily forested island, and gather plants to eat and to fashion into homes.
Their closest neighbours live more than 30 miles away. Deeply suspicious of outsiders, they attack anyone who comes through the surf and on to their beaches.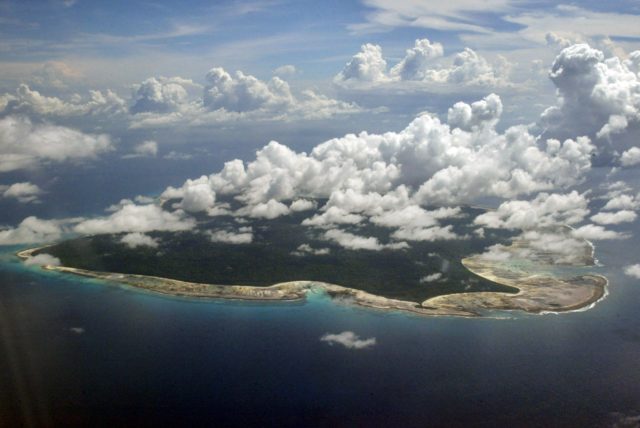 For generations, Indian officials have forbidden visits to North Sentinel.
Any contact with such isolated people can be dangerous, scholars say, with islanders having no resistance to diseases outsiders carry.
Many of the island chain's other tribes have been decimated over the past century, lost to disease, intermarriage and migration.