Countries across the world are taking measures to halt the spread of coronavirus. It has infected hundreds of thousands of people across the globe.
Here are the latest updates:
– ETHIOPIA
Ethiopian Airlines, Africa's largest carrier, has cancelled flights to 30 countries. The airline, which operates a key continental hub, had long been under pressure from some in Africa's second most populous country to halt flights to high-risk countries.
– SWITZERLAND
Authorities are banning groups of more than five people in public across the country, and police can fine people who flout the new rules 100 francs (£85).
– JORDAN
Jordan announced a total curfew starting on Saturday, saying all shops will be closed.
Government spokesman Amjad Adaileh said a "mechanism" will be announced on Tuesday to allow people to shop for essential goods at specific times. Anyone violating the curfew could face up to a year in jail. Jordan has reported 69 cases, one of whom recovered.
Authorities struggled to keep Shiite pilgrims from marking the annual commemoration of the death of Imam Mousa al-Kazim despite a week-long curfew in the capital. Thousands of Iraqis typically walk to the shrine of the imam in the Khazimiyah area of Baghdad.
Security forces have been stopping pilgrims in recent days, but more keep arriving. Late on Thursday, the doors of the shrine were closed and the electricity switched off.
– RUSSIA
Authorities in Moscow are detaining and deporting Chinese nationals for violating quarantine procedures the city government mandated in response to the coronavirus.
The majority have been deported, while 27 remain at Moscow's migrant detention facility awaiting deportation or rulings on appeals, Mr Malik said.
– FRANCE
Hundreds of passengers have disembarked from a transatlantic cruise ship that recorded several cases of the virus.
The Costa Luminosa docked in Marseille after a journey that took in the Canary Islands and Puerto Rico.
"We need to keep the country running," he said.
– ITALY
Italy recorded its highest day-to-day rise in the number of deaths on Friday, at 627, with 5,986 more cases. That brings the official total of new deaths to 4,032 and infections to 47,021.
Meanwhile, outbreaks have stricken two convents in the Rome area.
Rome daily Il Messaggero quoted the Lazio region's health commissioner as saying 59 nuns at the Institute of Daughters of St Camillo, in the hill town of Grottaferrata, have tested positive.
The newspaper also said 19 of 21 nuns at the convent of the Congregation of Angelic Sisters, on the outskirts of the capital, have the infection.
Health minister Salvador Illa said the army will help set up a field hospital of 5,500 beds and much-needed intensive care units inside a convention centre in Madrid.
Health workers also have begun outfitting Madrid hotels as makeshift wards for patients considered not in need of intensive care. Madrid has more than 7,000 cases of coronavirus.
It came after health authorities said 1,002 people have died in the country during the outbreak, while infections have risen by 16% in 24 hours to reach 19,980.
Spain is the second-hardest hit country in Europe, behind Italy, and is in its first week of a lockdown. More than 10,000 people have been admitted to hospital, including more than 1,000 in intensive care units.
– CANADA
Prime minister Justin Trudeau said Canada and the US have reached a reciprocal agreement to send back migrants who attempt to cross illegally anywhere at the border.
Thousands of migrants have fled north to Canada since 2017. There is a longstanding agreement between the US and Canada that requires those seeking asylum to apply in the first country they arrive in.
Meanwhile, a union official said Air Canada is laying off more than 5,000 flight attendants as the country's largest airline cuts routes and parks planes.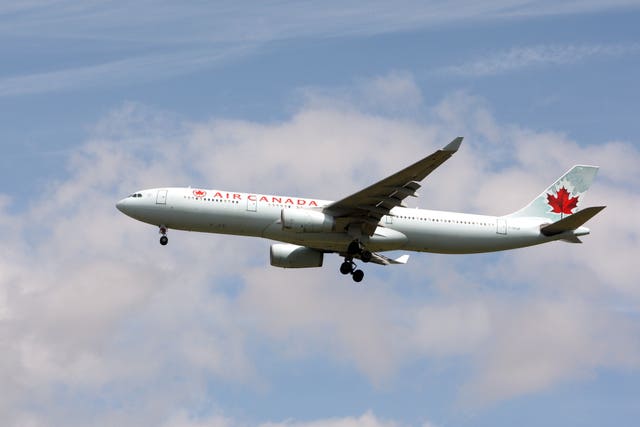 Air Canada said the layoffs are temporary and employees will be returned to active duty when the airline can revive its network schedule.
– SOUTH AFRICA
Anxiety is rising in Africa's richest nation cases jumped to 202, the most in the sub-Saharan region, and the country's largest airport announced foreigners would not be allowed to disembark.
"The aircraft will be contained at an isolated bay with all officials ensuring the utmost care is taken," OR Tambo International Airport said, following up on the government's announcement of travel restrictions while declaring a national disaster.
"We are working with the airline to ensure that foreign nationals return to the country of origin."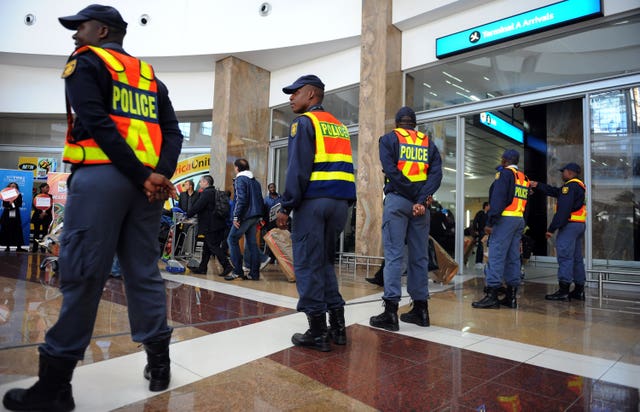 Another African nation announced its first case, Cape Verde. Thirty-seven countries on the continent now have cases, with a total well above 800.
– BELGIUM
Belgium has received an order of five million protective masks from China amid fears of shortages in hospitals.
The shipment was delivered at Liege airport early on Friday and placed under military surveillance.
A total of 1,795 confirmed cases of Covid-19 have been recorded by Belgian authorities, including 21 deaths.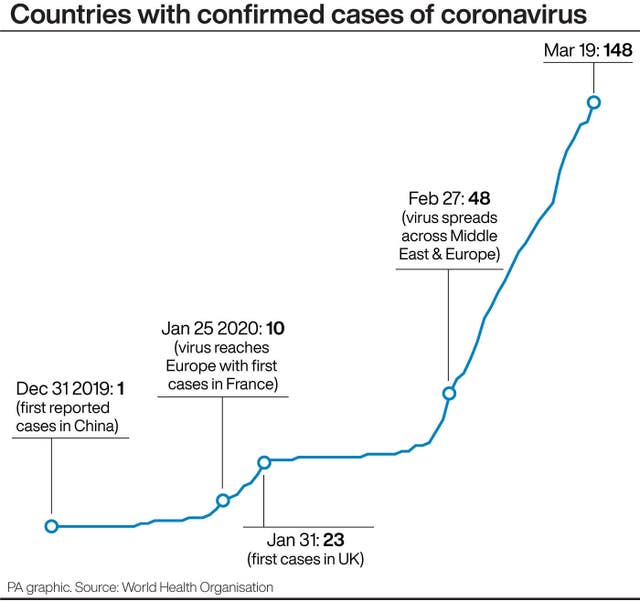 A previous order of five million masks placed by Belgium was expected last week but was cancelled because of a fraud investigation targeting the Turkish provider.
– INDONESIA
Istiqlal grand mosque in the capital, Jakarta, the largest mosque in Southeast Asia, which is usually packed with thousands of Muslims during Friday prayers, decided to cancel mass prayers for the next two weeks to curb coronavirus spread.
The mosque's imam, Nasaruddin Umar, said the decision was made following a nationwide ruling or fatwa issued by the Indonesian Ulema Council, the country's highest religious authority on Monday, allowing Muslims to temporarily skip mass prayers in regions where the virus has spread "uncontrollably" until the situation returns to normal.
"We appeal people not to hold mass prayers in other region where the coronavirus had spread until the danger for the contagion disappears," he said.
His appeal following orders from President Joko Widodo to the people in the world's most populous Muslis nation to curb mass religious gatherings to contain the coronavirus.
The move came as Indonesia reported 25 deaths from Covid-19, the most in Southeast Asia, and its biggest daily jump of 82 cases to 309.
– IRAN
Supreme Leader Ayatollah Ali Khamenei and President Hassan Rouhani in separate new year messages vowed to overcome the coronavirus and increase economic growth.
Ayatollah Khamenei, who has the final say on all state matters, called the new year "the year of leaps in production" in Iran's economy. He said the country's 80 million people are in a position to boost domestic production alongside the country's exports.
President Rouhani marked the new year, known as Nowruz, by promising a better economy and called the coronavirus "an uninvited destructive guest".
Mr Rouhani has defended his government's response to the coronavirus outbreak in the face of widespread criticism that officials acted too slowly and may have even covered up initial cases before infections rapidly spread across the country.
He reviewed what he referred to as achievements last year, which included shooting down a sophisticated USdrone and missile strikes on US bases in Iraq in retaliation for the killing of a top Revolutionary Guard general in Baghdad.
He assured Iranians that his administration will keep "health" as its top priority in the new year and said his administration has stockpiled sufficient basic needs of the country "more than before".
– SAUDI ARABIA
Saudi Arabia announced early on Friday that it will shut down domestic air travel, buses, taxis and trains for the next two weeks, beginning on Saturday morning. The state-run Saudi Press Agency cited an anonymous official at the Interior Ministry making the announcement.
– USA
The global coronavirus pandemic has left millions of people locked out of bars, restaurants and theatres, but it has given an unexpected boost to some US pot shops.
One company rushed to expand its delivery fleet and another has seen sales triple.
Marijuana users in the nation's largest legal pot shop, California, and elsewhere are on a buying binge, as they stock up for potential quarantines or simply light up in search of relief during anxious times and government lockdowns.
New York, San Francisco and Palm Springs, California, are among the cities labelling dispensaries "essential" businesses that can remain open during virus lockdowns, in some cases with limitations.
Sales increases also are being witnessed in Colorado and Washington, according to cannabis data company Headset.