The United States renewed a warning that it would defend its treaty ally if Filipino forces come under attack in the disputed South China Sea, after a Chinese coast guard ship allegedly hit a Philippine patrol vessel with a military-grade laser that briefly blinded some of its crew.
The Department of Foreign Affairs in Manila sent a strongly worded diplomatic protest to the Chinese Embassy Tuesday that "condemned the shadowing, harassment, dangerous manoeuvres, directing of military-grade laser, and illegal radio challenges" by the Chinese ship.
The incident took place on February 6 when the Chinese coast guard ship beamed high-grade lasers to block the Philippine patrol vessel BRP Malapascua from approaching Second Thomas Shoal on a resupply mission to Filipino forces there, according to Philippine officials.
China claims the South China Sea virtually in its entirety, putting it on a collision course with other claimants.
Chinese naval forces have been accused of using military-grade lasers previously against Australian military aircraft on patrol in the South China Sea and other spots in the Pacific.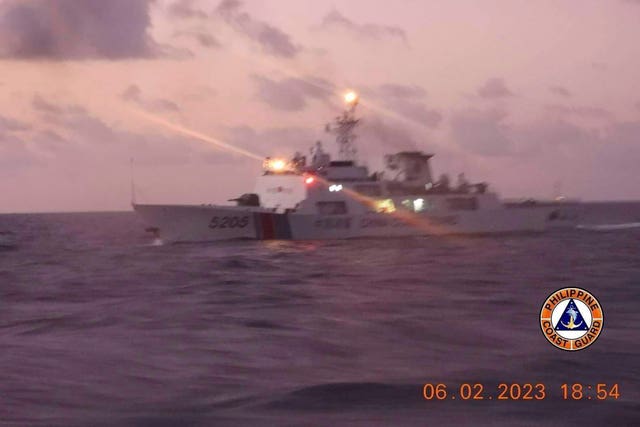 Chinese foreign ministry spokesperson Wang Wenbin said on Monday that a Philippine coast guard vessel trespassed into Chinese waters without permission.
Chinese coast guard vessels responded "professionally and with restraint at the site in accordance with China's law and international law", he said, without elaborating or mentioning the use of laser.
US State Department spokesperson Ned Price said China's "dangerous operational behaviour directly threatens regional peace and stability, infringes upon freedom of navigation in the South China Sea as guaranteed under international law and undermines the rules-based international order".
"The United States stands with our Philippine allies," Mr Price said in a statement.
He said that an armed attack on Philippine armed forces, public vessels, or aircraft, including those of the coast guard in the South China Sea, would invoke US mutual defence commitments under a 1951 treaty.
The treaty obligates the allies to help defend one another in case of an external attack.
Washington lays no claims to the disputed sea but has deployed forces to patrol the waters to promote freedom of navigation and overflight — moves that have angered Beijing, which has warned Washington to stop meddling in what it says is a purely Asian dispute.
The contested waters have become a volatile front in the broader rivalry between the US and China in Asia and beyond.
Mr Price said the Chinese coast guard's "provocative and unsafe" conduct interfered with the Philippines' "lawful operations" in and around Second Thomas Shoal.
In July, US Secretary of State Antony Blinken called on China to comply with a 2016 arbitration ruling that invalidated Beijing's vast territorial claims in the South China Sea and warned that Washington was obligated to defend the Philippines under the mutual defence treaty.
On Monday, Mr Price reiterated that the "legally binding decision" underscored that China "has no lawful maritime claims to the Second Thomas Shoal".
China has long rejected the ruling and continues to defy it.
The Philippines filed nearly 200 diplomatic protests against China's aggressive actions in the disputed waters in 2022 alone.