Chinese leader Xi Jinping has left Moscow, wrapping up a three-day visit, shortly after Japanese Prime Minister Fumio Kishida left Kyiv.
Mr Kishida made a surprise visit on Tuesday to Kyiv, stealing some of the attention from Mr Xi's trip to Moscow where he promoted Beijing's peace proposal for Ukraine, which Western nations have already dismissed.
Mr Xi's visit gave a strong political boost to Russian President Vladimir Putin just days after the International Criminal Court issued an arrest warrant for the Russian leader on charges of alleged involvement in abductions of thousands of children from Ukraine.
After the talks, Mr Putin and Mr Xi issued joint declarations pledging to further bolster their "strategic co-operation", develop co-operation in energy, high-tech industries and other spheres and expand the use of their currencies in mutual trade to reduce dependence on the West.
The Russian president earlier said a Chinese peace plan could provide a basis for a settlement of the fighting in Ukraine, when the West is ready for it.
Speaking after talks with the Chinese leader, Mr Putin said Ukraine's western allies so far have shown no interest in that.
He also said Britain plans to provide Ukraine with ammunition for battle tanks containing depleted uranium, saying it heralds the West switching to supplying Kyiv with weapons containing nuclear components.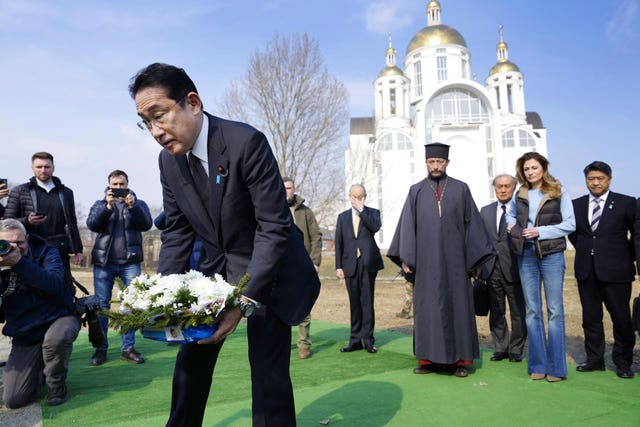 "If that happens, Russia will respond accordingly, given that the collective West is starting to use weapons with a nuclear component."
Mr Kishida, who is to chair the G7 summit in May, met president Volodymyr Zelensky in the Ukrainian capital, and paid tribute to those killed in Bucha, a town outside Kyiv that became a symbol of Russian atrocities against civilians.
Mr Kishida's visit was to "show respect to the courage and patience of the Ukrainian people who are standing up to defend their homeland under President Zelensky's leadership, and show solidarity and unwavering support for Ukraine as head of Japan and chairman of G7", the Japanese foreign ministry said in announcing his trip to Kyiv.
Western officials "have seen some signs" that Mr Putin also wants lethal weapons from China, though there is no evidence Beijing has granted his request, Nato secretary-general Jens Stoltenberg said in Brussels on Tuesday.
"China should not provide lethal aid to Russia," Mr Stoltenberg said. "That would be to support an illegal war and only prolong the war."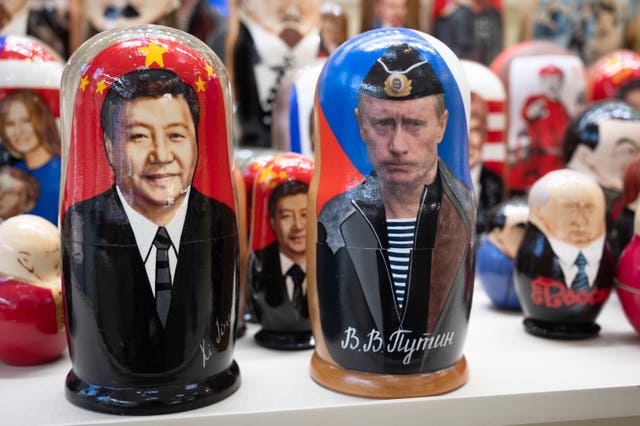 Mr Kishida, Japan's first post-war leader to enter a war zone, was invited by Mr Zelensky in January to visit Kyiv.
Due to its pacifist principles, Japan's support for Ukraine has been limited to equipment such as helmets, bulletproof vests and drones, and humanitarian supplies including generators.
Japan has contributed more than £5.7 billion to Ukraine, and accepted more than 2,000 displaced Ukrainians and helped them with housing assistance and support for jobs and education, a rare move in a country that is known for its strict immigration policy.