Russia has launched exploding drones that killed at least four people at a student dormitory near Kyiv, hours after Japan's prime minister left the Ukrainian capital following a show of support for the country.
The attack in the city of Rzhyshchiv took place the same day Chinese leader Xi Jinping left Moscow after discussing his proposal for ending the war, which has been rejected by the West as a non-starter.
A secondary school and two dormitories were partially destroyed in the overnight drone attack in the city south of the Ukrainian capital, local officials said. It was not clear how many people were in the dormitories at the time.
The body of a 40-year-old man was pulled from the rubble on a dormitory's fifth floor, according to regional police chief Andrii Nebytov. More than 20 people were hospitalised, he added, while a few other people were unaccounted for.
Ukrainian air defences downed 16 of the 21 drones launched by Russia, the Ukraine general staff said. Eight of them were shot down near the capital, according to the city's military administration. Other drone attacks struck central-western Khmelnytskyi province.
The drone barrage and other Russian overnight attacks that struck civilian infrastructure drew a scathing response from President Volodymyr Zelensky, a day after Mr Xi and Russian president Vladimir Putin discussed China's proposals for negotiating an end to the war.
"Over 20 Iranian murderous drones, plus missiles, numerous shelling occasions, and that's just in one last night of Russian terror," Mr Zelensky wrote in English on Twitter.
Japanese prime minister Fumio Kishida, who is the current chair of the G7, made a surprise visit to Kyiv on Tuesday, throwing his support behind Mr Zelensky's government as his Asian rival Mr Xi sided with Mr Putin.
After returning to Poland on Wednesday morning, Mr Kishida said he had expressed the "unwavering determination of solidarity" of Japan and the G7 to Ukraine during his talks with Mr Zelensky.
Mr Kishida's visit to Ukraine was "very meaningful" for Japan's future support for that country, Japan's top government spokesman said.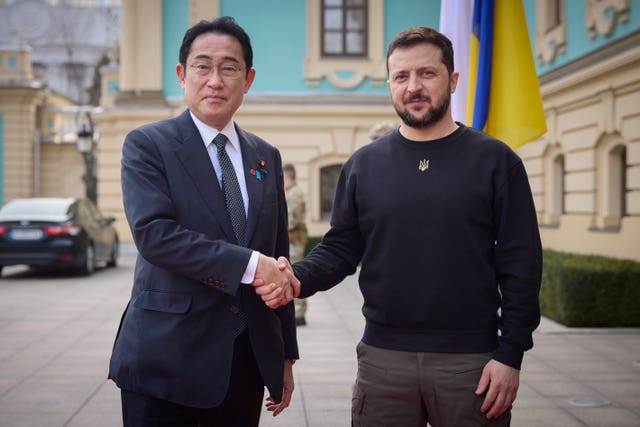 Mr Kishida's visit snatched away some of the attention from Mr Xi's trip to Moscow where he promoted Beijing's peace proposal for Ukraine, which western nations had already dismissed as a way to consolidate Moscow's gains. Mr Xi left Moscow early on Wednesday.
The visits by Mr Xi and Mr Kishida, about 800km (500 miles) apart, highlighted how countries are lining up behind Moscow or Kyiv during the nearly 13-month-old war.