A US governor has signed a law prohibiting transgender people at state schools from using the toilet that matches their gender identity.
Arkansas is the first of several states expected to enact such bans this year amid a flood of bills nationwide targeting the trans community.
Arkansas is now the fourth state to place such restrictions at state schools, and it comes as bills in Idaho and Iowa also await their governor's signature.
And it might be followed by a stricter Arkansas bill criminalising transgender adults using public toilets that match their gender identity.
The Bill was signed by the Republican governor of Arkansas Sarah Huckabee Sanders, whose spokesperson said in a statement: "The Governor has said she will sign laws that focus on protecting and educating our kids, not indoctrinating them and believes our schools are no place for the radical left's woke agenda."
Alexa Henning added: "Arkansas isn't going to rewrite the rules of biology just to please a handful of far-left advocates."
Similar laws have been enacted in Alabama, Oklahoma and Tennessee, although lawsuits have been filed challenging the Oklahoma and Tennessee restrictions.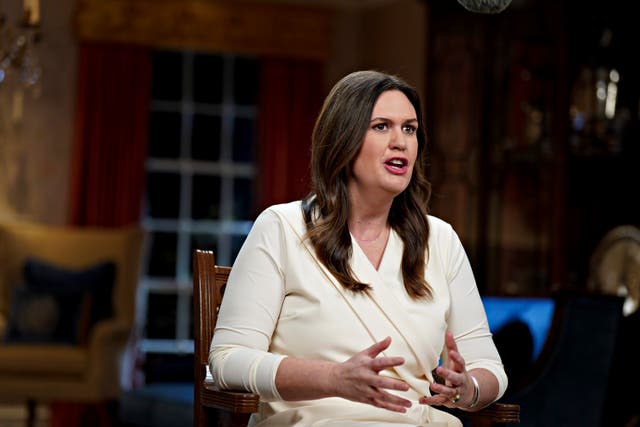 "They're singling out transgender people for no other reason than dislike, disapproval and misunderstanding of who transgender youth are," Paul Castillo, senior counsel and students' rights strategist for Lambda Legal, said.
"And the entire school population suffers as a result of these types of bills, particularly schools and teachers and administrators who are dealing with real problems and need to focus on creating a welcome environment for every student."
The proposals are among a record number of bills filed to restrict the rights of transgender people by limiting or banning gender-affirming care for minors, banning transgender girls from school sports and restricting drag shows.
"It's a flagrant message from them that they refuse to respect (transgender people's) rights and humanity, to respect Arkansans' rights and humanity," Holly Dickson, executive director of the American Civil Liberties Union of Arkansas, said.
The new Arkansas law requires schools to provide reasonable accommodations, including single-person toilets. Staff who violate the prohibition could face fines of at least 1,000 US dollars from a state panel, and parents could also file private lawsuits to enforce the measure.
"Each child in our schools has a right to privacy and to feel safe and to feel comfortable in the bathroom they need to go to," Republican Mary Bentley, the Bill's sponsor, told lawmakers earlier this year.