An explosion at a chocolate factory in Pennsylvania on Friday killed three people and left four people missing.
One person was pulled from the rubble overnight.
Rescue crews using dogs and imaging equipment continued to search through the rubble on Saturday — hours after the blast that erupted on Friday evening at the RM Palmer Co plant in the borough of West Reading, about 60 miles north-west of Philadelphia.
West Reading officials said on Saturday they could confirm only two fatalities. The Pennsylvania Emergency Management Agency had earlier said there were five fatalities, citing county emergency management officials, but after an update from the county also indicated that two had died and five were missing.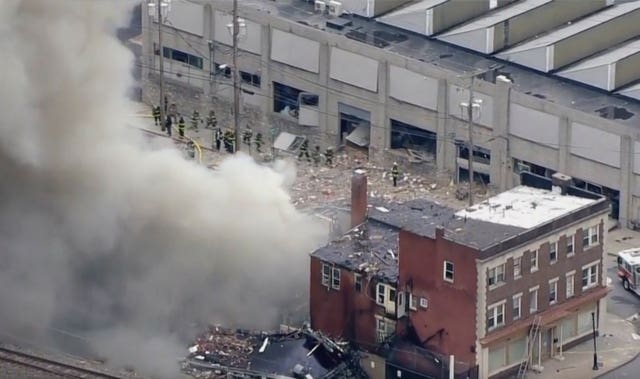 Rescue workers were continuing a thorough search using specialised equipment and techniques. Officials said dogs and imaging equipment were being used to look for signs of life during the careful removal of debris.
Mr Holben said the blast destroyed one building and damaged a neighbouring building. The cause remains under investigation, he said.
"It's pretty levelled," Mayor Samantha Kaag said of the explosion site. "The building in the front, with the church and the apartments, the explosion was so big that it moved that building four feet forward."
A UGI Utilities spokesperson said crews were brought in after damage from the blast led to the release of gas that was helping to feed the fire.
"We did not receive any calls regarding a gas leak or gas order prior to the incident, but we are cooperating with the investigation and part of that will be to check all our facilities in the vicinity," UGI spokesperson Joseph Swope said on Saturday.
RM Palmer said in a statement late on Saturday that everyone at the company was "devastated by the tragic events" and "focused on supporting our employees and their families".
Reading Hospital said on Saturday afternoon it had received 10 patients, of which one was transferred to Lehigh Valley Hospital and another to Penn State Health St Joseph Medical Centre. Two were admitted to Reading Hospital in good and fair condition, respectively, and the others had been discharged, officials said.
Ms Kaag said people were asked to move back about a block in each direction but no evacuations were ordered. She had issued an emergency declaration only to allow more resources for first responders.
Borough manager Dean Murray said some residents were displaced from the damaged apartment building.
Philip Wert, vice president of the West Reading council, said the building had been constructed in the late 1950s or early 1960s, and officials had to "access our archive to pull the blueprints last night, in order to get a better layout of the building and the mechanicals and the utilities, where things are".
"The silver lining in all this is someone was found alive, someone was found alive that was in rubble, not knowing whether they were going to live or die, and fortunately we found that person and they've got a second chance, and hopefully fingers crossed we're going to find more," he said.
Officials said RM Palmer, which Mr Murray described as "a staple of the borough", was expected to make a statement.
The company's website says it has been making "chocolate novelties" since 1948 and now has 850 employees at its West Reading headquarters.