Help began pouring into one of the poorest regions of the US after a deadly tornado wrought a path of destruction in the Mississippi Delta, even as new storms struck Georgia, where two tigers briefly escaped their badly damaged safari park.
At least 25 people were killed and dozens of others were injured in Mississippi as the storm ripped through several towns along its hour-long path late on Friday. One man was killed in Alabama after his trailer home flipped over several times.
Search and recovery crews resumed their task of digging through the debris of flattened and battered homes, commercial buildings and municipal offices after hundreds of people were displaced.
"The town is devastated," Mr Kunze said. "Everything I can see is in some state of destruction."
Mr Kunze was among several volunteers working on Sunday morning at a staging area, where cases of bottled water and other supplies were being prepared for distribution.
"Sharkey County, Mississippi, is one of the poorest counties in the state of Mississippi, but we're still resilient," Rolling Fork mayor Eldridge Walker said on Sunday.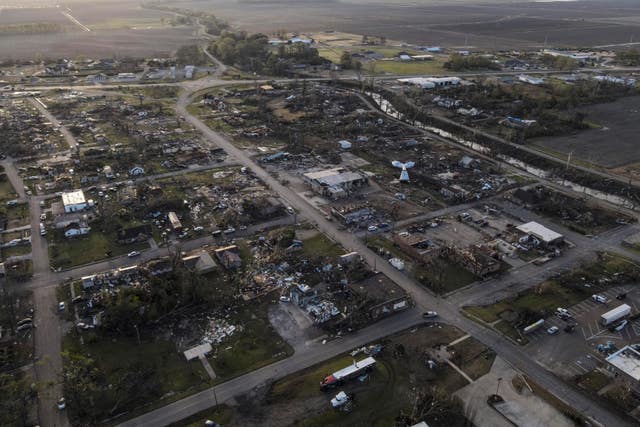 "Continue to pray for us," he added. "We've got a long way to go, and we certainly thank everybody for their prayers and for anything they will do or can do for this community."
US president Joe Biden issued an emergency declaration for Mississippi early on Sunday, making federal funding available to the areas hardest hit.
The recovery efforts in Mississippi were under way even as the National Weather Service warned of a new risk of more severe weather on Sunday — including high winds, large hail and possible tornadoes in Georgia, Louisiana, Mississippi and Alabama.
A tornado reportedly touched down early on Sunday in Troup County, Georgia, near the Alabama border, according to the Georgia Mutual Aid Group.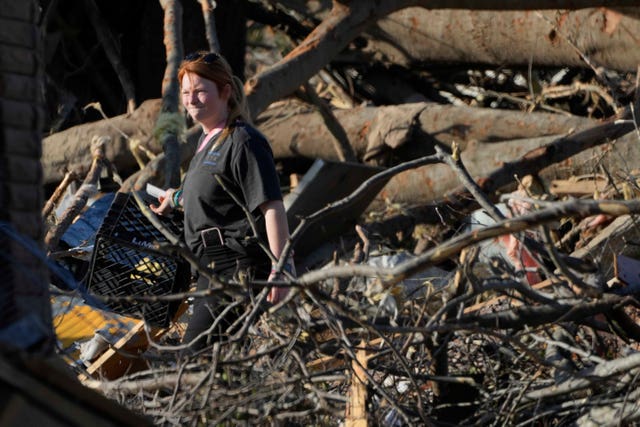 And two tigers "briefly escaped" early on Sunday from their enclosures at Wild Animal Safari in Pine Mountain, Georgia, after the park sustained extensive tornado damage, the park announced on its Facebook page. "The tigers are safe!," the park added. "Both have now been found, tranquilised, and safely returned to a secure enclosure." It added that none of its employees or animals had been hurt.
Following Mr Biden's declaration, federal funding can be used for recovery efforts in Mississippi's Carroll, Humphreys, Monroe and Sharkey counties, including temporary housing, home repairs, loans covering uninsured property losses and other individual and business programmes, the White House said in a statement.
The tornado flattened entire blocks, obliterated houses, ripped a steeple off a church and toppled a municipal water tower.
Based on early data, the tornado received a preliminary EF-4 rating, the National Weather Service office in Jackson said late on Saturday in a tweet. An EF-4 tornado has top wind gusts between 166mph and 200mph, according to the service.
The tornado devastated a swath of the town of Rolling Fork where 2,000 people live, reducing homes to piles of rubble and flipping cars on their sides. Other parts of the Deep South were digging out from damage caused by other suspected tornadoes. One man died in Morgan County, Alabama, the sheriff's department there said in a tweet.
The Federal Emergency Management Agency said in a briefing that 25 people were confirmed killed in Mississippi, 55 people were injured and 2,000 homes were damaged or destroyed. High winds, hail and strong storms were expected for parts of Alabama and Georgia on Sunday, the National Weather Service added.
"How anybody survived is unknown by me," said Rodney Porter, who lives 20 miles (32km) south of Rolling Fork.
When the storm hit on Friday night, he immediately drove there to assist. Mr Porter arrived to find "total devastation" and said he smelled natural gas and heard people screaming for help in the dark.
"Houses are gone, houses stacked on top of houses with vehicles on top of that," he said.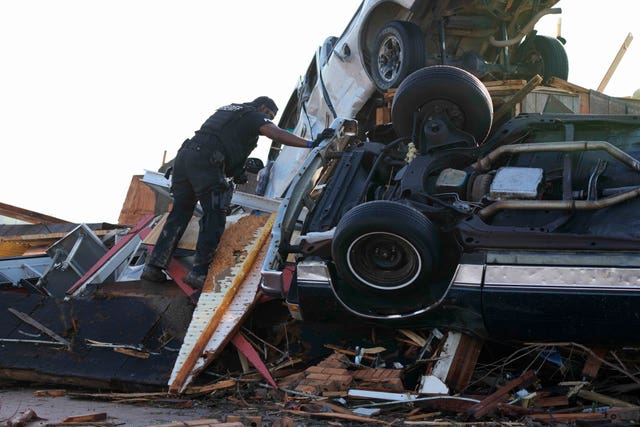 "Cried last night, cried this morning," she said, looking around at flattened homes. "They said you need to take cover, but it happened so fast a lot of people didn't even get a chance to take cover."
More than half-a-dozen shelters have been opened in Mississippi to house people who have been displaced.
Preliminary information based on estimates from storm reports and radar data indicate the tornado was on the ground for more than an hour and covered at least 170 miles (274km), Lance Perrilloux, a meteorologist with the National Weather Service's Jackson, Mississippi, office said.
"That's rare — very, very rare," he said, attributing the long path to widespread atmospheric instability.