Tens of thousands of Israelis have poured on to streets of cities across the country in a spontaneous outburst of anger after Prime Minister Benjamin Netanyahu fired his defence minister for challenging the Israeli leader's judicial overhaul plan.
Protesters in Tel Aviv blocked a main highway and lit large bonfires while police scuffled with protesters who gathered outside Mr Netanyahu's private home in Jerusalem.
The unrest deepened a months-long crisis over Mr Netanyahu's plan to overhaul the judiciary, which has sparked mass protests, alarmed business leaders and former security chiefs, and drawn concern from the United States and other close allies.
Mr Netanyahu's dismissal of defence minister Yoav Gallant signalled that the prime minister and his allies will push ahead this week with the overhaul plan.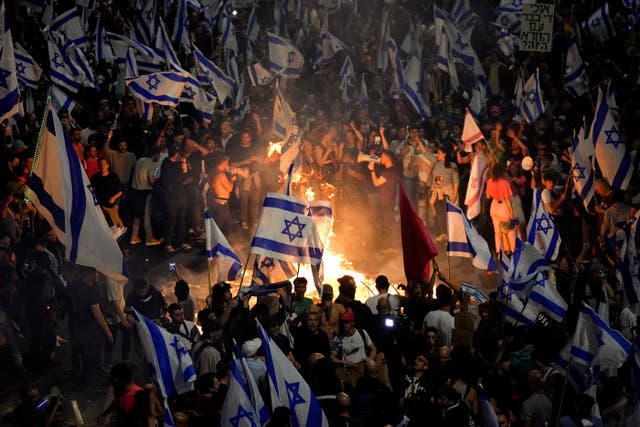 In a brief statement, Mr Netanyahu's office said the prime minister had dismissed Mr Gallant. Mr Netanyahu later tweeted "we must all stand strong against refusal".
Tens of thousands of Israelis poured into the streets in protest after Mr Netanyahu's announcement, blocking Tel Aviv's main artery, transforming the Ayalon highway into a sea of blue-and-white Israeli flags and lighting a large bonfire in the middle of the road.
Demonstrations took place in Beersheba, Haifa and Jerusalem, where thousands of people gathered outside Mr Netanyahu's private residence. Police scuffled with protesters and sprayed the crowd with a water cannon.
Inon Aizik, 27, said he came to demonstrate outside Mr Netanyahu's private residence in central Jerusalem because "bad things are happening in this country", referring to the judicial overhaul as "a quick legislative blitz".
Mr Netanyahu's decision came less than a day after Mr Gallant, a former senior general, called for a pause in the controversial legislation until after next month's Independence Day holidays, citing the turmoil in the ranks of the military.
Mr Gallant had voiced concerns that the divisions in society were hurting morale in the military and emboldening Israel's enemies. "I see how the source of our strength is being eroded," Mr Gallant said.
While several other Likud members had indicated they might follow Mr Gallant, the party quickly closed ranks on Sunday, clearing the way for his dismissal.
Galit Distal Atbaryan, Mr Netanyahu's public diplomacy minister, said that Mr Netanyahu summoned Mr Gallant to his office and told him "that he doesn't have any faith in him any more and therefore he is fired".
Opposition leader Yair Lapid said that Mr Gallant's dismissal "harms national security and ignores warnings of all defencee officials".
Israel's consul general in New York City, Assaf Zamir, resigned in protest.
Avi Dichter, a former chief of the Shin Bet security agency, is expected to replace him. Mr Dichter had reportedly flirted with joining Mr Gallant but instead announced on Sunday he was backing the prime minister.
Mr Netanyahu's government is pushing ahead for a parliamentary vote this week on a centrepiece of the overhaul — a law that would give the governing coalition the final say over all judicial appointments.
It also seeks to pass laws that would grant parliament the authority to override Supreme Court decisions with a basic majority and limit judicial review of laws.
Mr Netanyahu and his allies say the plan will restore a balance between the judicial and executive branches and rein in what they see as an interventionist court with liberal sympathies.
But critics say the constellation of laws will remove the checks and balances in Israel's democratic system and concentrate power in the hands of the governing coalition. They also say that Mr Netanyahu, who is on trial for corruption charges, has a conflict of interest.
Tens of thousands of people have taken to the streets over the past three months to demonstrate against the plan in the largest demonstrations in the country's 75-year history.
Leaders of Israel's vibrant high-tech industry have said the changes will scare away investors, former top security officials have spoken out against the plan and key allies, including the United States and Germany, have voiced concerns.