Former Kosovo president Hashim Thaci has insisted he is an innocent man as he addressed a panel of international judges hearing his trial on 10 counts of war crimes and crimes against humanity.
At the end of his lawyers' opening statement to the Kosovo Specialist Chambers, Thaci stood up and told black-robed judges that he expects evidence to lead to his acquittal, saying that "victims do not obtain justice when the innocent are pursued".
Thaci was a student who came out of what he described as political exile in Switzerland to join Kosovo's struggle for independence from Serbia.
He was embraced by Western leaders who invited him to 1999 peace talks in France in his role as political director of the Kosovo Liberation Army and was he seen as a leader who could guide the country toward independence.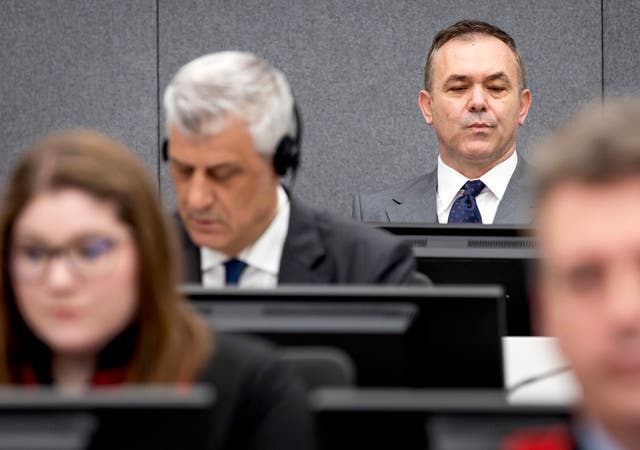 "They would have testified on my part about what I have said and what I did during that very important time in Kosovo's history," he said. "I'm happy that many others like them have come forward to testify about my innocence."
But prosecutors paint a different picture, alleging Thaci and three other former senior leaders of the KLA on trial with him were responsible for murders and the illegal detention and abuse of people they considered traitors or collaborators with Serb forces.
"I'm innocent of all these allegations," Thaci said. "However, I'm ready to face this new challenge and succeed for my family, my people and my country."
Defence lawyer Gregory Kehoe told judges that Thaci had no "effective command and control" over the KLA at the time international prosecutors hold him responsible for war crimes and crimes against humanity allegedly committed by members of the guerilla force in Kosovo's 1998-99 war for independence from Serbia.
The issue of how much control Thaci and three other former high-ranking KLA leaders on trial with him had over KLA fighters will be key in the trial that opened on Monday and is expected to last many months.
Thaci and his fellow accused, Kadri Veseli, Rexhep Selimi and Jakup Krasniqi, are each charged with offences including murder, torture and persecution allegedly committed across Kosovo and northern Albania from 1998 to September 1999, during and after the war.
Mr Kehoe's opening statement aimed to counter prosecutors' assertions on the trial's opening day that Thaci and three-co-defendants were all members of the KLA general staff who pursued a policy of targeting civilians perceived as collaborators and traitors.
Prosecution lawyer Matt Halling told judges on Monday that "each of the four accused wielded power, authority and influence" which enabled them to enact the policy.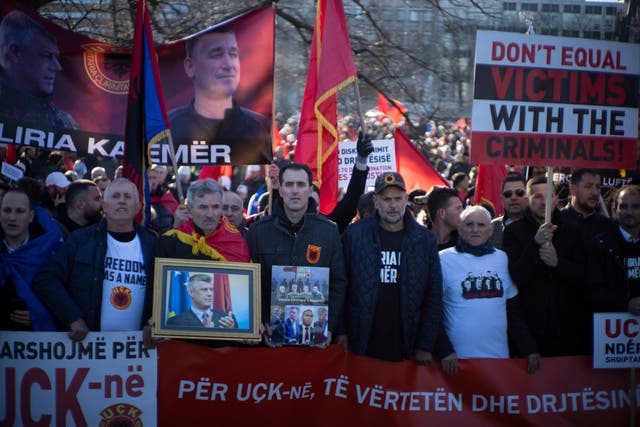 Most of the 13,000 people who died in the 1998-1999 war in Kosovo were ethnic Albanians. A 78-day campaign of Nato air strikes against Serbian forces ended the fighting. About one million ethnic Albanian Kosovars were driven from their homes.
The trial triggered a large demonstration in Kosovo on Sunday in support of the four defendants and another protest on Monday in The Hague by hundreds of Kosovars who waved flags and banners, including one that proclaimed "KLA fought for freedom".