Finland is poised to join Nato in a historic realignment triggered by Russia's invasion of Ukraine but the head of the military alliance said no more troops would be sent to the Nordic country unless it asked for help.
Russia has already warned that it would bolster defences along its border with Nato if the alliance deploys any additional troops or equipment to its new member.
"There will be no Nato troops in Finland without the consent of Finland," Nato secretary-general Jens Stoltenberg told reporters at the alliance's headquarters in Brussels a few hours before the country joins.
But he refused to rule out the possibility of holding more military exercises there and said that Nato would not allow Russia's demands to dictate the organisation's decisions.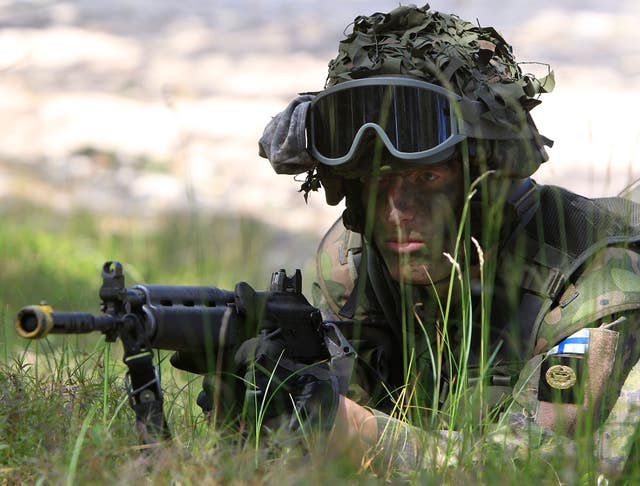 Finland is set to officially become the 31st member of Nato and take its place among the ranks of the world's biggest security alliance.
Alarmed by Russia's invasion of Ukraine last year, Finland applied to join in May, setting aside years of military non-alignment to seek protection under the organisation's security umbrella. Neighbouring Sweden also applied, but its accession process may take a few months longer.
Finland shares a 832-mile border with Russia, so its entry will more than double the size of Nato's border with Russia. The move is a strategic and political blow to President Vladimir Putin, who has long complained about Nato's expansion toward Russia.
Kremlin spokesman Dmitry Peskov said on Tuesday that Finland's membership reflects the alliance's anti-Russian course and warned that Moscow will respond depending on what weapons Nato allies place there.
"We will closely monitor what will be going on in Finland and how Nato will use the territory of Finland for the deployment of weapons, equipment and infrastructure next to our border that would potentially threaten us. Measures will be taken dependent on that," Mr Peskov said in a conference call with reporters.
But Mr Peskov also sought to play down the impact, noting that Russia has no territorial disputes with Finland.
It is not clear what additional military resources Russia could send to the Finnish border. Moscow has deployed the bulk of its most capable military units to Ukraine.
Mr Stoltenberg said that once it joins, Finland will benefit from Nato's "iron-clad security guarantee" under which all member countries vow to come to the defence of any ally that comes under attack.
"By (Finland) become a full-fledged member, we are removing the room for miscalculation in Moscow about Nato's readiness to protect Finland, and that makes Finland safer and stronger, and all of us safer," Mr Stoltenberg said.
Finland's entry, to be marked with a flag-raising ceremony at Nato headquarters, falls on the organisation's own birthday – the 74th anniversary of the signing of its founding Washington Treaty on April 4 1949. It also coincides with a meeting of the alliance's foreign ministers.
Finland's president, foreign and defence ministers will take part in the ceremony.
Turkey became the last Nato member country to ratify Finland's membership protocol on Thursday.