A tornado that swept through south-eastern Missouri before dawn on Wednesday killed at least five people and injured an unknown number of others, authorities said.
Sgt Clark Parrott, of the Missouri State Highway Patrol, said the death toll from the early-morning storm might rise as crews sift through the rubble of damaged and destroyed homes in Bollinger County, about 50 miles south of St Louis.
In addition to the deaths, an unknown number of people were injured by the storm, which is part of a larger system that could spawn further twisters and hail as it moves through the Midwest and South on Wednesday.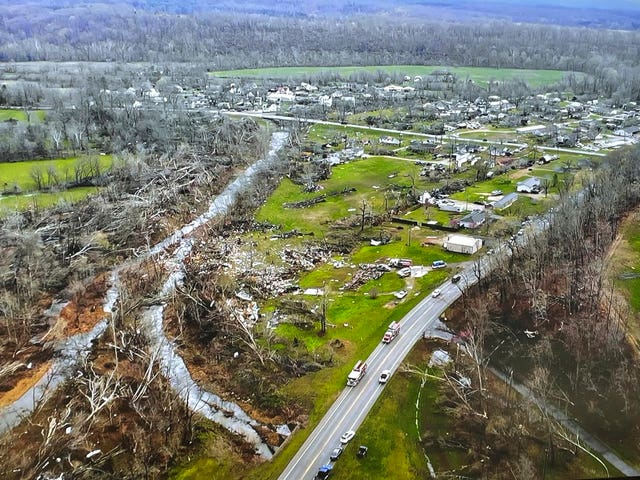 "The damage is pretty widespread. It's just heart-breaking to see it," Sgt Parrott said.
The patrol posted an overhead photo of the damage that showed uprooted trees and damaged and destroyed homes. Drone footage showed that some had been turned into piles of debris and splinters.
One area that appeared to be hit especially hard was a narrow stretch between a road and a stream where emergency crews could be seen peering into the wreckage with flashlights.
Sgt Parrott said that crews had to use chainsaws to cut back trees and brush to reach some of the homes.
"It's going to be a slow process but for now it's an active search and rescue," Sgt Parrott said.
Justin Gibbs, a National Weather Service meteorologist in Paducah, Kentucky, said the tornado remained on the ground for roughly 15 minutes, traveling an estimated 15-20 miles.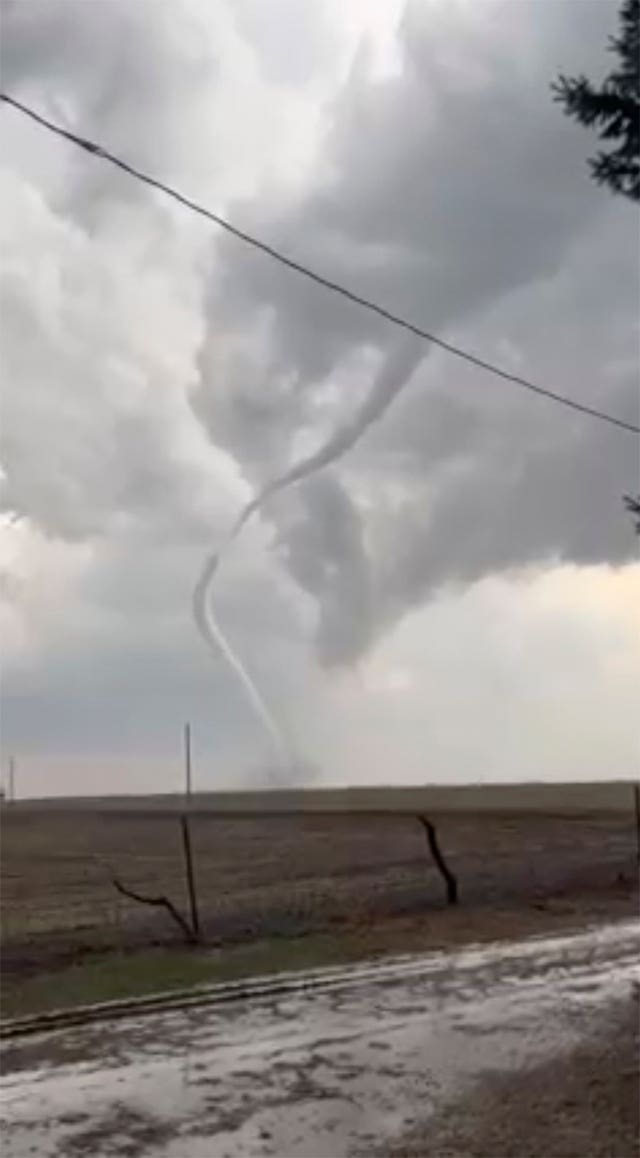 He noted that tornadoes are especially dangerous when they touch down late at night or early in the morning, as this one did.
"It's definitely a nightmare from a warning standpoint," Mr Gibbs said. "It's bad anytime, but it's especially bad at 3:30 in the morning."
Larry Welker, Bollinger County's public administrator, said the twister travelled along route 34 into Glen Allen, a village of slightly more than 100 people, and that he has not been able to inspect the damage first-hand because law enforcement were restricting access to the area.
"I'm getting reports that it was pretty bad," he said. He described it as a rural area, where residents mostly farmed, cut timber or worked construction jobs.
"There was several trailers there, and I understand that there is still people missing," Mr Welker said.
Governor Mike Parson said he would join emergency personnel on the ground to assess damage and determine what resources are needed.
The storms moving through the Midwest and South on Wednesday threaten some areas still reeling from a deadly bout of bad weather last weekend.
The Storm Prediction Centre said up to 40 million people in an area that includes major cities including Chicago, Indianapolis, Detroit and Memphis, Tennessee, were at risk from the storms later Wednesday.
As of late morning, the greatest threat appeared to be to an area stretching from lower Michigan into Tennessee and Kentucky.