North Korea has threatened unspecified "offensive action" over the expansion of US military exercises with rival South Korea as President Joe Biden's special representative for North Korea flew to Seoul for talks with allies over the North's growing nuclear threat.
The North Korean comments came a day after the US flew nuclear-capable B-52 bombers to the Korean Peninsula for joint aerial exercises with South Korean warplanes in their latest show of force against the North, which portrays the allies' drills as invasion rehearsals.
Animosity heightened in recent weeks as the pace of both the US-South Korean military exercises and the North Korean weapons demonstrations increased in a cycle of tit-for-tat.
The North's official Korean Central News Agency (KCNA) said the US and South Korea's military exercises and the deployment of advanced US military assets have turned the Korean Peninsula into a "huge powder magazine, which can be detonated any moment".
"(North Korea's) war deterrence will continue to show its responsibility for and confidence in its crucial mission through offensive action."
KCNA's commentary came as Sung Kim, the US special representative to North Korea, arrived in Seoul for talks with South Korean and Japanese officials to coordinate their response to North Korea's intensifying weapons development and threats of nuclear conflict.
Following meetings with South Korean foreign minister Park Jin and other South Korean officials on Thursday, Mr Kim will take part in a three-way meeting with the South Korean and Japanese nuclear envoys on Friday, according to South Korea's Foreign Ministry.
Mr Kim on Thursday separately met with Mr Jin and chief South Korean nuclear negotiator, Kim Gunn, where they discussed strengthening joint defence postures and inducing further international efforts to crack down on illicit North Korean activities funding its weapons programme.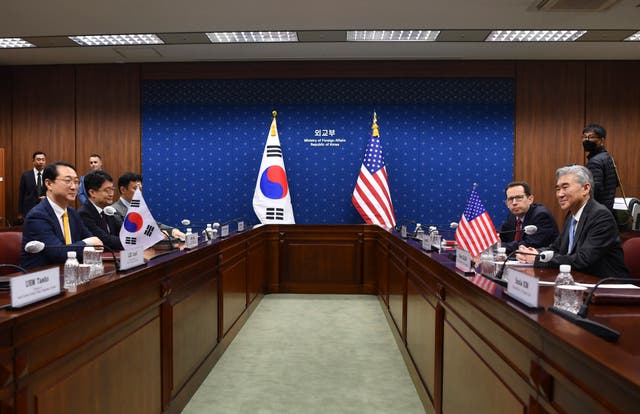 They also discussed seeking an active role from China – North Korea's key ally and economic lifeline – in persuading Pyongyang to halt its weapons displays and return to denuclearisation talks, according to the South Korean Foreign Ministry.
Mr Kim and Mr Gunn are planning to participate in a three-way meeting with Japanese nuclear envoy Takehiro Funakoshi in Seoul on Friday.
North Korea in March alone fired nearly 20 missiles over seven different launch events, including an intercontinental ballistic missile that demonstrated potential range to reach the US mainland and several shorter-range weapons designed to deliver nuclear strikes on South Korean targets.