Palestinian militants fired a barrage of rockets on Thursday, setting off air raid sirens in southern Israel, as violence erupted for the second day in a row during a sensitive period of overlapping holidays.
The Israeli military said seven rockets launched from the Gaza Strip all exploded in mid-air. No group claimed responsibility.
The barrage came after another tense night at Jerusalem's most sensitive holy site, the Al-Aqsa Mosque, where Israeli police clashed with Muslim worshippers attempting to stay overnight.
Since Ramadan began on March 22, scores of Muslims have repeatedly tried to stay overnight in the mosque, a practice that is typically permitted only during the last 10 days of the holy month.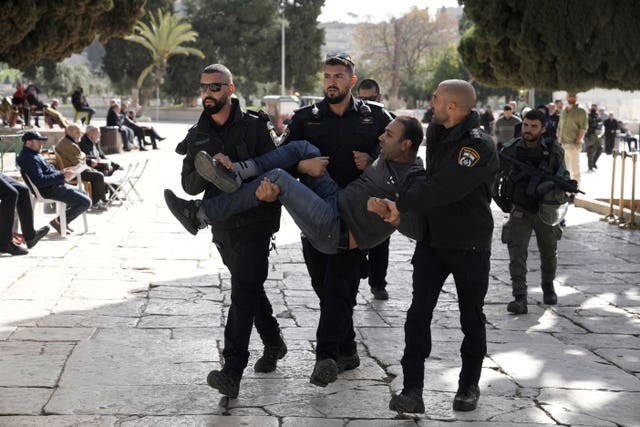 Worshippers threw stones and firecrackers at police, who responded with beatings that left dozens bloody and the arrest of hundreds.
On Wednesday, the Israeli police made no arrests but did detain and question some Palestinians, a spokesman said.
The Palestinian Red Crescent said it was not allowed into the compound on Wednesday, but dozens were injured from from beatings, rubber bullets and stun grenades, including an ambulance driver.
Israeli newspaper Haaretz said protests on Wednesday drew hundreds in communities across Israel's north, home to many of Israel's Palestinian citizens, who make up one-fifth of its 9.6 million people.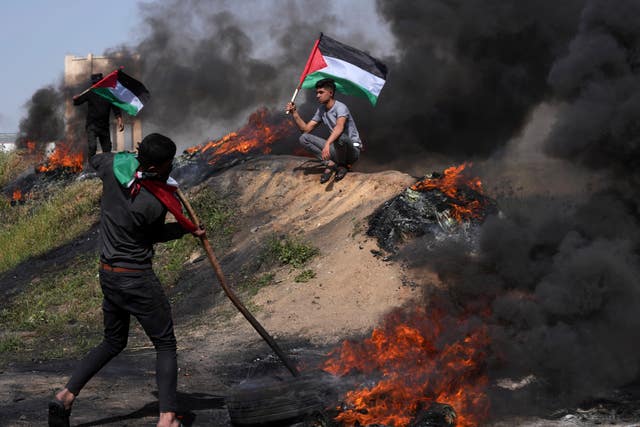 The rocket fire raised fears of a wider conflagration as Jews began the week-long Passover holiday, hundreds of Christians in the Old City gathered for Holy Thursday at the Holy Sepulchre to mark the Last Supper, and Muslims marked the Ramadan holy month.
Al-Aqsa is the third-holiest site in Islam and stands on a hilltop known to Jews as the Temple Mount, which is the holiest site in Judaism.
Conflicting claims over it have spilled into violence before, including a bloody 11-day war two years ago between Israel and Hamas, the Islamic militant group that rules Gaza.
Muslim leaders around the Middle East criticised the Israeli actions in Al-Aqsa.
Turkish president Recep Tayyip Erdogan, whose country recently reconciled with Israel and restored full diplomatic ties, condemned the violence in a television interview on Wednesday.
"Interventions and threats against the historical status and spirituality of Al-Aqsa Mosque as well as the Palestinians' right to life and religious beliefs must come to an end," Mr Erdogan told Turkey's 24 TV.
"We will continue to stand by our Palestinian brothers and sisters under all circumstances and protect what is sacred to us. Israel should know this."