A review of the chaotic withdrawal of US troops from Afghanistan in 2021 has found former president Donald Trump was largely to blame.
An inter-agency review led by the National Security Council found that President Joe Biden was "severely constrained" by the decisions of his predecessor.
The White House publicly released a 12-page summary of the results of the so-called "hotwash" of US policies around the ending of the nation's longest war.
The administration said most of the after-action reviews, which were transmitted privately to Congress on Thursday, were highly classified and would not be released publicly.
The report does fault overly optimistic intelligence community assessments about the Afghan army's willingness to fight, and says Mr Biden followed military commanders' recommendations on the pace of the drawdown of US forces.
The White House said the mistakes of Afghanistan informed its handling of Ukraine, where the Biden administration has been credited for supporting Kyiv's defence against Russia's invasion.
The White House said it simulated worst-case scenarios prior to the February 2022 invasion and moved to release intelligence about Moscow's intentions months beforehand.
"We now prioritise earlier evacuations when faced with a degrading security situation," the White House said.
In an apparent attempt to defend its national security decision-making, the Biden administration also notes that it released pre-war warnings over "strong objections from senior officials in the Ukrainian government".
Republicans in Congress have sharply criticised the Afghanistan withdrawal, focusing on the deaths of 13 service members in a suicide bombing at Kabul's airport.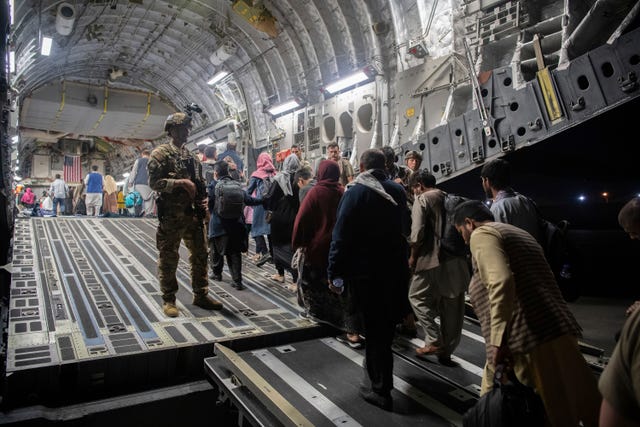 National Security Council spokesman John Kirby credited US forces for their actions in running the largest airborne evacuation of non-combatants in history during the chaos of Kabul's fall.
"They ended our nation's longest war," he told reporters. "That was never going to be an easy thing to do. And as the president himself has said, it was never going to be low grade or low risk or low cost."
Since the US withdrawal, Mr Biden has blamed the February 2020 agreement Mr Trump reached with the Taliban in Doha, Qatar, saying it boxed the US into leaving the country.
The agreement gave the Taliban significant legitimacy and has been blamed by analysts for undercutting the US-backed government, which would collapse so quickly a year later.
But the agreement also gave the US the right to withdraw from the accord if Afghan peace talks failed — which they did.
The agreement required the US to remove all forces by May 1 2021. Mr Biden pushed a full withdrawal to September but declined to delay further, saying it would prolong a war that had long needed to end.