Thousands of Israelis led by at least seven Cabinet ministers marched to an evacuated West Bank settlement on Monday, in a defiant signal that Israel's most right-wing government in history is determined to accelerate settlement building on occupied lands despite international opposition.
The march took place as the Palestinian Health Ministry said a 15-year-old boy was killed by Israeli fire during an army raid in the occupied West Bank, while a 48-year-old woman died of wounds sustained in an attack last week that killed two British-Israeli sisters.
Israel's Hadassah Hospital announced the death of Lucy Dee, the mother of the two sisters. She was injured in the shooting when travelling with Rina, 15, and Maia, 20, in the West Bank.
The march posed a new test for Israel's security forces after days of unrest fuelled by tensions over a contested holy site in Jerusalem.
Israeli police and army forces were being deployed to the northern West Bank – the scene of frequent tensions in recent months – to secure the march, which came after days of fighting in Jerusalem and along Israel's northern and southern fronts.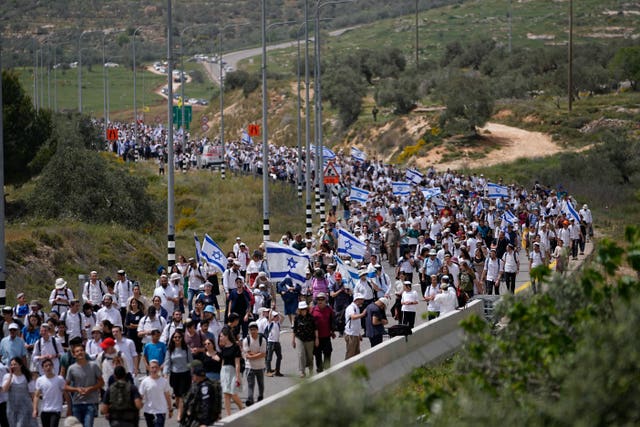 Tensions between Israelis and Palestinians over the Jerusalem shrine have reached fever pitch in recent weeks.
The Israeli army said its troops were operating in the Aqabat Jaber refugee camp next to Jericho in the West Bank. The Palestinian Health Ministry said 15-year-old Mohammed Balhan was killed by army fire.
The army said it entered the camp to arrest a wanted Palestinian suspect. It said residents opened fire and hurled explosives at the troops, who responded with live fire and "hits were identified". It said the wanted suspect was arrested, and there were no Israeli casualties.
The march to Eviatar, an unauthorised settlement outpost in the northern West Bank that was evacuated by the Israeli government in 2021, was being led by hard-line ultranationalist Jewish settlers. Organisers are calling for the settlement's reestablishment and legalisation.
Speaking at the march, national security minister Itamar Ben-Gvir said that "we are here to say that the Israeli nation is strong" and that "we are here and will remain here".
Israeli Prime Minister Benjamin Netanyahu heads the most religious and ultranationalist government in Israel's history. Several members of his Cabinet, including Finance Minister Bezalel Smotrich and National Security Minister Itamar Ben-Gvir — both West Bank settlers — and at least 20 members of Knesset were expected to take part in the march.
Visits to Eviatar were officially banned by the military after its evacuation, but that prohibition has been loosely enforced in recent months.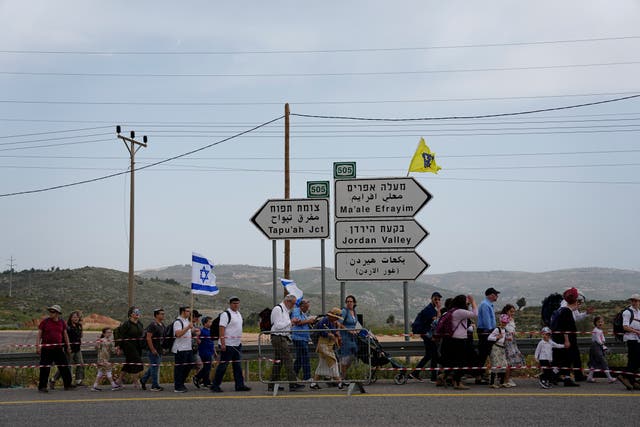 Ohad Tal, a politician with the Religious Zionist party, said "there was no reason in the world to cancel the march".
"We need to send a message – the message that we don't intend to concede and we are here to stay," he told Army Radio.
Tensions between Israel and the Palestinians have soared following last week's police raid on Jerusalem's Al-Aqsa Mosque compound during the Muslim holy month of Ramadan.
The hilltop shrine is the emotional ground zero of the Israeli-Palestinian conflict.
For Jews, it is known as the Temple Mount, their faith's holiest site and the place where two temples stood in antiquity. For Muslims, it is known as the Noble Sanctuary, home of the Al-Aqsa Mosque, the third holiest site in Islam.
Dozens of Jewish visitors entered the site on Monday escorted by Israeli police for a second consecutive day.
These tours by religious and nationalist Jews have increased in size and frequency in recent years, raising fears by Palestinians that Israel may partition the site.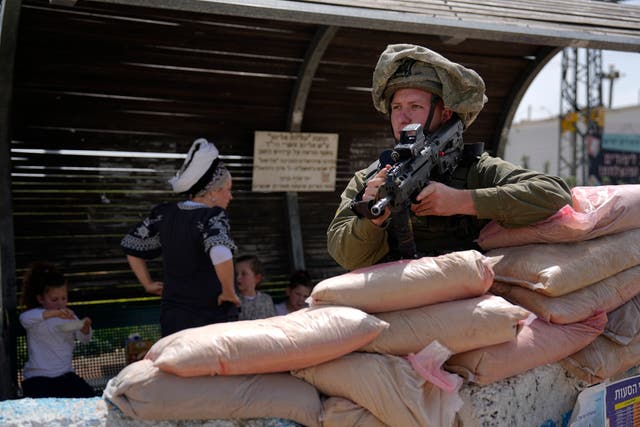 Last week, Palestinians barricaded themselves inside Al-Aqsa with stones and firecrackers, demanding the right to pray there overnight, something Israel has in the past only allowed during the last 10 days of Ramadan.
Police removed them by force, detaining hundreds and leaving dozens injured.
The violence at the shrine was followed by rocket fire by Palestinian militants from the Gaza Strip, southern Lebanon, and Syria starting on Wednesday, and Israeli air strikes targeting those areas.
Recent days have also seen Palestinian attacks that killed two Israelis and an Italian tourist.
Palestinian attacks have killed at least 19 people in Israel since the start of the year, including one soldier.
More than 90 Palestinians have been killed by Israeli fire so far this year, at least half of them affiliated with militant groups, according to a tally by the Associated Press.
Israel captured the West Bank, along with the Gaza Strip and east Jerusalem, in the 1967 Middle East war. It has built dozens of settlements in the territory that are now home to more than 500,000 Jewish settlers.
Most of the international community considers Israel's West Bank settlements illegal and an obstacle to peace with the Palestinians.
The Palestinians seek the West Bank, along with Gaza and east Jerusalem for their future independent state.
Benjamin Netanyahu's government has made settlement expansion a top priority.