Hundreds of South Koreans have been forced to flee a wildfire fuelled by strong winds that burned parts of an eastern coastal city, destroying dozens of homes.
More than 2,300 firefighters and 300 vehicles were sent to fight the blaze that started on a mountain in a central part of Gangneung.
Around 70 homes and other buildings were destroyed and more than 400 residents evacuated to facilities that included an ice-skating arena and a school gym.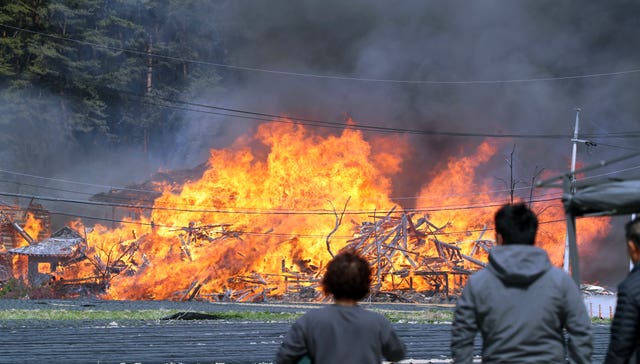 Their efforts were initially slowed by powerful winds that made it difficult to fly water-dropping aircraft but officials managed to deploy helicopters in the afternoon.
The Korea Meteorological Administration said winds in the Gangneung area were blowing up to 64mph as of Tuesday afternoon.
The strong winds also forced rail operators to cancel at least a dozen passenger trains between Gangneung and other eastern coastal cities like Donghae and Samcheok.
Photos showed firefighters spraying water toward burning homes and buildings, and large, orange flames engulfing a pine forest near a seaside resort hotel.
South Korean president Yoon Suk Yeol instructed officials to deploy "all available equipment and personnel" to swiftly extinguish the wildfire and evacuate residents to prevent loss of life.