A wildfire fuelled by strong winds has destroyed homes in a seaside city on South Korea's eastern coast, killing at least one person and forcing hundreds to flee.
It took eight hours and nearly 3,000 firefighters to put out the blaze that started on a mountain in a central part of Gangneung at around 8.30 am local time on Tuesday. The blaze destroyed around 70 homes and other buildings.
More than 550 people were evacuated to facilities including an ice-skating arena and a school gym.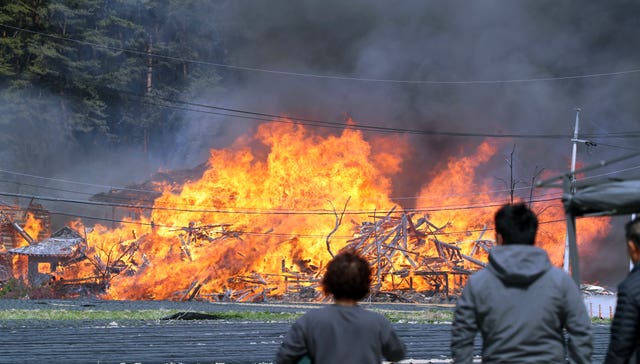 The Korea Forest Service said firefighters extinguished the blaze by 4.30pm, helped by rain that began in the afternoon.
Their efforts were initially slowed by powerful winds that made it difficult to fly water-dropping aircraft but officials managed to deploy helicopters in the afternoon.
The Korea Meteorological Administration said winds in the Gangneung area were blowing at 64mph. The strong winds also forced rail operators to cancel at least a dozen passenger trains between Gangneung and other eastern coastal cities like Donghae and Samcheok.
Photos showed firefighters spraying water toward burning homes and buildings and large, orange flames engulfing a pine forest near a seaside resort hotel.
The Korea Forest Service said that the fire was likely sparked by a tree that fell over a powerline after being snapped by strong winds.