Independent Serbian journalists have marked the 24th anniversary of the killing of a prominent editor and newspaper publisher who was fiercely critical of the government in Belgrade.
Slavko Curuvija was shot dead at the entrance to his Belgrade apartment during the 1999 Nato bombing of Serbia over its crackdown against Kosovo Albanian separatists.
His killing became a symbol of the struggle for a free press in the Balkan nation that is seeking membership in the European Union.
Independent media organisations, both local and international, warn that critical journalists still face threats because of their work.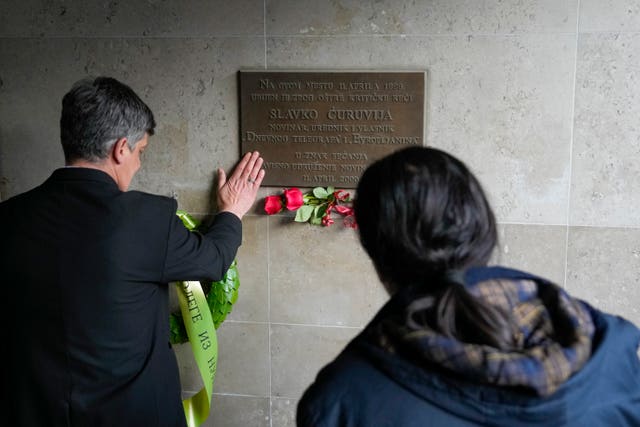 "We are in danger that a killing of a journalist could happen again, or serious violence," Veran Matic, who heads a commission investigating attacks on journalists, said at a discussion held for the anniversary.
Four state security officials were charged with planning and carrying out Mr Curuvija's killing but no final verdict has been reached despite several retrials and appeals.
A final retrial wrapped up last month and media experts described the forthcoming expected verdict as a crossroads for media freedom in Serbia.
"It would be a huge legal milestone," said Jamie Wiseman, the advocacy officer focusing on Europe at the International Press Institute.
"Paradoxically, there is risk also in a sense that it could give Serbian authorities an argument in international forums."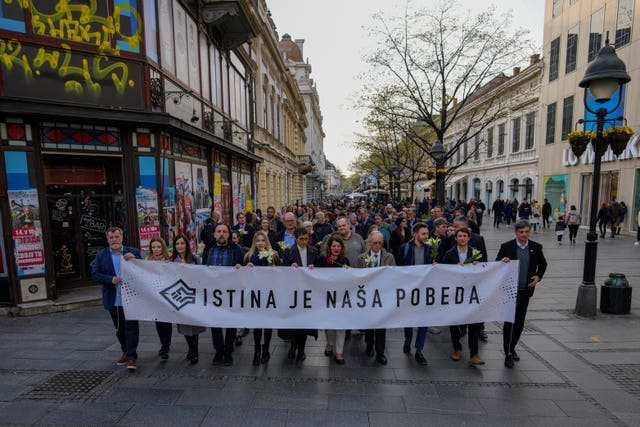 Foreign rights groups attended the gatherings of independent journalists on Tuesday to mark Mr Curuvija's killing and show solidarity and support with Serbia's media today.
Carrying a banner reading "Truth is our victory", dozens of journalists and citizens later walked through central Belgrade, retracing the path that Mr Curuvija took with his partner prior to the killing.
"Our visit comes amidst a spate of recent death threats and pressure, which reflect a wider toxic climate for independent and investigative journalism," the international Media Freedom Rapid Response group said.
"It is alarming that leading journalists are still receiving death threats and being branded with the same dangerous labels of 'traitors' and 'foreign mercenaries' that were used to lay the groundwork for Curuvija's assassination," the group said in a statement.
Mr Curuvija was regarded as an enemy of the state by the regime of former Serbian president Slobodan Milosevic.
The state-run media controlled by Mr Milosevic's family accused him of "inviting" Nato to bomb Serbia.
The 1999 Nato intervention in Serbia was in response to Mr Milosevic's bloody crackdown on ethnic Albanians in Kosovo, a former Serbian province that declared independence in 2008.
"Despite repeated attempts by the Milosevic regime to shut down his newspapers, the journalist refused to be cowed into silence and paid the ultimate price for his bravery," Media Freedom Rapid Response said.
While the charges in Mr Curuvija's case do not formally include alleged instigators who ordered the killing, Mr Matic claimed they were Mr Milosevic — who died in prison in the Netherlands in 2006, awaiting trial for crimes against humanity — and his wife Mirjana Markovic, who died in 2019.
"Unfortunately, the instigators are no longer alive," he said.
Nowadays, independent journalists in Serbia face a campaign of intimidation that starts with politicians, continues in the tabloids that are firmly under Mr Vucic's control and culminates with threats on social media, Mr Matic claimed.
Most recently, prominent author and talk show host Marko Vidojkovic left the country in the face of threats, and scores of other prominent journalists reported receiving hate messages threatening violence.
In a rare, quick court outcome, a man was sentenced to a year-long house arrest for threatening television editor Jelena Obucina, who is known for her critical commentaries on Nova TV news, media reported on Tuesday.
"I can't help noticing that the moment when the verdict was brought is interesting and encouraging, because a witch hunt is ongoing against journalists, and spearheaded by the bearers of power," Ms Obucina said on Tuesday.
Serbian government officials have repeatedly denied any pressure on non-government media.