UN secretary-general Antonio Guterres has appealed for "massive international support" for Somalia during his visit to the East African country that is facing the worst drought in decades.
He said Somalia is facing humanitarian difficulties at the same time that it is combating a serious terrorism threat.
Mr Guterres, in a joint press briefing with President Hassan Sheikh Mohamud, told reporters he was "here to ring the alarm on the need of massive international support because of the humanitarian difficulties the country is facing".
The UN secretary-general was given a red carpet welcome complete with a guard of honour as he was received at the main international airport by Somalia and UN officials.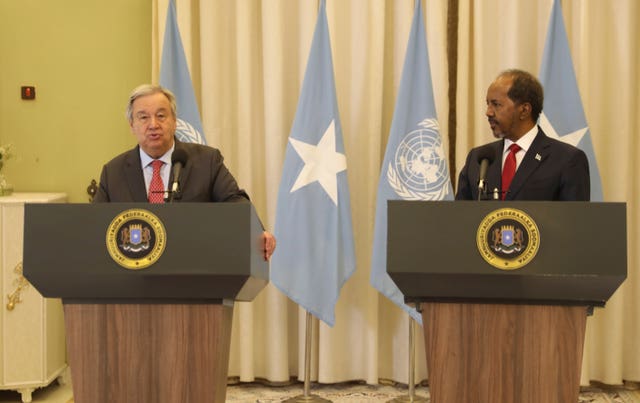 Most of Mogadishu was locked down for Mr Guterres's visit, with public transport restricted.
Mr Mohamud thanked Mr Guterres for his historic visit in the midst of tackling humanitarian challenges and an accelerating war against terrorism.
"This visit assures us that the UN is fully committed to supporting our plans for state-building and stabilising the country. We are confident that the Somali people will be able to overcome the problems and challenges they are still facing through the completion of the liberation of the country and reconciliation," Mr Mohamud said.
Food security experts said the situation remains "extremely critical" for more than six million hungry people in Somalia.
The country also faces insecurity as it battles thousands of fighters from al Qaida's East Africa affiliate, al-Shabab.