One of two black Democrats expelled from the Republican-led Tennessee House of Representatives will return to the legislature after a Memphis commission voted to reinstate him.
The move came nearly a week after Justin Pearson's banishment for supporting gun control protesters propelled him into the national spotlight.
Shelby County Board of Commissioners voted 7-0 to reinstate him as a state representative.
"I will continue to fight with and for our people, whether in or out of office," he wrote in the New York Times.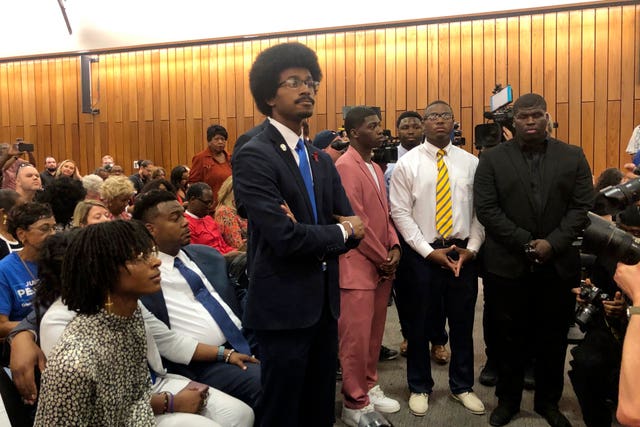 Republicans had expelled Mr Pearson and Justin Jones last week over their role in a gun control protest on the House floor after a Nashville school shooting that left three children and three adults dead.
Nashville Metropolitan Council took only a few minutes on Monday to unanimously restore Mr Jones to office. He was quickly reinstated to his House seat.
The appointments are interim and special elections for the seats will take place in the coming months. Both men have said they plan to run in the special elections.
The House's vote to remove them but keep white representatives Gloria Johnson drew accusations of racism. Ms Johnson survived by one vote. Republican leadership denied that race was a factor.
The expulsions last Thursday made Tennessee a new front in the battle for the future of American democracy. In the span of a few days, the two had raised thousands of campaign dollars, and the Tennessee Democratic Party had received support from across the US.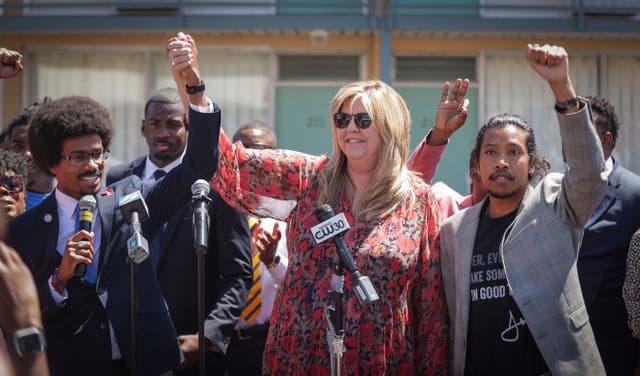 The scene unfolded days after the shooting at the Covenant School, a private Christian establishment. Their participation from the front of the chamber broke House rules because the three did not have permission from the speaker.
Before Wednesday's vote, Mr Pearson led hundreds of people in a march from the National Civil Rights Museum to the county commission's office in central Memphis.
He grew up in the same House district he was chosen to represent after long-time state representative Barbara Cooper, a black Democrat, died in office.
Before he was elected, he helped lead a successful campaign against a planned oil pipeline that would have run through neighbourhoods and wetlands, and near wells that pump water from the Memphis Sand Aquifer, which provides drinking water to a million people.
He gained a quick reputation as a skilled community activist and gifted public speaker.
If Mr Pearson joins Mr Jones in returning to the Tennessee Capitol, they will do so with political divisions between the state's few Democratic strongholds and the Republican supermajority reaching boiling point.
Legislators are also nearing passage of a Bill that would move control of the board that oversees Nashville's airport from local appointments to selections by Republican state government leaders.
Republicans have so far refused to consider new restrictions on firearms after the Nashville school shooting. They have advanced legislation designed to add more armed guards in public and private schools and are considering a proposal that would allow teachers to carry guns.
House speaker Cameron Sexton's office confirmed this week that a Republican legislator had been stripped of a top committee assignment more than a month after he asked during a hearing if "hanging by a tree" could be added to the state's execution methods.
Paul Sherrell was taken off the Criminal Justice Committee and transferred to another.
Mr Sherrell, who is white, later apologised for what he said amid an outcry from black legislators, who pointed to the state's history of lynching. He said his comments were "exaggerated" to show "support of families who often wait decades for justice".