Police have released frantic calls from witnesses reporting a mass shooting at a Kentucky bank, including one from the man's mother, who told a 911 operator that her son "currently has a gun and is heading toward" the bank.
"I need your help. He's never hurt anyone, he's a good kid," said the woman, who identified herself as the gunman's mother.
None of the callers are identified by name and other information is edited out of the calls, but the first call was from a woman who was on a video call inside the bank on Monday.
"I just watched it on a Teams meeting," she says. "We were having a board meeting. With our commercial (lending) team."
"We heard multiple shots and everybody started saying, 'Oh my God', and then he came into the boardroom."
Bank employee Connor Sturgeon, 25, used an AR-15 assault-style rifle in the attack, killing five co-workers while livestreaming before police shot him dead.
Eight other people were injured, including a police officer who was shot in the head and remains in critical condition in hospital.
After the first call, others began streaming in. One of the callers says she is calling from inside the building as gunshots are heard in the background.
"I'm in a closet hiding," the caller says. She says people have been shot and gives a description of the shooting, saying she knows the gunman. "He works with us."
"How long will it be before they get here?" she whispers and the dispatcher tells her that authorities are on the way and advises her to keep quiet.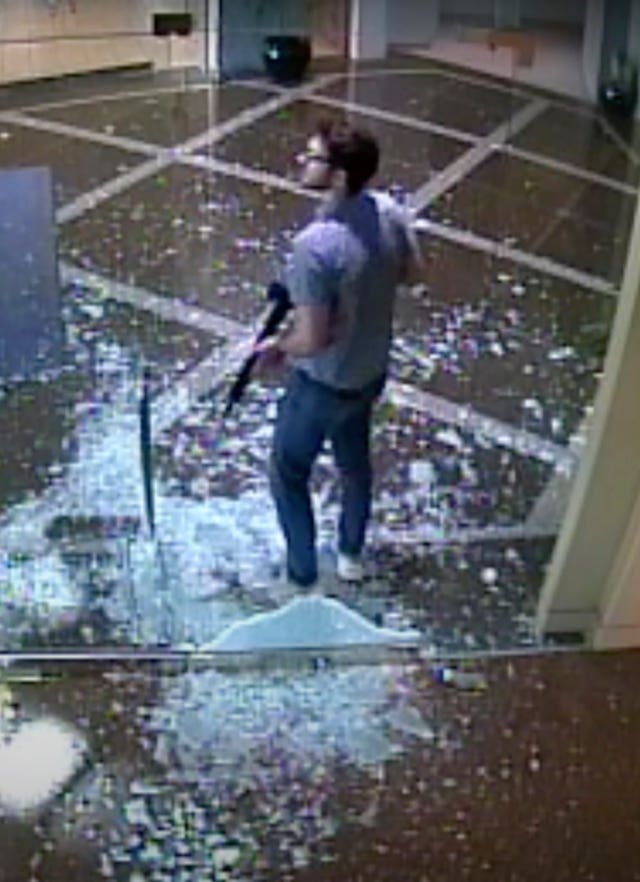 Another call came from a man inside the bank, who told dispatchers the address and said: "We have an active shooting in our building. White male. He's an employee of Old National Bank. Get here now. We need somebody now."
Another call came from a motorist driving down Main Street, who reported seeing a man with an assault rifle and a bulletproof vest walking around.
"How long ago was it that you saw this?" the dispatcher asks.
The caller says it was about five minutes and asks: "Has anybody else reported this? Like, I hope to God I'm seeing things."
The dispatcher then describes what others reported the suspect was wearing and the caller confirms it.
"Did you see him shooting or anything?" the dispatcher asks.
"No ma'am. He was like kind of like jogging around like he was like trying to get somewhere in a hurry," the caller says, but is not able to give the direction the gunman was headed.
"You've had calls from other people, so he's already there?" the mother asks with shock in her voice.
The audio releases came hours before an interfaith vigil at the Muhammad Ali Centre to remember victims and allow the public to offer prayers for the injured.
"This is a very tough time for our city, and we were not meant to go through tough times alone," Louisville mayor Craig Greenberg said in a statement.
The shooting, the 15th mass killing in the US this year, came just two weeks after a former student killed three children and three adults at a Christian elementary school in Nashville, Tennessee, about 160 miles south of Louisville.
The five bank employees killed in the shooting were Joshua Barrick, 40, a senior vice president; Deana Eckert, 57, an executive administrative officer; Tommy Elliott, 63, also a senior vice president; Juliana Farmer, 45, a loan analyst; and Jim Tutt Jr, 64, a commercial real estate market executive.