The judge presiding over a defamation case against Fox News has admonished its lawyers for potentially withholding evidence and said he is inclined to order an independent review by a special master that could lead to sanctions.
The move by Delaware Superior Court Judge Eric Davis came amid a burst of fresh revelations in the 1.6 billion dollar (£1.3 billion) defamation case filed by Dominion Voting Systems against the conservative network and its parent company, Fox Corp.
The judge expressed anger and frustration during a pre-trial hearing after learning that Fox only recently turned over recordings of Fox Business host Maria Bartiromo talking with two lawyers for then-president Donald Trump – Sidney Powell and Rudy Giuliani.
That came after the disclosure a day earlier that Fox lawyers had withheld critical information about the role played at Fox News by company founder Rupert Murdoch, who is chairman of Fox Corp.
He had expressed his displeasure at the late disclosure regarding Mr Murdoch and became even more perturbed on Wednesday when he was told that Fox also did not reveal the recordings made by a former producer for Ms Bartiromo.
The recordings were of conversations the host had with Mr Giuliani and Ms Powell before and after her show. Their existence surfaced in a lawsuit the former producer Abby Grossberg has filed against Fox alleging that the network's lawyers forced her to give misleading deposition testimony in an effort to protect the company in the defamation case.
In one pre-show conversation on November 8 2020, days after the presidential election, Ms Bartiromo asked Mr Giuliani whether he had information about Dominion's software, which some people had alleged could be manipulated.
"That's a little harder. It's being analysed right now," Mr Giuliani responded.
A week later, he said on Ms Bartiromo's show that the software had been developed by a company founded by Venezuelan leader Hugo Chavez and had been used to cheat in elections in South America.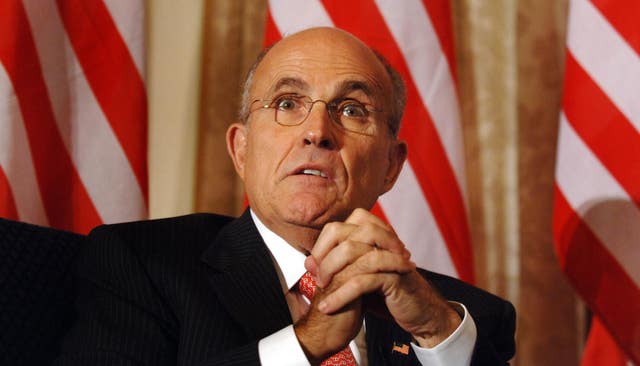 Records produced as part of the lawsuit show many executives and hosts did not believe the claims, but aired them anyway.
There was no indication that the recent developments would delay the trial, which is scheduled to start on Thursday with jury selection, but they dealt additional blows to Fox in a lawsuit that already has embarrassed the network.
In part, it has revealed how Fox used the false election claims to win back viewers who were angered after the network correctly called Arizona for Joe Biden on election night.
The judge on Wednesday said he was considering asking a special master to investigate actions taken by Fox lawyers after they had certified to the court in December that they had complied with their obligations to produce documents.
That could include Fox failing to disclose the Grossberg recordings and a Bartiromo email.
Dominion lawyer Davida Brook told the judge that the company had only recently learned that Ms Powell had forwarded to Ms Bartiromo an email Ms Powell received in November 2020 from a woman who described a wide range of conspiracy theories, including claims of election fraud.
In her deposition, Ms Bartiromo said she did not know if she even saw the email. "It's not anything I looked at or considered real," she said under oath.
But on Wednesday, the judge was shown an email confirming that she not only read Ms Powell's email, but apparently discussed its contents with Mr Trump's son Eric, and sent a reply to Ms Powell: "I just spoke to Eric & told him you gave very imp info."
Judge Davis said he would allow Dominion to question Ms Bartiromo under oath again, at Fox's expense, though there was no immediate indication from Dominion that it would do so.
The judge said he also was likely to ask a special master to investigate how Fox attorneys handled the issue of Rupert Murdoch's role at Fox News.
Fox Corp had asserted since Dominion filed its lawsuit in 2021 that Mr Murdoch had no official role at Fox News. In its filings, it had listed Fox News' officers as Jay Wallace, Joe Dorrego and Suzanne Scott, who is the network's chief executive.
But on Sunday, Fox disclosed to Dominion's lawyers that Mr Murdoch also is "executive chair" at Fox News.
The judge on Wednesday ordered Fox lawyers to collect and preserve all internal communications regarding the matter.
Mr Murdoch's role and those of other senior Fox executives are at the heart of Dominion's defamation case. Fox lawyers have argued that executives' roles at the parent company, Fox Corp, removed them from the day-to-day decisions that allowed the false election claims to be aired on various Fox News programmes.