China has warned that a deepening security alliance between the United States and the Philippines should not harm its security and territorial interests, or interfere in territorial disputes in the South China Sea.
When asked to comment on the combat exercises that began on Tuesday in the Philippines, Chinese foreign ministry spokesperson Wang Wenbin said that such drills "should not target any third party and should be conducive to regional peace and stability".
Mr Wang did not say how China would respond if it concludes that the US-Philippine security cooperation is hurting Beijing's core interests.
In Washington on Tuesday, the US and Philippines defence and foreign secretaries met to discuss the development of nine Philippine military camps, where American forces have been allowed to stay indefinitely under the 2014 Enhanced Defence Cooperation Agreement.
US defence secretary Lloyd Austin said: "These sites will support combined training exercises and interoperability between our forces to ensure that we're even better prepared for future crises."
He added the US was allocating more than 100 million dollars (£80 billion) to build infrastructure at the sites, where Americans would be stationed.
China has strongly opposed that agreement, which would allow American forces to establish military staging grounds and surveillance outposts in the northern Philippines across the sea from the Taiwan Strait and in western Philippine provinces facing the disputed South China Sea, which Beijing claims virtually in its entirety on historical grounds. Washington disputes China's claims.
Mr Austin said he also discussed with his Philippine counterpart, Carlito Galvez, the US delivery of much-needed defence equipment, including radars, unmanned aerial systems, military transport aircraft and coastal and air defence systems to Philippines over the next five to 10 years under a security assistance roadmap.
They will run until April 28 and involve more than 17,600 American and Filipino personnel and a small Australian contingent. About a dozen countries including Japan and India but not China were sending observers, organisers said.
In a live-fire drill the allies will stage for the first time, American and Filipino forces will sink a ship in Philippine territorial waters off western Zambales province on April 26 in a coordinated coastal artillery bombardment and airstrike, Col Michael Logico, a Philippine spokesman for Balikatan (a Tagalog word meaning "shoulder-to-shoulder"), told reporters on Tuesday.
President Ferdinand Marcos Jr has been briefed about the live-fire drill and plans to watch it, Col Logico said.
In Palawan, which faces the South China Sea, the exercises will involve beach assaults and retaking an island seized by enemy forces, Col Logico said.
Mr Marcos, who took office in June last year, has nurtured closer relations with Washington than his predecessor, Rodrigo Duterte, who often lashed out at US security policies while praising China and Russia.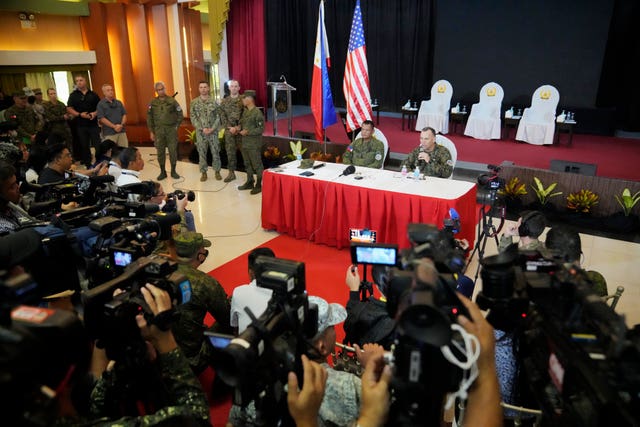 The drills are the latest display of American firepower in Asia, as Joe Biden's administration strengthens an arc of alliances to counter China, with a potential confrontation over Taiwan on the horizon.
That dovetails with efforts by the Philippines under Mr Marcos to defend its territorial interests in the South China Sea.
The ongoing drills, which started in the early 1990s, will showcase US warships, fighter jets, Patriot missiles, HIMARS rocket launchers and anti-tank Javelins, according to American and Philippine military officials.