So much has been invested in clean energy that there can be no rolling back of moves to end carbon emissions, US climate envoy John Kerry has said.
Mr Kerry noted that if countries deliver on promises to phase out polluting fossil fuels, the world can limit average global warming to 1.7C, better than the worst case scenarios but still above the current limit of 1.5 C global warming above pre-industrial levels.
"We're in a very different place than where we were a year ago, let alone two and three years ago," Mr Kerry said in an interview with The Associated Press.
"A lot of countries need to step up including ours to reduce emissions faster, deploy renewables faster, bring new technologies online faster all of that has to happen."
Mr Kerry said the G7 talks in northeastern Japan's Sapporo were "really constructive" in yielding a show of unity for phasing out use of unabated fossil fuels that emit greenhouse gases.
A meeting on Thursday of US President Joe Biden's Major Economies Forum, which includes leaders of 20 nations that account for more than three-quarters of global carbon emissions, offers another opportunity for committing resources to the goal of reaching zero emissions by 2050, Mr Kerry said.
"The United States and all the developed world has the responsibility to help the developing world through this crisis," he said.
"Those countries will really determine what happens. If they will reduce, if they will take the lead, if they will start deploying the new technologies, if they will stop using unabated fossil fuels, we'll up the chance of winning this battle."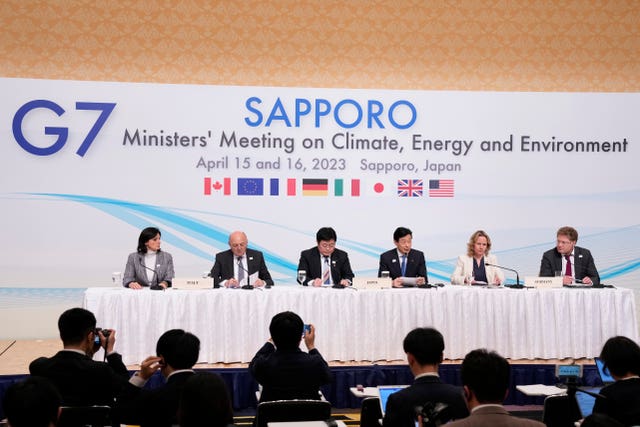 "We agreed that we need to get back together personally, visit and try to see what we can find to work on together to accelerate the process. Is that doable? I hope so," Mr Kerry said.
The Biden administration has moved aggressively to entice companies to invest in electric vehicles (EVs) and other cleaner energy technologies. While the US still lags behind some other countries in use of EVs, the market is changing as consumer preferences evolve and manufacturers invest billions.
No one person can roll back what's happening in the climate sector, Mr Kerry said, "because private companies have made major bets on the future and they're not going to reverse them".
The annual meetings of the World Bank and the International Monetary Fund last week in Washington were a start, "but they're not enough. They didn't produce enough of a change, in our judgment, to really unleash the kind of finance support that's necessary.
"Our hope … is that over the course over the next weeks and months more will be put on the table, more will be agreed upon and we can move faster," Mr Kerry said.
The hope is to reform the structure of finance to get such multilateral development banks to lend more and at better rates.
"Anyone is going to look pretty critically at what's going to happen with their money," Mr Kerry said, noting that "there's a lot of money and it's looking for these deals right now".
The US's Inflation Reduction Act is a major step toward incentivising climate-friendly investments, "sending a signal to the market place that there's money to be made by transitioning and moving in the direction of clean energy technologies", he said.
In the US, money will not be invested in new coal-fired power plants, because "there's no such thing as clean coal".
Mr Kerry added: "The marketplace is not supporting that. Investors are not supporting that."
Some countries, including Japan, have balked at setting a clear timeline for phasing out coal-fired plants, citing energy security. And for some countries, it's a valid concern, Mr Kerry said, though he added: "I think energy security is being exaggerated in some cases."
The greater imperative is to do whatever is possible to draw down carbon emissions, given the millions of people who die each year due to unclean air, extreme heat and other dire consequences of climate change, he said.
"If we're going to be responsible, we have to turn around and figure out how we are going to more rapidly terminate the emissions. We have to cut the emissions that are warming the planet and heading us inexorably toward several tipping points beyond which there is no reverse," Mr Kerry said.