A high school student who had signed to play college football and was celebrating at his sister's 16th birthday party was among the dead after a shooting in Alabama on Saturday night.
Police on Sunday were gathering evidence over the fatal shooting of four people at a dance studio where the party was held in downtown Dadeville.
They did not immediately say if a suspect was in custody, or if they knew more about any motivation.
Philstavious "Phil" Dowdell, a Dadeville High School senior who had signed with Jacksonville State University, was celebrating at his sister Alexis' party before he was shot to death, his grandmother Annette Allen told The Montgomery Advertiser newspaper.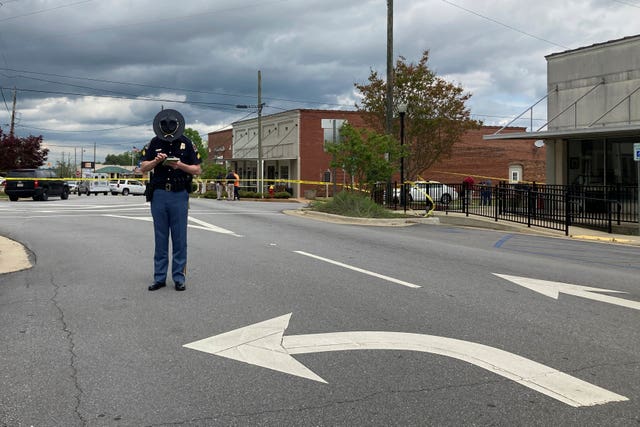 Mr Dowdell's mother was among those hurt in the shooting.
"Everybody's grieving," Ms Allen said.
Sergeant Jeremy Burkett of the Alabama Law Enforcement Agency said the shooting occurred at about 10.30pm on Saturday.
The shootings rocked the city of 3,200 residents, which is about 57 miles north east of Montgomery, Alabama.
Dadeville Police chief Jonathan L Floyd paused to regain his composure before speaking at the news conference.
"What we've dealt with is something that no community should have to endure. I just ask for your patience. It's going to be a long process, but I do earnestly solicit your prayers," Mr Floyd said.
City and county officials milled about the Tallapoosa County Courthouse less than a block away, where officials lowered the American and Alabama flags to half mast.
Pastor Ben Hayes, who serves as chaplain for the Dadeville Police Department and for the local high school football team, said most of the victims are teenagers.
Mr Dowdell was within weeks of graduation and faced a bright future, Mr Hayes told the Associated Press.
"He was a strong competitor on the field," Hayes said. "You didn't want to try to tackle him or get tackled by him.
"But when he came off the field, he was one of the nicest young men that you could ever meet, very respectful and well-respected by his peers."
Hayes said worried families swarmed the local hospital on Saturday night trying to find the condition of their children.
He said serious crime is rare in Dadeville, and the small city is "sad, traumatized, in shock".
Jacksonville State football coach Rich Rodriguez said in a statement on Sunday: "Our thoughts and prayers are with the family of Philstavious Dowdell and the other victims of the senseless tragedy last night.
"He was a great young man with a bright future. My staff and I are heartbroken and hope that everyone will support his family through this difficult time."
Mr Dowdell also recently won medals at a high school track meet at Troy University.
Counselling will be available for students at Tallapoosa County schools on Monday, the school superintendent, Raymond C Porter, said.
"This morning, I grieve with the people of Dadeville and my fellow Alabamians. Violent crime has np place in our state, and we are staying closely updated by law enforcement as details emerge," Alabama governor Kay Ivey said in a statement posted on social media.
President Joe Biden has been briefed on the shooting, the White House said, adding that it is closely monitoring the situation and has been in touch with local officials and law enforcement to offer support.
This is at least the second time in recent years that multiple people were shot in Dadeville. Five people were wounded in July 2016 during a shooting at an American Legion hall, and a man was later charged with five counts of attempted murder, news outlets reported.