Myanmar's military government granted amnesty to more than 3,000 prisoners on Monday to mark the traditional lunar new year holiday, but it was not immediately clear if those released included the thousands of political detainees locked up for opposing army rule.
State-run MRTV television reported that the State Administration Council, the ruling body created by the military after it seized power in 2021, had pardoned 3,113 prisoners, including 98 foreigners who will be deported. Mass prisoner releases are common on major holidays.
An official from Yangon's Insein Prison said the number and names of people to be freed from the country's largest penitentiary was not yet known. The releases began on Monday, but can sometimes take a few days to be completed.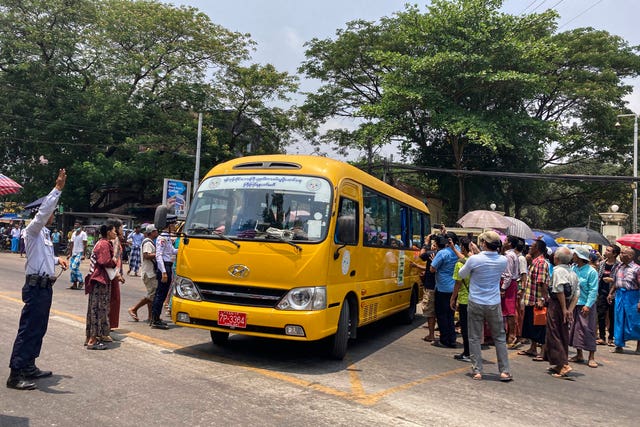 Myanmar has been under military rule since February 1 2021, when its army ousted Ms Suu Kyi's elected government. The takeover was met with massive non-violent resistance, which has since become a widespread armed struggle.
Urban guerrillas are active in major cities, and the loosely organised People's Defence Forces, along with their allies in ethnic minority guerrilla groups, regularly strike military columns and outposts.
Civilians have borne the brunt of brutal military offensives in the countryside, including the use of artillery and air strikes, which have displaced more than a million people, causing a humanitarian crisis.
At least 3,240 civilians have been killed by the security forces since the military takeover, according to the Assistance Association for Political Prisoners. Its tally does not include all casualties from combat.
Tun Kyi, a senior member of the Former Political Prisoners Society, said it is not known how many of the political prisoners will be among those released, if any, but any such action would be taken to burnish the image of the military government.
He said his group views such releases as trying to score political points, ease international pressure and seek to demonstrate the military's legitimacy.
In big cities, the merrymaking involving the playful splashing of water took place at designated high-security pavilions.
Celebrations in most rural areas were muted, with many people heeding the call of opponents of military rule not to take part in the military-planned activities.
During the holiday, which officially extends for nine days but has state-sponsored gatherings for just four, the violent struggle between the army and pro-democracy forces continued.
There were armed clashes in the countryside and small bombings of the official military-sponsored pavilions in several towns and cities. The number of casualties was unclear.
The country's military leader, Senior General Min Aung Hlaing, did not touch on the country's extended political crisis in a new year speech broadcast on Monday.
He said the economy, which faced difficulties in 2021, rebounded last year from contraction to nearly 3% growth.
The manufacturing sector showed improvement and border trade was reopened in 2022, and businesses were able to resume operations, he said.
"I fully believe that if the people work hard to export more products, this year the economic growth will be better than previous years," he said.