Slovakia has delivered the remaining nine of the 13 Soviet-era MiG-29 fighter jets it promised to Ukraine, the Slovak Defence Ministry said on Monday.
The ministry said the warplanes were transported overland for security reasons in a "complicated logistics operation".
The first four were flown from Slovakia to Ukraine by Ukrainian pilots on March 23.
"We are doing the right thing," Defence Minister Jaroslav Nad said in a statement.
On March 17, the Slovak government approved a plan to give Ukraine its entire fleet of Soviet-era MiG-29 planes, becoming the second Nato member to answer Ukraine's plea for warplanes to help defend against Russia's invasion.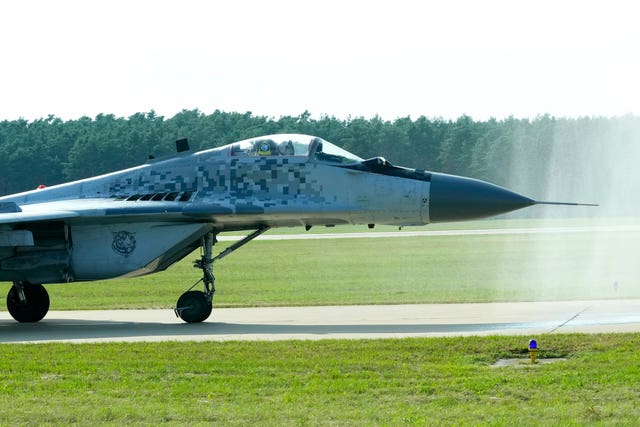 Neighbouring Poland and the Czech Republic, both Nato members, stepped in to monitor Slovak air space.
Replacements for the MiG-29s are unlikely to arrive for another year.
Slovakia previously signed a deal to buy 14 US F-16 Block 70/72 fighter jets, but delivery was pushed back two years with the first aircraft to arrive in early 2024.
The United States has offered Slovakia 12 new military helicopters as compensation for the fighter jets given to Ukraine.
Under the offer, Slovakia would pay 340 million US dollars (£274 million) for the Bell AH-1Z attack helicopters in a deal worth about 1 billion dollars (£805.4 million) with foreign military financing covering the rest of the cost.