A parking garage has collapsed in lower Manhattan's Financial District, killing one worker, injuring five and crushing cars as concrete floors fell on top of each other like a stack of pancakes, officials said.
Bystander video showed cars hanging precariously from a buckled upper deck of the three-storey building, and people nearby described a fearsome rumbling, followed by screams.
"It felt like an earthquake," said Liam Gaeta, a student at nearby Pace University. Other students described seeing cars falling in the building.
Officials said one worker was trapped on an upper floor and rescued via a neighbouring roof.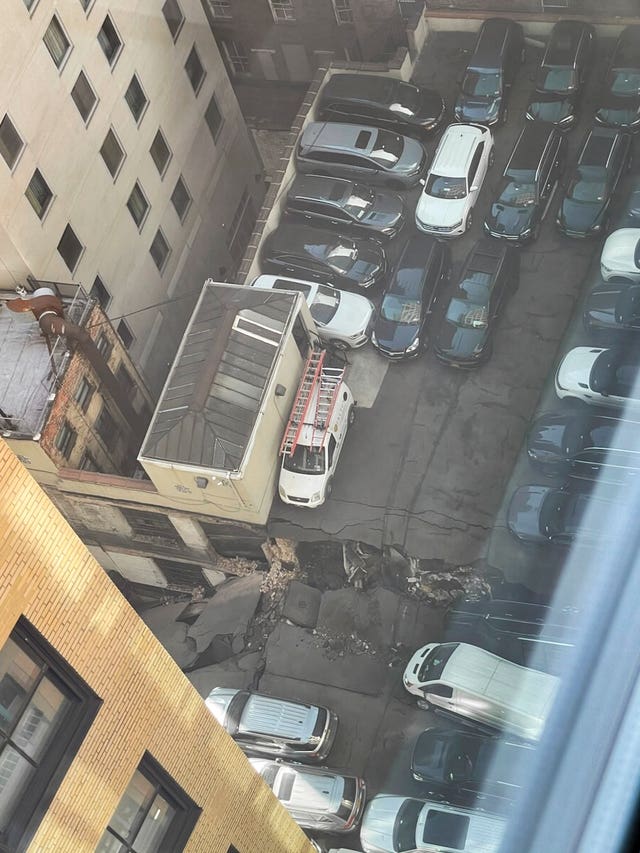 The garage caved in around 4 p.m., a few blocks from City Hall and the Brooklyn Bridge, and about half a mile (0.8 km) from the New York Stock Exchange.
The collapse left the building "completely unstable", New York City mayor Eric Adams said at a news conference.
Firefighters had to pull out because of the danger, conducting searches instead with a drone and a robotic dog, Fire Department chief of operations John Esposito said.
The building was "all the way pancaked, collapsed all the way to the cellar floor", acting buildings commissioner Kazimir Vilenchik said.
William Flashnick, 19, was in a Pace classroom when he and a friend thought they heard an explosion and ran to a window to look. As they opened the window, a plume of thick dust rose in the air.
When it cleared, they peered down into the car parking, where vehicles had been thrown around and a top parking deck had cracked open.
Mr Flashnick initially worried for all of their lives. One of his first thoughts was of the World Trade Centre, which looms over the neighbourhood.
"We freaked out. Given the history of this place, it's a little scary," he said.