Sudan's military has ruled out negotiations with a rival paramilitary force, saying it would only accept its surrender as the two sides continued to battle in central Khartoum and other parts of the country, threatening to wreck international attempts to broker a longer ceasefire.
A tenuous 24-hour ceasefire that began the previous day ran out on Thursday evening with no word of extension.
The military's statement raised the likelihood of a renewed surge in the nearly week-long violence that has killed hundreds and pushed Sudan's population to the breaking point.
Alarm has grown that the country's medical system is on the verge of collapse, with many hospitals forced to shut down and others running out of supplies.
But many residents took advantage to flee the homes where they have been trapped for days.
"Massive numbers" of people, mostly women and children, were leaving in search of safer areas, said Atiya Abdulla Atiya, secretary of the Doctors' Syndicate.
On Thursday afternoon, the military said in a statement that it would not negotiate with its rival, the Rapid Support Forces, over an end to the crisis and would only discuss terms of its surrender.
"There would be no armed forces outside (of) the military system," it said.
The demise of the truce, the second attempt this week, underscored the failure of the United States, UN, European Union and regional powers to push Sudan's top generals to halt their campaigns to seize control of the country.
In a sign they expect violence to escalate, the US and other countries were making preparations to evacuate their citizens in Sudan – a difficult prospect since most major airports have become battlegrounds and movement out of Khartoum to safer areas is dangerous.
The US military is moving assets to a base in the Horn of Africa nation of Djibouti for a possible evacuation of American embassy personnel, administration officials said.
Japan plans to send military planes to Djibouti, and the Netherlands has dispatched its own to Jordan.
UN secretary-general Antonio Guterres appealed for the combatants to commit to a three-day ceasefire to coincide with the holiday of Eid al-Fitr, beginning on Friday, marking the end of the Islamic holy month of Ramadan.
"We are living a very important moment in the Muslim calendar. I think this is the right moment for a ceasefire to hold," he told reporters.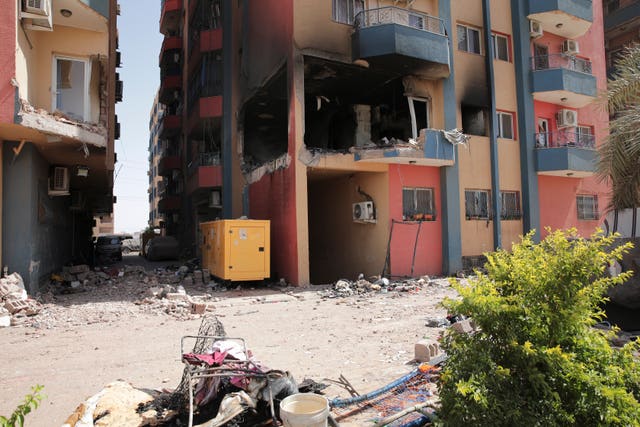 Each side's main regional allies, Egypt and the United Arab Emirates, have called in vain for talks.
At least 330 people have been killed and 3,300 wounded in the fighting since it began Saturday, the UN's World Health Organisation said, but the toll is likely to be higher because many bodies lie uncollected in the streets.
Through the day on Thursday, gunfire could be heard constantly across Khartoum.
Residents reported the heaviest fighting around the main military headquarters in central Khartoum.
Military warplanes struck RSF positions at the airport and in the neighbouring city of Omdurman, residents said.
Khartoum residents have been desperate for a respite after days of being trapped in their homes, their food and water running out.
Aid groups have been unable to deliver help to Sudan's overwhelmed hospitals, Atiya said.
Hospitals in Khartoum are running dangerously low on medical supplies, often operating without power and clean water.
Around 70% of hospitals near the clash sites throughout the country are out of service, the Sudanese Doctors' Syndicate said on Thursday.
At least nine hospitals were bombed, it said.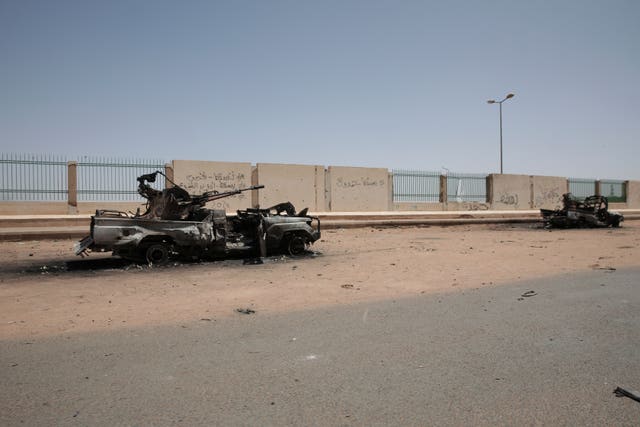 Air strikes on Thursday afternoon hit medical facilities in Obeid, the capital of North Kordofan province south-west of Khartoum, killing at least 26 civilians and 17 policemen, the Doctors' Syndicate said.
Clashes have intensified in the city, driving more than 3,300 people from their homes, many of them crowding in a school and a sports facility, it said.
The fighting has been disastrous for a country where the United Nations says around a third of the population – some 16 million people – are in need of humanitarian aid.
The UN children's agency Unicef warned that critical care has been disrupted for 50,000 severely acutely malnourished children, who need round-the-clock treatment.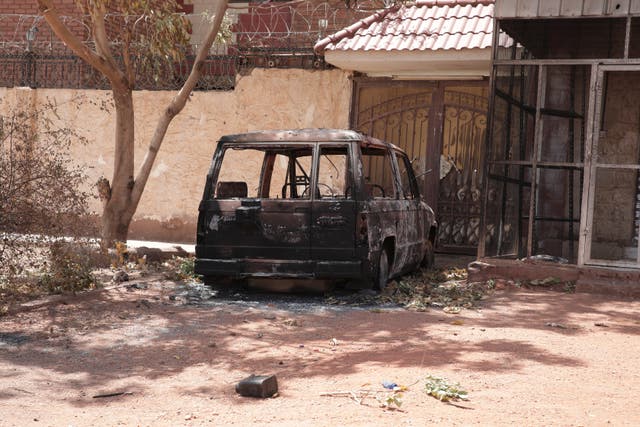 Millions of children, the aid group said, are now at risk of disease and further health complications.
It said 12% of the country's 22 million children are suffering from malnutrition and are vulnerable to other diseases.
The Egyptian and Sudanese militaries said that Egypt succeeded in repatriating dozens of its military personnel who had been detained by the RSF when it attacked Merowe airport, north of the capital, early in the fighting.
Egypt said its personnel were there for training and joint exercises.
The conflict has once again derailed Sudan's attempt to establish democratic rule since a popular uprising helped oust long-time autocrat Omar al-Bashir four years ago.
Gen Burhan and Gen Dagalo jointly carried out a coup purging civilians from a transitional government in 2021.
The explosion of violence came after weeks of growing tensions between the two generals over new international attempts to press a return to civilian government.
The RSF was born out of the Janjaweed militias, which were accused of widespread atrocities when the government deployed them to put down a rebellion in Sudan's western Darfur region in the early 2000s.
The conflict has raised fears of a spillover from the strategically located nation to its African neighbours.
Sudan's fighting has also caused up to 20,000 Sudanese to seek refuge in eastern Chad, the UN said on Thursday.
At least 320 Sudanese soldiers fled to Chad, where they were disarmed, said Daoud Yaya Brahim, Chad's defence minister.
The troops were apparently fleeing from Darfur, where the RSF is the most powerful armed force.
"Chad is for the moment trying to remain neutral … (but) Chad will be forced to pick sides if Sudan continues its descent into civil war," said Benjamin Hunger, Africa analyst for Verisk Maplecroft, a risk assessment firm.