Craig Breedlove, who set land-speed records by topping 400mph, 500mph and 600mph in jet-powered cars nicknamed Spirit of America, has died aged 86.
Breedlove died at his home in Rio Vista, California, on April 4.
His wife, Yadira Breedlove, said the cause of death was cancer.
Breedlove battled Tom Green and Art Arfons on the Bonneville Salt Flats in Utah to set and then break each other's speed records during the freewheeling 1960s, a golden era of American motorsports.
The mark has been topped since, with the current record sitting at 760.3mph – faster than the speed of sound – but Breedlove helped make the land-speed mark a cultural phenomenon beginning in 1963.
He was an American hero to some and was even immortalised in the Beach Boys' song Spirit Of America, which refers to him as a "daring young man" playing a "dangerous game".
Born on March 23 1937, Breedlove was a firefighter whose childhood love of cars inspired him to race.
He also worked at Douglas Aircraft in Santa Monica as a technician in structural engineering, a background that helped fuel his work with jet-powered cars.
His early designs included a missile-shaped vehicle with three wheels, a jet engine and a rear fin; it was more fighter plane than passenger car.
In Spirit of America, Breedlove clocked 407mph at Bonneville to set a new land-speed record on August 5 1963.
The record changed hands eight times in the next two-plus years, culminating with Breedlove's final mark set on November 15 1965.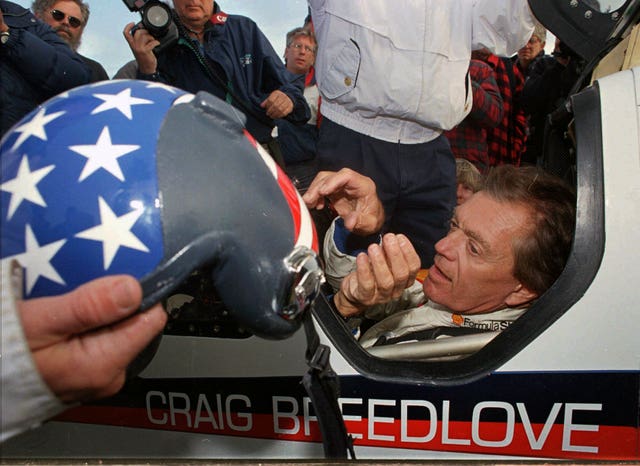 Unable to stop for more than a mile, his car slammed into telephone poles before landing in a salt pond.
Breedlove escaped unscathed.
He planned to try to break the land-speed record of 633mph in 1996, but crashed and had to abandon the endeavour.
Breedlove was inducted into the Motorsports Hall of Fame of America in 1993, the Dry Lakes Racing Hall of Fame in 1995, the International Motorsports Hall of Fame in 2000, and the Automotive Hall of Fame in 2009.
He was married six times, with his final marriage lasting 20 years.
In addition to his wife, he is survived by two children from his first marriage, a half-sister, five grandchildren and seven great-grandchildren.