The Sudanese army has said it is coordinating efforts to evacuate American, British, Chinese and French citizens and diplomats from Sudan on military aircraft, as the bloody fighting that has engulfed the African nation entered its second week.
The military said that its chief, General Abdel Fattah Burhan, had spoken to leaders of several countries who have requested safe evacuations of their citizens and diplomats from Sudan.
The prospect has vexed officials as most major airports have become battlegrounds and movement out of the capital, Khartoum, has proven intensely dangerous.
Gen Burhan "agreed to provide the necessary assistance to secure such evacuations for various countries", the military said.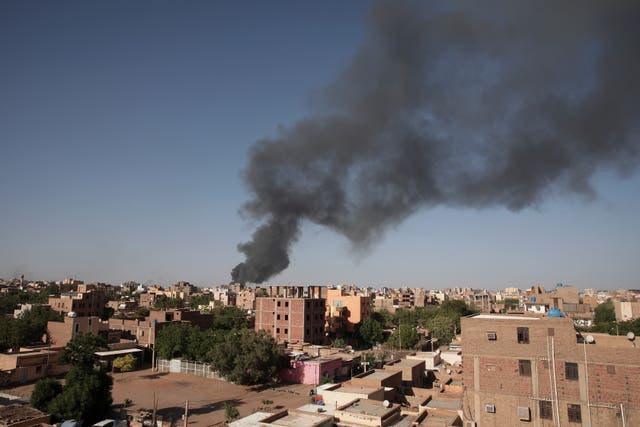 As battles between the Sudanese army led by Gen Burhan and a powerful rival paramilitary group rage in and around Khartoum, including in residential areas, foreign countries have struggled to repatriate their citizens — some of whom are running short on food and basic supplies.
The Pentagon said earlier this week that it was moving additional troops and equipment to a naval base in the tiny Gulf of Aden nation of Djibouti to prepare for the evacuation of US Embassy personnel, but the White House said on Friday that it had no plans for a government-coordinated evacuation of an estimated 16,000 American citizens trapped in Sudan.
Even as the warring sides said on Friday that they had agreed to a ceasefire for the three-day Muslim holiday of Eid al-Fitr, explosions and gunfire rang out across Khartoum on Saturday. Two ceasefire attempts earlier this week also rapidly collapsed.
"People need to realise that the war has been continuous since day one. It has not stopped for one moment," said Atiya Abdalla Atiya, secretary of the Sudanese Doctors' Syndicate, which monitors casualties.
The clashes have killed more than 400 people so far, according to the World Health Organisation.
The international airport near the centre of the capital has come under heavy shelling as the paramilitary group – known as the Rapid Support Forces, or RSF – has tried to take control of the compound.
In an apparent effort to oust the RSF fighters, the Sudanese army has pounded the airport with air strikes, ruining at least one runway and leaving wrecked planes scattered on the tarmac.
The full extent of damage at the airfield remains unclear.
Gen Burhan said some diplomats from Saudi Arabia had already been taken out of Port Sudan, the country's main seaport on the Red Sea, and airlifted back to the kingdom. He said Jordan's diplomats would soon be evacuated in the same way.
On Saturday, Saudi Arabia and Jordan both announced they had started arranging for the repatriation of their citizens stuck in Sudan. Officials did not elaborate on how the plans would unfold.
Jordan said it was "taking into account the security conditions on the ground" and was coordinating its efforts with Saudi Arabia and the United Arab Emirates.