German climate activists have temporarily brought traffic to a standstill in some parts of Berlin by gluing themselves to streets all over the capital.
Members of the group Last Generation have repeatedly blocked roads across Germany in the past year in an effort to pressure the government to take more drastic action against climate change.
On several occasions, they have glued themselves to the roads, enraging some motorists and prompting accusations of extremism from conservative politicians.
In addition to the road blocks, the activists said they would also block traffic by marching very slowly through the city later in the day, as they did on Friday.
"We will no longer accept that the government has no plan to stop the destruction of our livelihoods," Last Generation said in a statement.
"We are resisting now."
According to the Berlin police, up to 500 officers were on the streets in the city all day to prevent the blockades or end them quickly, dpa reported. A police helicopter was hovering over the city to alert colleagues on the ground about the blockades as well.
The group said last week that its members would step up their actions in the coming days and try to "peacefully bring the city to a standstill".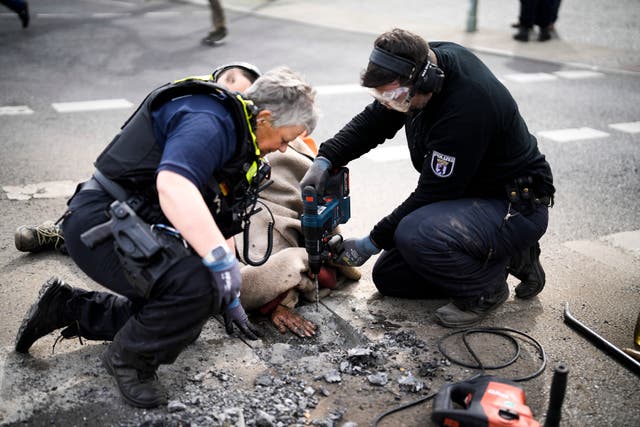 While some people seemed to support the protesters' fight for climate protection, others – especially angry drivers who were stuck in congested traffic – tried to pull the activists off the roads violently even though officials have warned motorists repeatedly not to engage in vigilantism against the group.
In some cases, it took more time than in the past to detach protesters from the streets because some of them used a different kind of glue this time. Instead of using oil to detach the protesters' hands from the streets, officers had to use tools and damage the asphalt to remove the protesters.
Last Generation wants Germany to stop using all fossil fuels by 2030 and take short-term measures including the imposition of a general speed limit of 62mph on highways as a way of cutting transport emissions.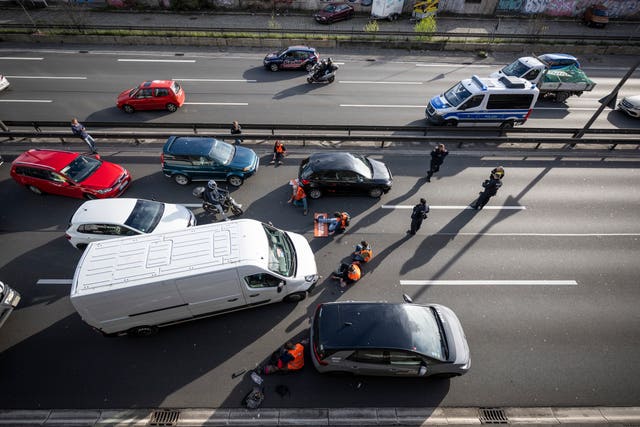 "We are a parliamentary democracy. There are possibilities to express criticism. I have my doubts that such massive disruptions of public order and the like serve the intended purpose," he told reporters in Berlin.
"Naturally we don't support such forms of protest."
Asked whether Chancellor Olaf Scholz plans to meet with the activists, like other politicians have and are planning to, Mr Hebestreit said he was not aware of any appointments.
"Such talks make particular sense if one wants to exchange views and not if the aim is to force through maximum demands," he added.
Transport Minister Volker Wissing, who has rejected the demand for a speed limit, plans to meet activists on May 2. He has sharply criticised the group for its road blockades in the past.