A Russian missile has hit a museum building in a Ukrainian city, killing two people and injuring 10 others.
The Russian military used S-300 air defence missiles to attack Kupiansk in the Kharkiv region, hitting the museum of local history in the centre of the city.
Ukrainian president Volodymyr Zelensky posted a video from the site that shows the ruined building and emergency personnel examining the damage.
"The terrorist country is doing everything to destroy us completely," Mr Zelensky said. "Our history, our culture, our people. Killing Ukrainians with absolutely barbaric methods."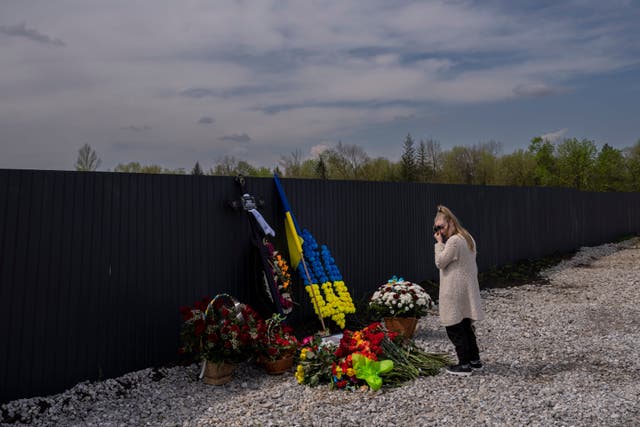 Ms Syniehubov said that three people were admitted to hospital and seven received minor injuries.
Kupiansk was captured by Russian forces in the earlier stages of the Russian invasion and reclaimed by Ukrainian forces in a surprise counter-offensive in September that saw the Russians driven out of broad swathes of the Kharkiv region.
A woman also died in Russian shelling of the town of Dvorichna, near Kupiansk, and two civilians were killed in the eastern Donetsk region, according to the Ukrainian presidential office.
The governor of the Dnipropetrovsk region, Serhiy Lisak, said two people were hurt in Russian heavy artillery fire that hit the cities of Marhanets and Nikopol on Tuesday evening.
Both are on the western bank of the Dnieper River just across from the Russia-held Zaporizhzhia nuclear power plant, which both Russia and Ukraine say has been endangered by shelling in the region.
The Ukrainian military is now preparing for a massive counter-offensive, relying on the latest supplies of Western battle tanks and other weapons, and fresh troops who were trained in the West.
Ukraine's military intelligence chief, Major General Kyrylo Budanov, in an interview with RBC-Ukraine released on Monday, described the planned counter-offensive as a "landmark battle in Ukraine's modern history" that will see the country "reclaim significant areas".
The Kremlin, meanwhile, has regularly reminded the West about Russia's nuclear arsenal in a bid to discourage the US and its allies from ramping up weapons supplies to Ukraine.
In the latest such statement, Dmitry Medvedev, deputy head of the Security Council chaired by Russian president Vladimir Putin, warned that "the world is likely on the verge of another world war" and declared that Moscow would not hesitate to use nuclear weapons if it faced an existential threat.
Mr Medvedev described atomic weapons as pivotal for Russia's survival, saying that "for our country, the nuclear weapons are the joint holding the state together".
He vowed that the Kremlin will achieve its goals in Ukraine and pointed to Russia's nuclear doctrine, envisaging that it could use atomic weapons in response to a nuclear attack or an attack with conventional weapons that threatens "the very existence" of the Russian state.
"Our potential adversaries shouldn't underestimate that," Mr Medvedev said.