Sudanese families are massing at a border crossing with Egypt and at a main port, desperately trying to escape their country's violence and sometimes waiting for days with little food or shelter, witnesses said.
In the capital, Khartoum, the intensity of fighting eased on the second day of a three-day truce.
Taking advantage of relative calm, many residents in Khartoum and the neighbouring city of Omdurman emerged from their homes to seek food and water, lining up at bakeries or grocery stores, after days of being trapped inside by the fighting between the army and a rival paramilitary group.
"There is a sense of calm in my area and neighbourhoods," said Mahasen Ali, a tea vendor who lives in Khartoum's southern neighbourhood of May. "But all are afraid of what's next."
Still, gunfire and explosions could be heard in the city, though residents said clashes were in more limited pockets, mainly around the military's headquarters and the Republican Palace in central Khartoum and around bases in Omdurman across the Nile River.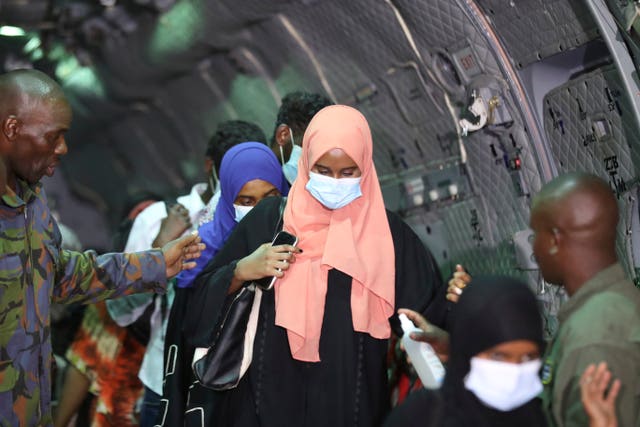 The generals' war for power since April 15 has pushed the population to a near breaking point. Food has grown more difficult to obtain, electricity is cut off across much of the capital and other cities, and many hospitals have shut down.
Multiple aid agencies have had to suspend operations, a heavy blow in a country where a third of the population of 46 million relies on humanitarian assistance.
Many Sudanese fear the army and its rival Rapid Support Forces will escalate their battle once the international evacuations of foreigners that began on Sunday is completed.
The British government, whose airlift is one of the last still ongoing, said it has evacuated around 300 people on flights out and plans four more on Wednesday, promising to keep going as long as possible.
Large numbers of people have meanwhile been making the exhausting 15-hour drive across the desert to access points out of the country — to the city of Port Sudan on the eastern Red Sea coast and to the Arqin crossing into Egypt at the northern border.
Large crowds of Sudanese and foreigners waited in Port Sudan, trying to register for a ferry to Saudi Arabia.
Dallia Abdelmoniem, a Sudanese political commentator, said she and her family arrived Monday and have been trying every day to get a spot.
"Priority was given to foreign nationals," she told The Associated Press.
Saudi Arabia said on Wednesday it evacuated 1,674 people from 56 countries – as well as 13 of its own citizens, from Sudan.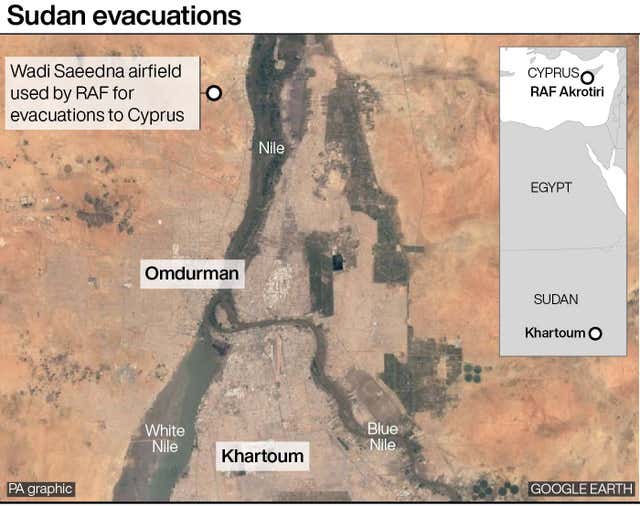 "It's a mess — long lines of elderly people, patients, women and children waiting in miserable conditions," said Moaz al-Ser, a Sudanese teacher who arrived along with his wife and three children at the border a day earlier.
Tens of thousands of Khartoum residents have also fled to neighbouring provinces or even into already existing displacement and refugee camps within Sudan that house victims of past conflicts.
Egypt said it has relocated its embassy in Sudan amid increasing security threats in Khartoum, without disclosing the new location.
An Egyptian administrator at the embassy was killed in Khartoum earlier this week. Egypt has close ties with the Sudanese military but has called on both sides to cease fire.
At least 512 people, including civilians and combatants, have been killed since the fighting erupted on April 15, with another 4,200 wounded, the Sudanese Health Ministry said.
The Doctors' Syndicate, which tracks civilian casualties, said at least 295 civilians have been killed and 1,790 wounded.
The 72-hour cease-fire announced by US Secretary of State Antony Blinken was to last until late Thursday. Many fear that fighting will only escalate once evacuations of foreigners, which appeared to be in their last stages, are completed.