The ongoing drought in Eastern Africa has been made worse by human-induced climate change, which also made it much likelier to occur in the first place, an international team of climate scientists has concluded.
Wednesday's report comes from World Weather Attribution, a group seeking to quickly determine whether certain extreme weather events were influenced by climate change.
Nineteen scientists from seven nations assessed how climate change affected rainfall in the region.
"Climate change has made the drought exceptional."
The scientists analysed historical weather data, including changes in the two main rainfall patterns in the region alongside computer model simulations dating back to the 1800s.
They found that the long rains season — March through May — is turning drier and the short rains season — typically October through December — is becoming wetter due to climate change.
They called the region's experience with drought "one of a kind."
Friederike Otto, senior climate scientist at Imperial College London and the leader of the study, said it underscored how climate change's effects "strongly depend on how vulnerable we are".
While climate change has made drought more frequent and extreme in the Horn region, the scientists acknowledged that previous failed rainy seasons, high temperatures, conflict, fragile statehood and poverty are also to blame for the "devastating impacts".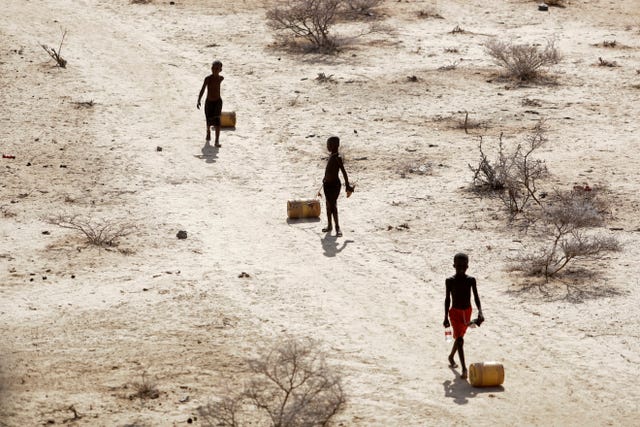 Rod Beadle, head of relief and humanitarian affairs at Food for the Hungry, said almost 15 million children are exposed to acute malnourishment.
"Despite the recent rains in North Kenya, the pressure from previous failed seasons makes for a dire situation," he said.
"The flooding has impacted livestock and many pastoralists lost their primary livelihoods.
"The drought conditions have resulted in severely compacted soil that cannot absorb the water; hence the floods are more severe.
"The country is also facing severe outbreaks of cholera and other diseases as more refugees arrive."
Development gains in the countries have been offset by a long history of natural disasters, famine and disease, said Guyo Malicha Roba, a food security expert who heads the Jameel Observatory, which works on food insecurity issues in dryland nations.
Mr Roba said the food situation in the region's drylands has been addressed by raising money and with food distributions from governments and humanitarian partners, but more work needs to be done to use early-warning systems to respond more quickly to "food shocks".