Russia has fired more than a dozen cruise missiles at Kyiv and other parts of Ukraine, killing at least two people in an eastern city and striking a residential building in central Ukraine, officials said.
Air raid sirens sounded around the capital in the first attack against the city in nearly two months and Ukraine's air force intercepted 11 cruise missiles and two unmanned aerial vehicles over Kyiv, according to the Kyiv City Administration.
There were no immediate reports of any successful strikes in Kyiv but fragments from intercepted missiles or drones damaged power lines and a road in one neighbourhood. No casualties were reported.
But in Uman, about 134 miles south of Kyiv, two cruise missiles hit a nine-storey residential building, killing three people and hurting eight, regional governor Ihor Taburets said.
One of those killed was a 75-year-old who was in her apartment in a neighbouring building and suffered internal bleeding from the blast's shockwave, emergency personnel at the scene said.
Three body bags lay next to the building as smoke continued to billow hours after the attack.
Soldiers, civilians and emergency crews searched through the rubble outside for more victims, while residents dragged belongings out of the damaged building.
One woman, crying in shock, was taken away by rescue crews for help.
A 31-year-old woman and her two-year-old daughter were also killed in the eastern city of Dnipro in another attack, regional governor Serhii Lysak said.
Four people were also hurt and a private home and business were damaged.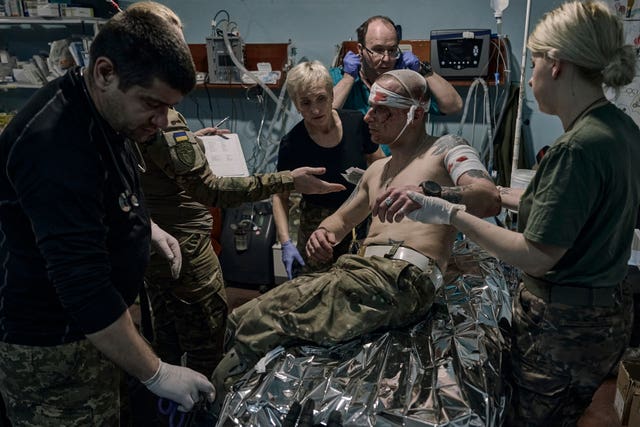 Air raid sirens started at about 4am and the alert ended about two hours later.
The attack was the first on the capital since March 9.
The missiles were fired from aircraft operating in the Caspian Sea region, according to Ukrainian armed forces commander in chief Valerii Zaluzhnyi.
Overall, he said Ukraine intercepted 21 of 23 Kh-101 and Kh-555 type cruise missiles launched, as well as the two drones.
The attacks came as Nato said its allies and partner countries have delivered more than 98% of the combat vehicles promised to Ukraine during Russia's invasion and war, strengthening Kyiv's capabilities as it contemplates launching a counteroffensive.
Along with more than 1,550 armoured vehicles, 230 tanks and other equipment, Ukraine's allies have sent "vast amounts of ammunition" and trained and equipped more than nine new Ukrainian brigades, Nato secretary-general Jens Stoltenberg said.
More than 30,000 troops are estimated to make up the new brigades.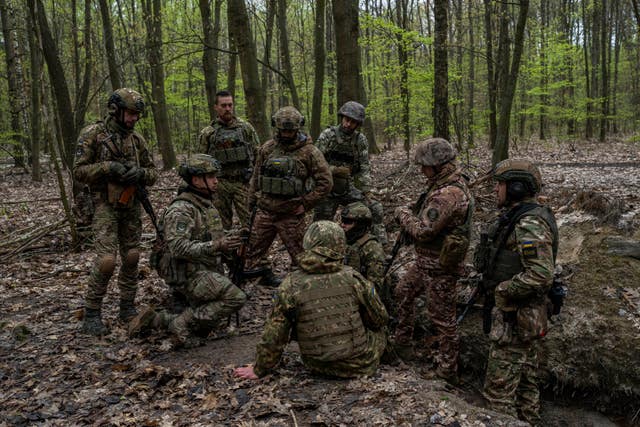 "This will put Ukraine in a strong position to continue to retake occupied territory," Mr Stoltenberg told reporters in Brussels.
The overnight attacks and comments came as Ukrainian President Volodymyr Zelensky said he and Chinese leader Xi Jinping held a "long and meaningful" phone call on Wednesday in their first known contact since Russia's full-scale invasion more than a year ago.
Though Mr Zelensky said he was encouraged by Wednesday's call and western officials welcomed Mr Xi's move, it did not appear to improve peace prospects.
Russia and Ukraine are far apart in their terms for peace and Beijing — while looking to position itself as a global diplomatic power — has refused to criticise Moscow's invasion.
The Chinese government sees Russia as a diplomatic ally in opposing US influence in global affairs and Mr Xi visited Moscow last month.