Russia has fired more than 20 cruise missiles and two drones at Kyiv and other parts of Ukraine, killing at least 19 people, officials said.
Almost all of the deaths are said to have happened when two missiles hit an apartment building in central Ukraine.
Three children, including a toddler, are among the dead.
The attacks included the first one against Kyiv, the country's capital, in nearly two months, although there were no reports of any targets hit.
The city government said Ukraine's air force intercepted 11 cruise missiles and two unmanned aerial vehicles over Kyiv.
The strikes on the nine-storey residential building in central Ukraine occurred in Uman, a city about 134 miles south of Kyiv.
Seventeen people died in that attack, according to the capital region's governor Ihor Taburets.
They include two 10-year-olds and a toddler.
The Ukrainian national police said 17 people were hurt and three children were rescued from the rubble. Nine were admitted to hospital.
The bombardment was nowhere near the war's sprawling frontlines or active combat zones in eastern Ukraine, where a grinding war of attrition has taken hold.
Moscow has frequently launched long-range missile attacks during the 14-month war, often indiscriminately hitting civilian areas.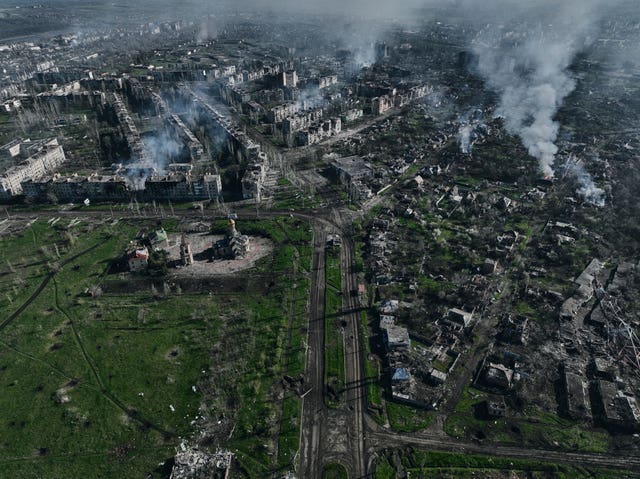 Russia has denied its military aims at civilian targets.
The Russian defence ministry said the long-range cruise missiles launched overnight were aimed at places where Ukrainian military reserve units were staying before their deployment to the battlefield.
"The strike has achieved its goal. All the designated facilities have been hit," Lieutenant General Igor Konashenkov, the defence ministry's spokesman, said.
He did not mention any specific areas or residential buildings getting hit.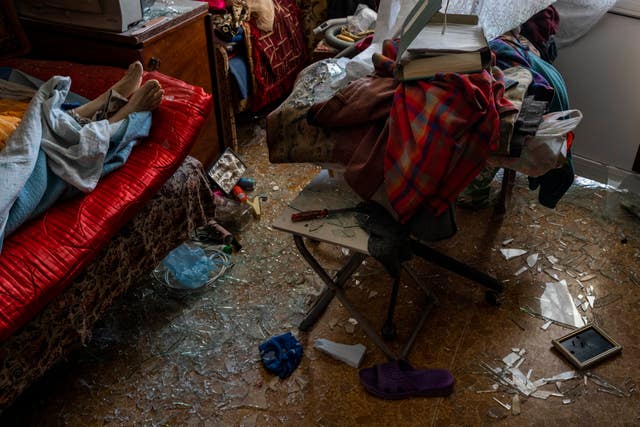 Halyna, a building resident, said she and her husband were covered in glass by the blast.
They saw flames outside their window and scrambled out, but first Halyna checked whether her friend in a neighbouring apartment was OK.
"I was calling, calling her (on the phone), but she didn't pick up. I even rang the doorbell, but still no answer," she said.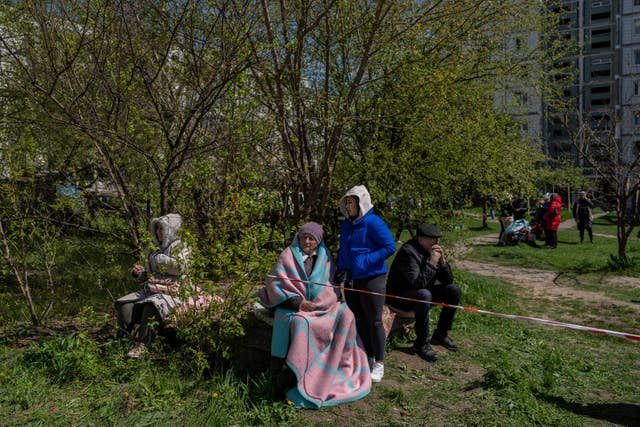 "All the glass flew out, everything flew out, even the chandelier fell. Everything was covered in glass," resident Olha Turina said.
"Then there was an explosion. … We barely found our things and ran out," she said.
Turina, whose husband is fighting on the frontlines, said one of her child's classmates was missing.
"I don't know where they are, I don't know if they are alive," she said. "I don't know why we have to go through all this. We never bothered anyone."
Three body bags lay next to the building as smoke continued to billow hours after the attack.
Soldiers, civilians and emergency crews searched through the rubble outside for more victims, while residents dragged belongings out of the damaged building.
One woman, crying in shock, was taken away by rescue crews for help.
Yulia Norovkova, spokeswoman for emergency rescue crews on the scene, said local volunteers were helping nearly 150 emergency personnel. Two aid stations, including psychologists, were operating, she said.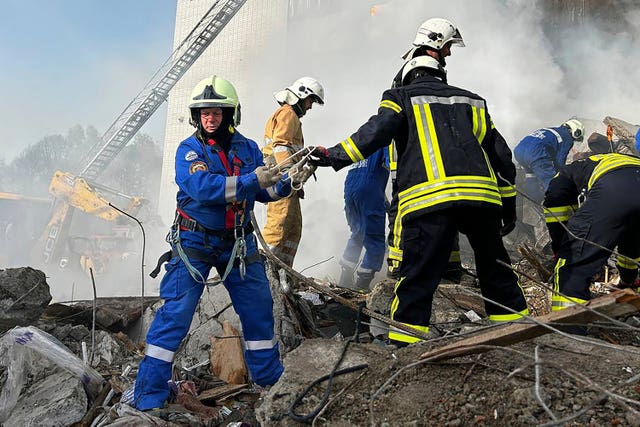 Four people were hurt and a private home and business were damaged.
In Kyiv, fragments from intercepted missiles or drones damaged power lines and a road in one neighbourhood. No casualties were reported.
The city's anti-aircraft system was activated, according to the city administration.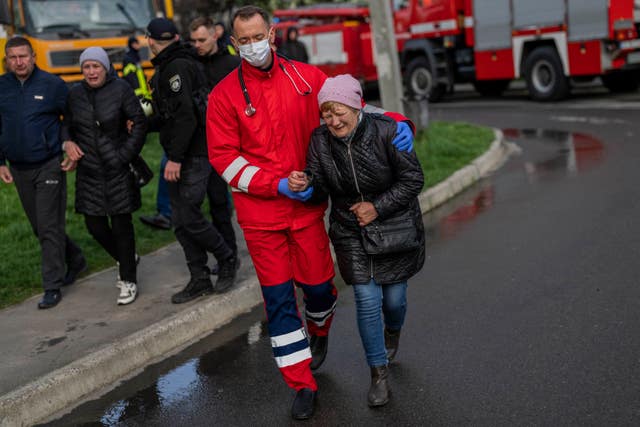 The attack was the first on the capital since March 9.
The missiles were fired from aircraft operating in the Caspian Sea region, according to Ukrainian armed forces commander in chief Valerii Zaluzhnyi.
Overall, he said, Ukraine intercepted 21 of 23 Kh-101 and Kh-555 type cruise missiles launched, as well as the two drones.
Ukraine officials said last week they had taken delivery of American-made Patriot missiles, providing Kyiv with a long-sought new shield against Russian airstrikes, but there was no word on whether the system was used on Friday.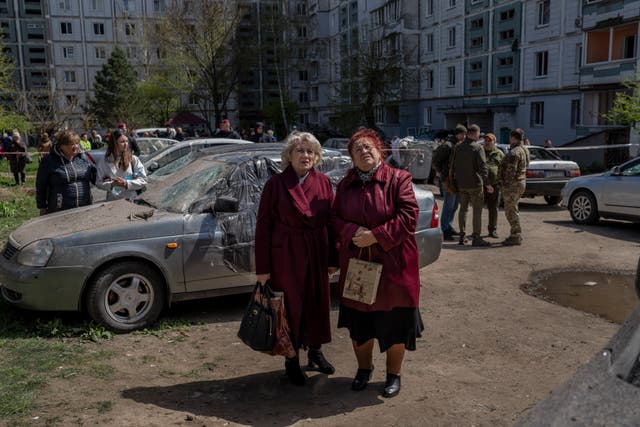 Along with more than 1,550 armoured vehicles, 230 tanks and other equipment, Ukraine's allies have sent "vast amounts of ammunition" and trained and equipped more than nine new Ukrainian brigades, Nato secretary-general Jens Stoltenberg said.
Some Nato partner countries, such as Sweden and Australia, have also provided armoured vehicles.
Though Mr Zelensky said he was encouraged by Wednesday's call and eestern officials welcomed Mr Xi's move, it did not appear to improve peace prospects.
Russia and Ukraine are far apart in their terms for peace, and Beijing — while looking to position itself as a global diplomatic power — has refused to criticise Moscow's invasion.
The Chinese government sees Russia as a diplomatic ally in opposing US influence in global affairs, and Mr Xi visited Moscow last month.
Ukrainian foreign minister Dmytro Kuleba said Friday's bombardment shows the Kremlin is not interested in a peace deal.
"Missile strikes killing innocent Ukrainians in their sleep, including a 2-year-old child, is Russia's response to all peace initiatives," he tweeted.
"The way to peace is to kick Russia out of Ukraine."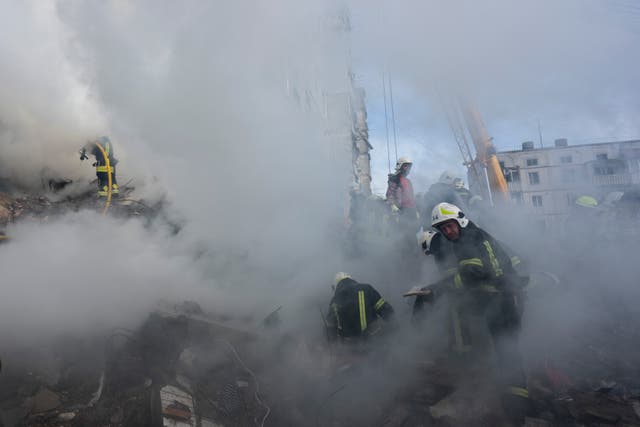 "The number of attacks on civilian targets leads to an only conclusion that it is intentional," Mr Pavel told Czech media.
"It's a clear plan intended to cause chaos, horrors among the civilian population."
Shortly after Moscow unleashed the barrage, the Russian defence ministry posted a photo on Telegram showing a missile launch and saying: "Right on target."
The message triggered outrage among Ukrainians on social media and some officials, who viewed it as gloating over the casualties.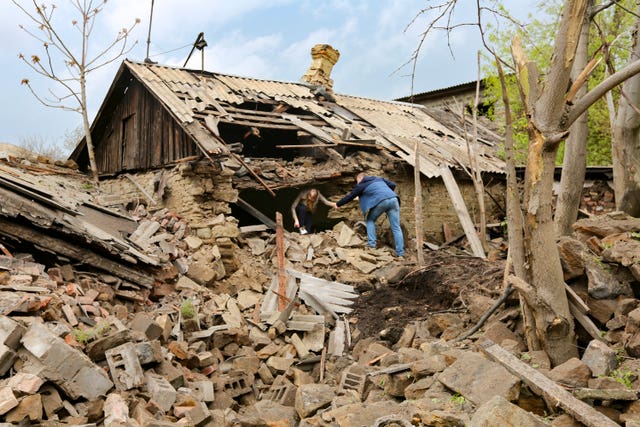 Meanwhile, the Moscow-appointed mayor of the Russia-held city of Donetsk, Alexei Kulemzin, said a Ukrainian rocket killed seven civilians in the centre of the city on Friday.
He said the victims died when a minibus was hit.