Gunfire and heavy artillery fire have persisted in parts of Sudan's capital Khartoum, residents said.
The gunfire rang out despite the extension of a ceasefire between the country's two top generals whose battle for power has killed hundreds and sent thousands fleeing for their lives.
The civilian death toll jumped on Saturday to 411 people, according to the Sudan Doctors' Syndicate, which monitors casualties. The fighting has wounded another 2,023 civilians so far, the group added.
In the city of Genena, the provincial capital of war-ravaged West Darfur, intensified violence has killed 89 people. Fighters have moved into homes and taken over stores and hospitals as they battle in the streets, the syndicate said.
Khartoum, a city of some five million people, has been transformed into a front line in the grinding conflict between General Abdel Fattah Burhan, the commander of Sudan's military, and General Mohammed Hamdan Dagalo, who leads the powerful paramilitary group known as the Rapid Support Forces, which has dashed once-euphoric hopes of Sudan's democratic transition.
Foreign countries continued to evacuate diplomatic staff and nationals while thousands of Sudanese fled across borders into Chad and Egypt.
Up to 20,000 refugees – mostly women and children – have crossed over the western border to Chad, the United Nations said, a country that has struggled for stability in the aftermath of its own coup two years ago.
Those who escape the fighting in Khartoum face more obstacles on their way to safety. The overland journey to Port Sudan, where ships then evacuate people via the Red Sea, has proven long and risky.
Hatim el-Madani, a former journalist, said that paramilitary fighters were stopping refugees at roadblocks out of the capital, demanding they hand over their phones and valuables.
"There's an outlaw, bandit-like nature to the RSF militia," he said, referring to the Rapid Support Forces. "It indicates they don't have a supply line in place and that could get worse in the coming days."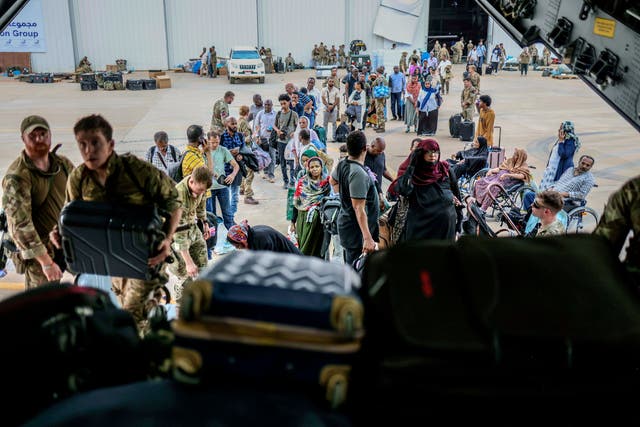 On Saturday – despite a ceasefire extended under heavy international pressure by another 72 hours early Friday – clashes continued around the presidential palace, the headquarters of the state broadcaster and a military base in Khartoum, residents said. The battles sent thick columns of black smoke billowing over the city skyline.
In a few areas near the capital, including in Omdurman, residents reported that some shops were reopening as the scale of fighting dwindled, with both sides seeking to observe a tenuous ceasefire.
But in other areas, residents sheltering at home as explosions thundered around them said fighters were going from house to house, terrifying people and stealing whatever they could find.
Now in its third week, the fighting has left swathes of Khartoum without electricity and running water.
Those sheltering at home say they are running out of food and basic supplies. Residents on Saturday in the city of Omdurman, west of Khartoum, said they had been waiting three days to get fuel – complicating their escape plans.
The UN relief co-ordinator, Martin Griffiths, said that UN offices in Khartoum, as well as the cities of Genena and Nyala in Darfur, had all been attacked and looted.
"This is unacceptable – and prohibited under international law," he said.
Over the past 15 days of pummelling each other, the generals have each failed to deal a decisive blow to the other in their struggle for control of Africa's third largest nation.
The military has appeared to have the upper hand in the fighting, with its monopoly on air power, but it has been impossible to confirm its claims of advances.
Many hospitals in Khartoum and across the country have closed.
Few had hope that the conflict would end anytime soon.
"Both parties are digging in," said Mr el-Madani, the former journalist. "This war could go on for a long time."